Ryu questionable for series finale start in Colorado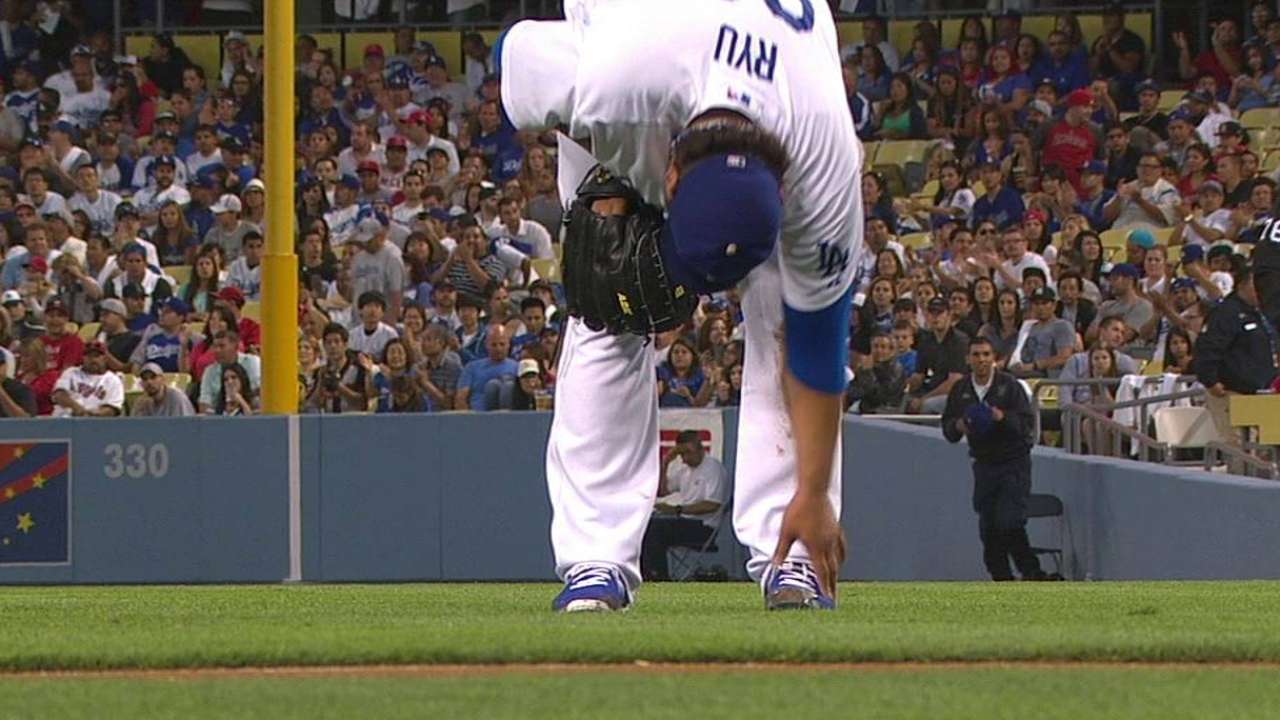 DENVER -- Hyun-Jin Ryu said he "doesn't know" if he will make his scheduled start Sunday for the Dodgers because of lingering left foot pain, while Chris Capuano said he expects to make his scheduled start Monday night, despite a left triceps muscle cramp.
Ryu took a Mark Trumbo comebacker off the top of his left foot during his two-hit shutout Tuesday night. Although he completed the game, the foot still hurts. He threw a rare between-starts bullpen session Saturday, but it was only to test the foot with half-speed throws off the mound.
"That's where we are now," said a non-committal Don Mattingly, who joked he "may start [Skip] Schumaker tomorrow in center and pitch."
After Saturday's 7-6 loss in 10 innings, Ryu said the final decision would be made by management, but that "I never want to take the mound and put my team in jeopardy unless I'm fully comfortable I can be the pitcher I am. I wouldn't want to be out there unless I'm 100 percent."
If Ryu can't make the start, or the club wants to push him back a day, Matt Magill would probably be called up from Triple-A Albuquerque. Magill hasn't pitched for the Isotopes since May 25, so he would be fresh if the Dodgers need him.
"Considering how much it hurt that evening, it's healed faster than I thought," said Ryu, who continues to receive treatment for the bruise. X-rays taken of the foot were negative.
Capuano pitched well Wednesday night, but left after 5 2/3 innings because of the cramp. He pushed back his regular bullpen session from Friday to Saturday and came out of it optimistic.
"We're a go for Monday, for now," said Capuano. "I definitely still feel it a little bit, but I anticipate by Monday it will feel really good. I've had a lot of treatment. It's not the shoulder or elbow, but the belly of the triceps muscle. If you're sore as a pitcher, that's the best place."
Ken Gurnick is a reporter for MLB.com. This story was not subject to the approval of Major League Baseball or its clubs.