With Kemp out, Dodgers mull options in center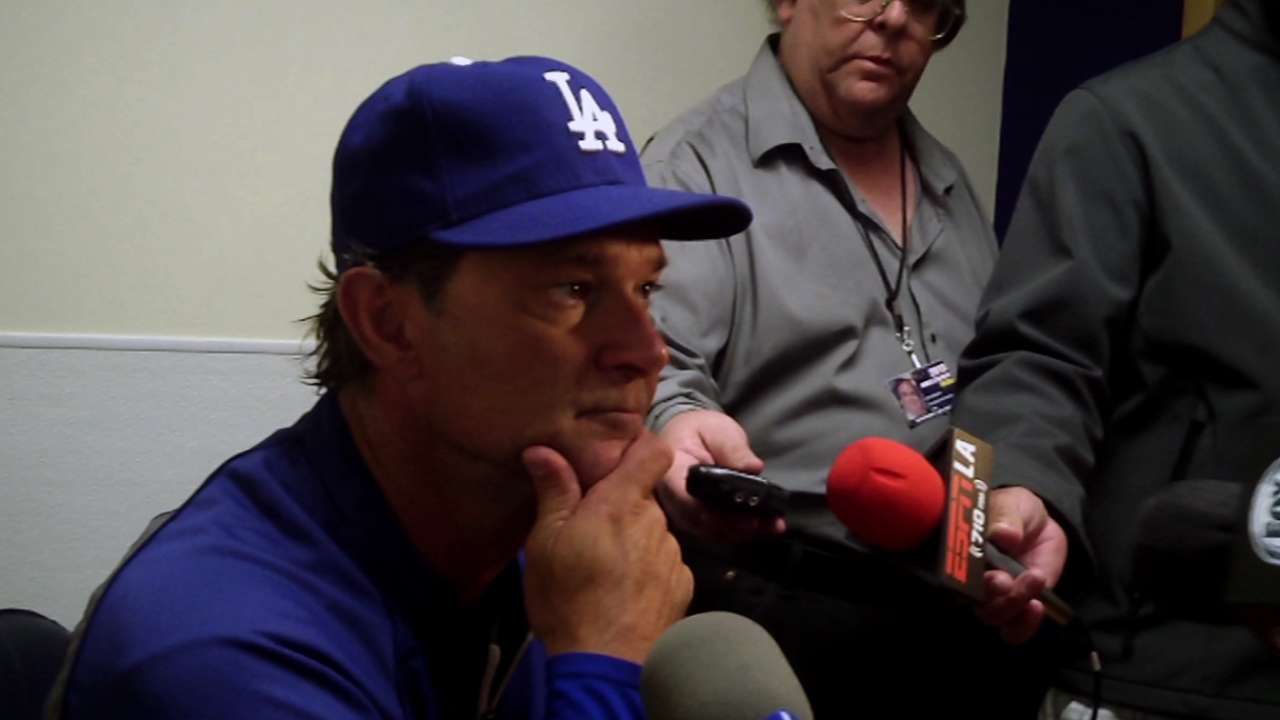 ANAHEIM -- The Dodgers are in need of an everyday center fielder with Matt Kemp sidelined for at least two weeks by a mild right hamstring strain.
Andre Ethier shifted from right field to start in center field on Thursday for only the second time in his career. Scott Van Slyke started in right.
But manager Don Mattingly said that Ethier is only a short-term option in center field. The manger feels the same way about Skip Schumaker, who has been Kemp's backup this season.
"We're looking for a true center fielder," Mattingly said. "We'll see where we go."
Management is leaning toward promoting an outfielder from Triple-A Albuquerque, where Tony Gwynn, Elian Herrera, Matt Angle and Nick Buss have spent time in center field.
"That's what it feels like to me, more than anything else," Mattingly said.
At this point, the Dodgers say they are not considering bringing up top prospects Yasiel Puig or Joc Pederson from Double-A Chattanooga. Puig has been playing the corner outfield spots, while Pederson has been the primary center fielder with the Lookouts.
Puig played center field on Thursday, though, with Pederson scheduled to have the day off. Only Herrera and Puig are on the 40-man rotser.
Mattingly said the Dodgers' player development personnel would make any decisions regarding a promotion for Puig and Pederson, though the manager cautioned that it might be too early to call either outfielder up to the Major Leagues.
"You end up hurting those guys sometimes," Mattingly said. "It sounds great, but it ends up hurting them in the long run."
The manager said the Dodgers would promote a center fielder from the Minor Leagues by the end of the weekend.
As for Ethier, he played center field only once last season and once during the 2010 All-Star Game. Ethier said Mattingly asked him to play center field on Thursday and he obliged.
"The whole year we've been figuring out a way to patch up things where guys are hurt and have injuries," Ethier said. "It needed to be done today."
Austin Laymance is an associate reporter for MLB.com. This story was not subject to the approval of Major League Baseball or its clubs.