Hamstring strain sends Kemp to 15-day DL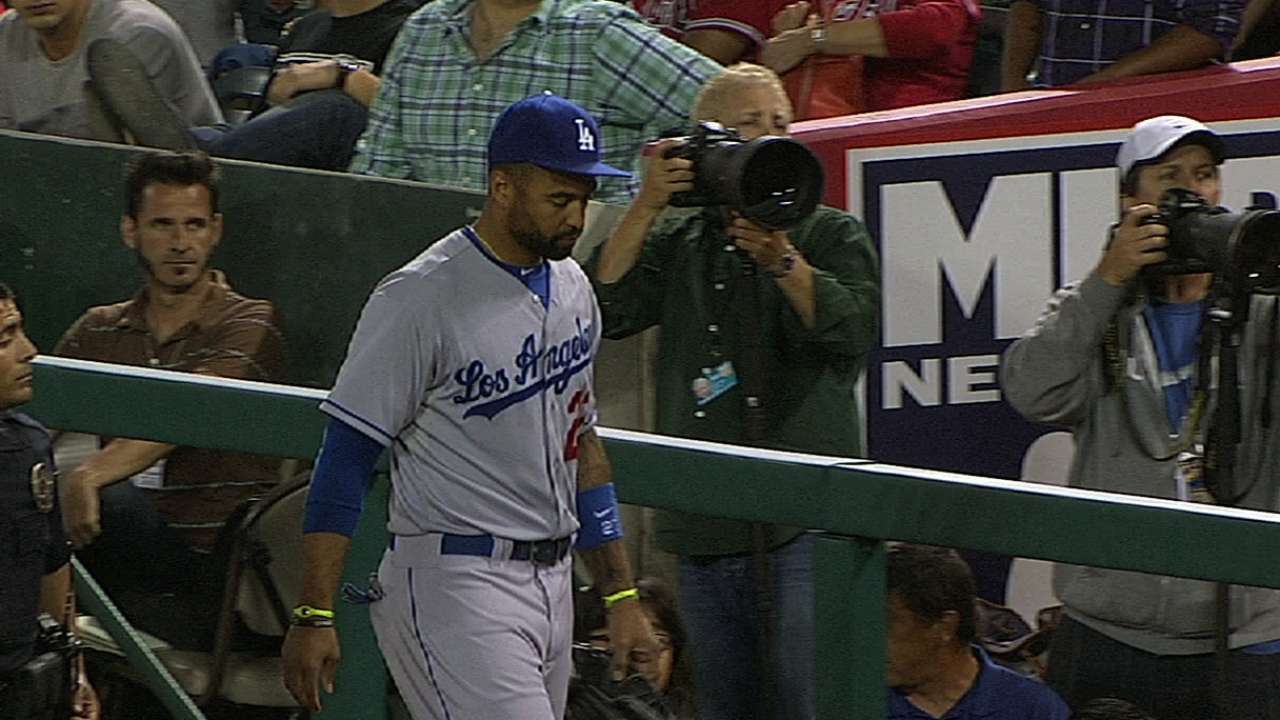 ANAHEIM -- For the second straight season, Dodgers outfielder Matt Kemp is on the disabled list because of a hamstring issue.
Kemp was placed on the 15-day disabled list on Thursday, the result of a mild right hamstring strain. Last season, Kemp missed more than two months with a left hamstring strain.
In a corresponding roster move, the Dodgers recalled catcher Tim Federowicz from Triple-A Albuquerque.
"It's disappointing," Kemp said. "This is my second year being hurt. It's a small little obstacle, but I'm used to playing every day. The second year getting hurt is kind of frustrating. But it's part of the game and I've just got to deal with it.
"It's something that can be worse, so you prevent it now and you don't want to linger on the whole year. So I'll get it taken care of right now. The earlier, the better."
Last season, Kemp rushed back from the disabled list after missing 14 games. But he required a second stint on the disabled list after aggravating the injury two games into his return and missed an additional 37 games. But Kemp said he's learned from that.
"I had hamstring problems last year, I don't want to be in the same situation where I come back and hurt it again and sit out another month," Kemp said. "That's just not what I want to happen this year."
Kemp strained his right hamstring while pursuing a double in the gap in right-center in the bottom of the seventh inning during Wednesday's 4-3 loss to the Angels. He was immediately removed from the game.
Kemp said he would continue to hit, and weight train to strengthen his left shoulder following offseason surgery that has zapped him of his power. He's hitting .251 with two homers and 17 RBIs in 51 games.
"I never want to be away from the game, but I have to at this moment because I'm hurt," Kemp said. "I'm just going to work, hit, do everything that I have to do to be ready right when I come off the DL. I can hit as much as I want, it's just the running."
The Dodgers are optimistic that Kemp will be sidelined for around 15 days.
Manager Don Mattingly said Kemp could have avoided a DL stint if the medical staff was confident he would miss only a few games, but that was not the case.
"If it was going to be three or four, I think we would have bit that bullet," Mattingly said. "But it didn't sound like it was real confident that it would be three or four, though. It didn't sound like a major one, either. So we kind of get a bullet but don't take it in an artery."
Andre Ethier made his second career start in center field on Thursday, with Scott Van Slyke in right field. Mattingly said the Dodgers expect to promote a center fielder from the Minor Leagues by the end of the weekend, though he did not mention specific candidates.
Austin Laymance is an associate reporter for MLB.com. This story was not subject to the approval of Major League Baseball or its clubs.