A. Ellis stays in game after collision at plate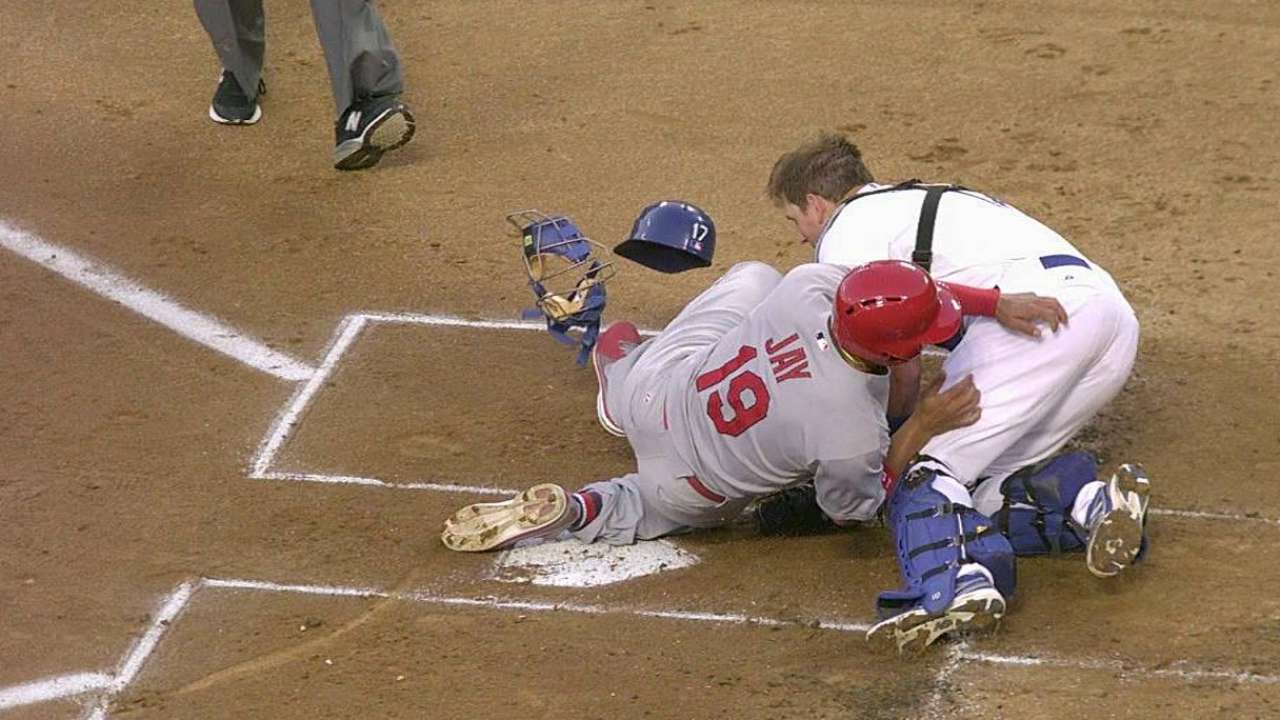 LOS ANGELES -- Dodgers catcher A.J. Ellis said he sustained only a bruised right forearm in a collision at home plate with Cardinals outfielder Jon Jay on Friday night.
Jay barreled into Ellis in the top of the second inning, beating Nick Punto's relay throw and scoring the first run of the game. Ellis remained on the ground for several minutes as Dodgers manager Don Mattingly and team trainers checked on him, but he remained in the game.
"It was a good, clean baseball play," Ellis said after the Dodgers were shut out, 7-0, at Dodger Stadium. "I wish the ball would have been a tick earlier and we could have gotten him out. You've got to stay there and protect home plate."
Ellis said he's been involved in at least two other collisions at the plate during his career.
"It's part of the job, part of the game and if the same thing comes up tomorrow, I'll be right there blocking home plate," he said.
Ellis said he doesn't think the collision will prevent him from playing on Saturday.
"I'm planning on playing and being in the lineup tomorrow, as far as I'm concerned," he said.
Mattingly said he's worried about how Ellis' body will respond on Saturday, but understands the situation could have been worse.
"He hung in there almost to a fault," Mattingly said. "He didn't really give Jay a place to go. It really even looked like Jay kind of pulled up just a touch, he could have really cleaned him up right there."
Austin Laymance is an associate reporter for MLB.com. This story was not subject to the approval of Major League Baseball or its clubs.