Irritated with Ethier, Mattingly benches right fielder
Dodgers skipper shakes things up by starting Van Slyke against Brewers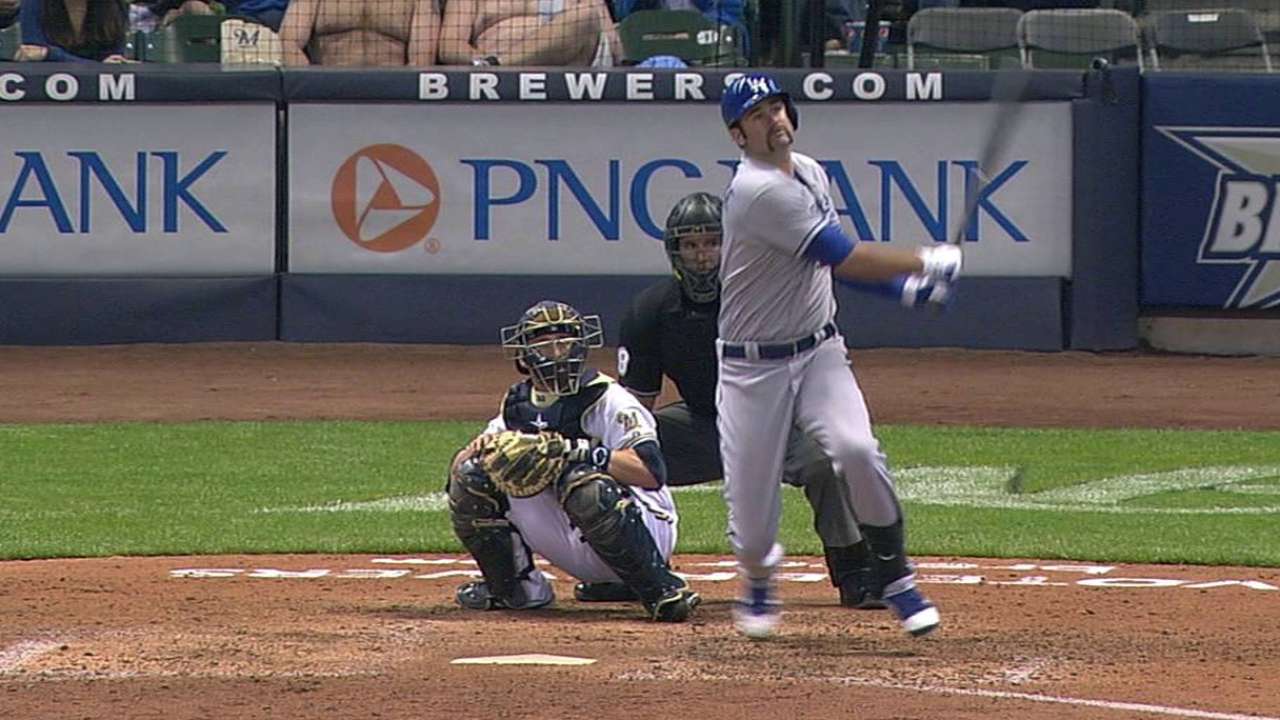 MILWAUKEE -- Manager Don Mattingly benched right fielder Andre Ethier prior to Wednesday's 9-2 victory over the Brewers, starting rookie Scott Van Slyke instead while saying he wanted to put a club on the field "that is going to fight, to compete the whole day."
Without being specific, Mattingly clearly was irritated with Ethier, who homered and tripled in Monday night's 3-1 victory over the Brewers, but also was thrown out of the game in the eighth inning for arguing with home-plate umpire Dan Bellino.
In 43 games, Either is batting .264 with four homers and 15 RBIs. He has 19 walks to go along with 33 strikeouts and has a .353 on-base percentage.
After Wednesday's game, Ethier was clearly irritated with Mattingly challenging his lack of fight.
"Yeah, I take offense to that, without approaching me first," said Ethier. "Other than that, I show up every day and find ways to compete, to work hard whether I'm going good or bad. Just like everyone here, I have to get a grip and a handle on what's gone on. We can never lose hope to get back on top of the division. That's my approach every day."
While there are suspicions the Dodgers regret signing Ethier last summer to a five-year, $85 million extension -- and now want to trade him to open an outfield spot for Yasiel Puig or Joc Pederson, who are ranked the club's Nos. 1 and 3 prospects by MLB.com -- Ethier said he isn't asking for a trade.
"I don't think there's ever a question," he said. "I made a commitment to what we're doing. We all have tough times. We just have got to figure out what's going on and battle through it. Quitting is not an option."
On Tuesday night, Ethier went 1-for-3 with two strikeouts, a walk and was hit by a pitch. He also made the wrong read on a safety squeeze bunt by Dee Gordon and was thrown out at the plate.
Mattingly didn't deny that he was sending a message by not starting Ethier.
"We're in last place in the National League West," the skipper said. "Last year at this point, we played a lineup with nobody in it, but they fought, they competed and battled every inch. I felt like we got more out of our ability. I don't know if that team was tougher. I don't know why and it was only for a short period of time.
"Part of it is the mixture of competitiveness. It's not just putting an All-Star team out there and the All-Star team wins. You try to find that balance of a team that's got a little grit and fight, and has enough talent to get there also. It's not all grit and not talent that gets there, and it's not all talent and no grit. It's a mixture of both."
Mattingly wouldn't say Ethier was guilty of anything. Instead, the manager said what he's looking for.
"There's a touch of a difference between saying you're giving your best effort and you're willing to fight for something," Mattingly said. "Some guys go to another level for that price, will do whatever it takes to win a game … that inside, you're not beating me today. There's something there you can't measure with Sabermetrics. You can't put a number on it."
Ethier said he expects Mattingly to continue managing the Dodgers, despite speculation that a change might be made.
"Why not? We're not out of this, by far," Ethier said. "With a good run in the next month or two we'll be back there where we need to be by the All-Star break."
Ken Gurnick is a reporter for MLB.com. This story was not subject to the approval of Major League Baseball or its clubs.