Mattingly keeps focus on team, not job speculation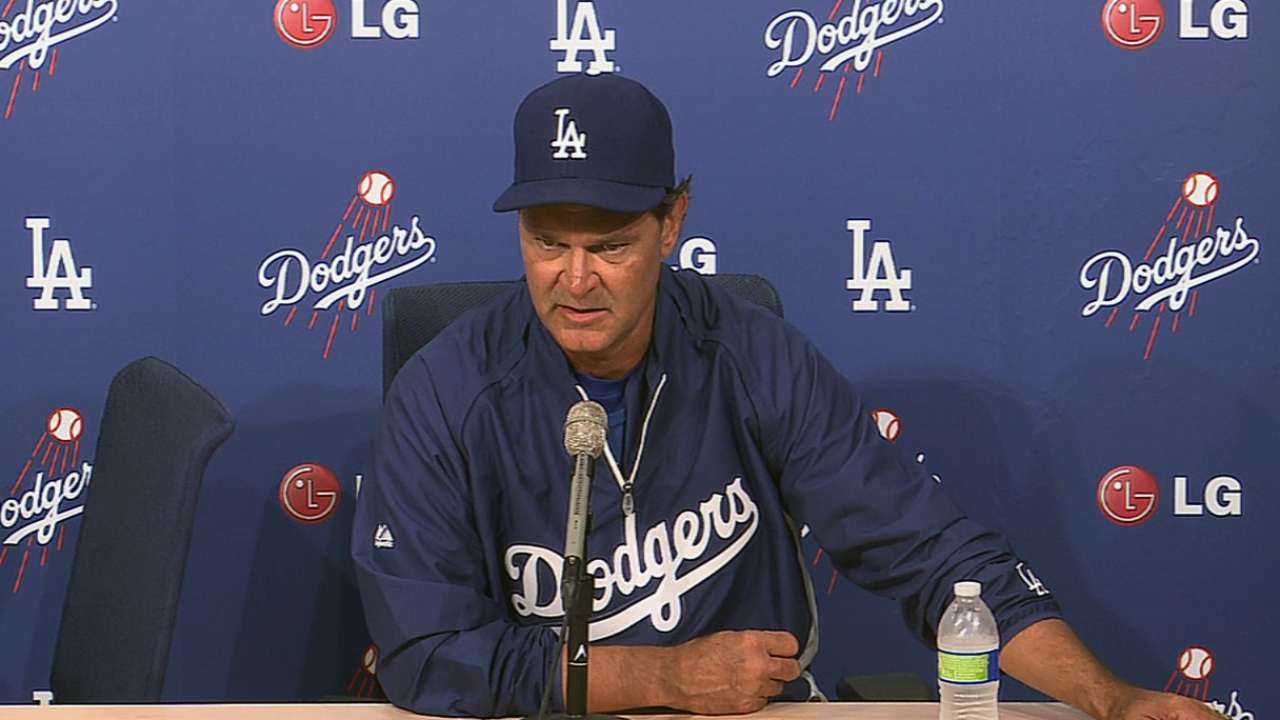 MILWAUKEE -- As the media speculates about his job security, Don Mattingly said he's managing.
"Any sleeplessness I've had is about our team, not about me," Mattingly said in response to a Fox Sports report that he would be fired later this week.
Mattingly met with general manager Ned Colletti on Monday, but insisted it was about the team and how to get it out of last place.
"To me it's a daily process, just the grind of the team and how we get better," he said. "Do we do things differently or persevere and stay the course? I'm confident in the people we have here. Nothing's different today than any other day. As for the rumors, I talked to Stan [Kasten, club president] the other day and he didn't fire me. Ned didn't say I won't be here."
Mattingly, having watched the managerial circus of the Yankees during the George Steinbrenner years, said he only worries about his team, not his job, even though he did ask the club to pick up a 2014 option last winter and was denied.
"I never get away from my base," he said. "I worry about our team and getting it to perform to the best of its ability."
Mattingly said he had "no idea" if the rumors about his firing are true or "if Ned's on the edge of, 'Donnie, you're the problem.' For me, everything is a baseball decision. If I'm the problem, it's a baseball decision. I don't know what the public perception has to do with it.
"You can change every other week. You can change hitting coaches. How many have they had in the last 10 years? That's helped a lot. It's a great example. At the end of the day, look at it. All it is is change. Make a good decision, a baseball decision."
Mattingly agreed with Colletti that a real tell is the effort of the club.
"If you lose that, you shouldn't be here," he said. "If the guys quit on you and don't play, you should be gone. You lose the clubhouse or they're not playing hard for you, that's it."
Mattingly also sided with Colletti in the opinion that the current roster must turn it around.
"This is our club," he said. "You can't go, 'We're going to tear it down.' What are you going to do? These are the guys you count on and let them do their thing. Magic [Johnson] talks about the NBA playoffs, the superstars have to carry you. [Clayton] Kershaw has to. [Zack] Greinke has to. The big boys have to play better.
"Nick Punto having a great year is really nice, but Punto is not taking us to the promised land. Dee [Gordon], [Mark] Ellis, they're not taking us to the promised land. Adrian [Gonzalez], Matt [Kemp], Hanley [Ramirez] and Andre [Ethier], those guys in the middle of the order you count on to be the run producers. How do you not stay with those guys? We're not going to abandon ship. You can shuffle it around, but at the end of the day it gets back to those guys."
Ken Gurnick is a reporter for MLB.com. This story was not subject to the approval of Major League Baseball or its clubs.