Adrian exits early after aggravating neck strain
First baseman says he will be ready for Friday's opener vs. Marlins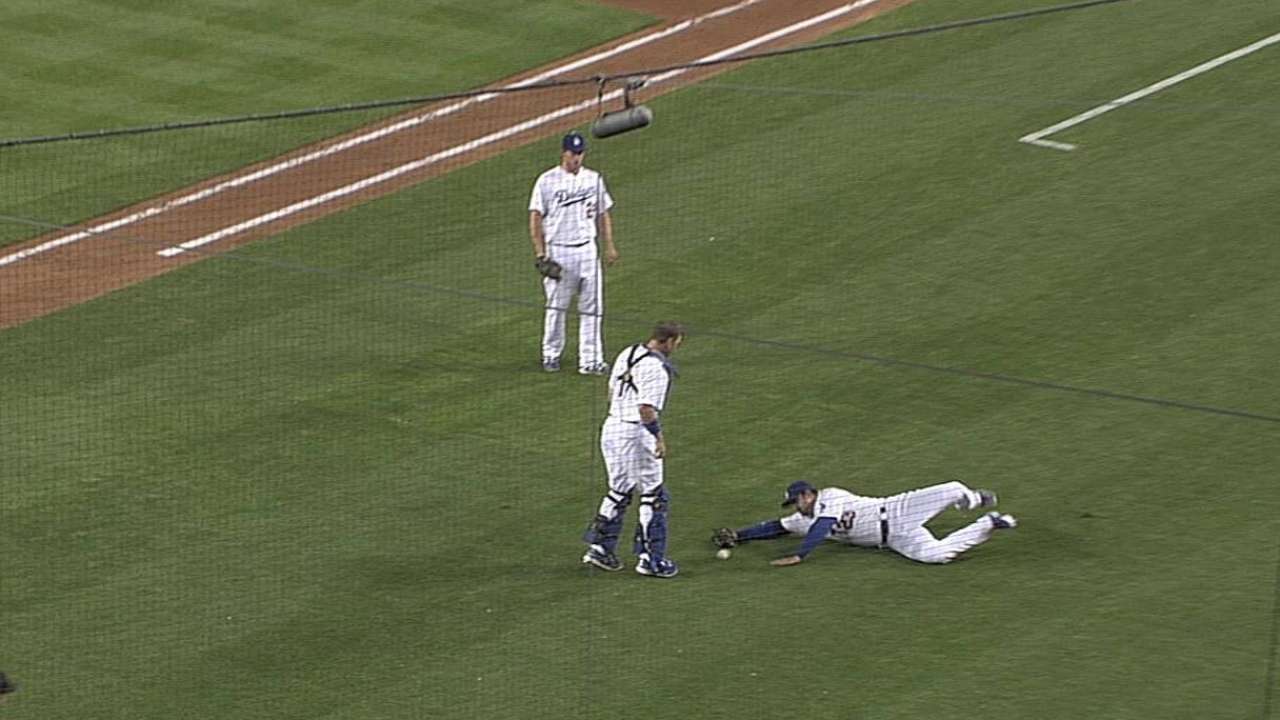 LOS ANGELES -- Dodgers first baseman Adrian Gonzalez was removed from Wednesday's 3-2 loss against the D-backs after four innings after aggravating his neck strain that has bothered him for a week.
Dodgers manager Don Mattingly said Gonzalez aggravated the injury in the top of the fourth when he attempted to catch a foul popup by D-backs catcher Wil Nieves and dove awkwardly.
Gonzalez stayed in the game and laced an RBI double to right field in the bottom of the inning to give the Dodgers a 2-0 advantage. He moved to third on a single by Andre Ethier. But Gonzalez did not take the field in the top of the fifth.
"It didn't look real good when he came out, it sounds like he aggravated that neck pretty good," Mattingly said. "I'm not sure it's going to be good, but I'm hoping it's not going to be anything long term."
Gonzalez's status is considered day to day, but he vowed to play Friday against the Marlins. The Dodgers are off Thursday.
"I'll be all right," Gonzalez said. "I'll be ready to go Friday."
Gonzalez has been playing with a mild strain in his left trapezius muscle at the base of his neck. He suffered the injury last Wednesday when he collided with first-base umpire Tony Randazzo as he turned to chase a double down the line by Rockies slugger Carlos Gonzalez.
Juan Uribe moved to first base from third. Luis Cruz came off the bench to play third and replaced Gonzalez in the cleanup spot.
Austin Laymance is an associate reporter for MLB.com. This story was not subject to the approval of Major League Baseball or its clubs.