MRI reveals mild strain in Adrian's trapezious muscle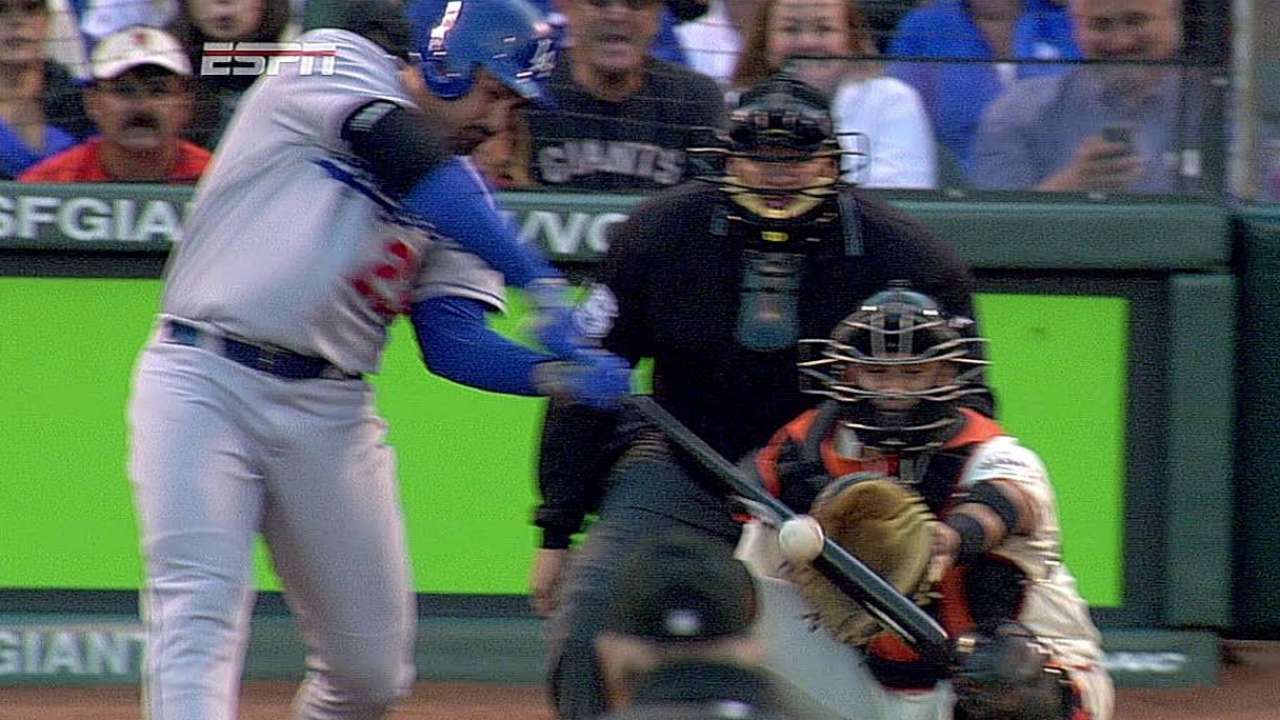 LOS ANGELES -- First baseman Adrian Gonzalez had an MRI on Monday that revealed a mild strain in his left trapezious muscle at the base of his neck, but he will play through the pain.
"I'm going to try to play through it and see how it feels," Gonzalez said Monday afternoon. "It's not getting worse, but there's still quite a bit of pain there."
Gonzalez did not take batting practice before Monday's game against the D-backs, but he started for the first time since Wednesday. During a three-game series in San Francisco over the weekend, Gonzalez worked out before the games only to be scratched from the lineup.
"I think the last couple days what's flared it up is being out there running around, throwing, stretching, hitting, taking grounders, all that stuff," Gonzalez said.
Gonzalez pinch-hit in the eighth inning Sunday, delivering a two-run single. He removed himself from the game for a pinch-runner. Gonzalez said the strain does not limit him at the plate, only when he plays the field and runs.
"All those movements are going to tell me to stop doing it," he said. "I have to go through it."
Would Gonzalez still play through the pain if the Dodgers had a winning record and didn't have eight players on the disabled list?
"If we were winning, I'd still want to play through it," said Gonzalez, who leads the club with 22 RBIs. "If I can be on the field, I'm going to be on the field. I think I'm at a point now where I can hit at 100 percent and I'm not going to be hurting the team."
Gonzalez suffered the injury Wednesday night when he collided with first-base umpire Tony Randazzo as he turned to chase a double down the line by Rockies slugger Carlos Gonzalez.
"Umpires are supposed to be behind the first baseman, and when they move out of the way, they're supposed to move out of the way away from us going down the line," Gonzalez said. "Somehow the ball made him go towards me. Obviously it was an accident."
Austin Laymance is an associate reporter for MLB.com. This story was not subject to the approval of Major League Baseball or its clubs.