Dodgers scratch Gonzalez with neck problem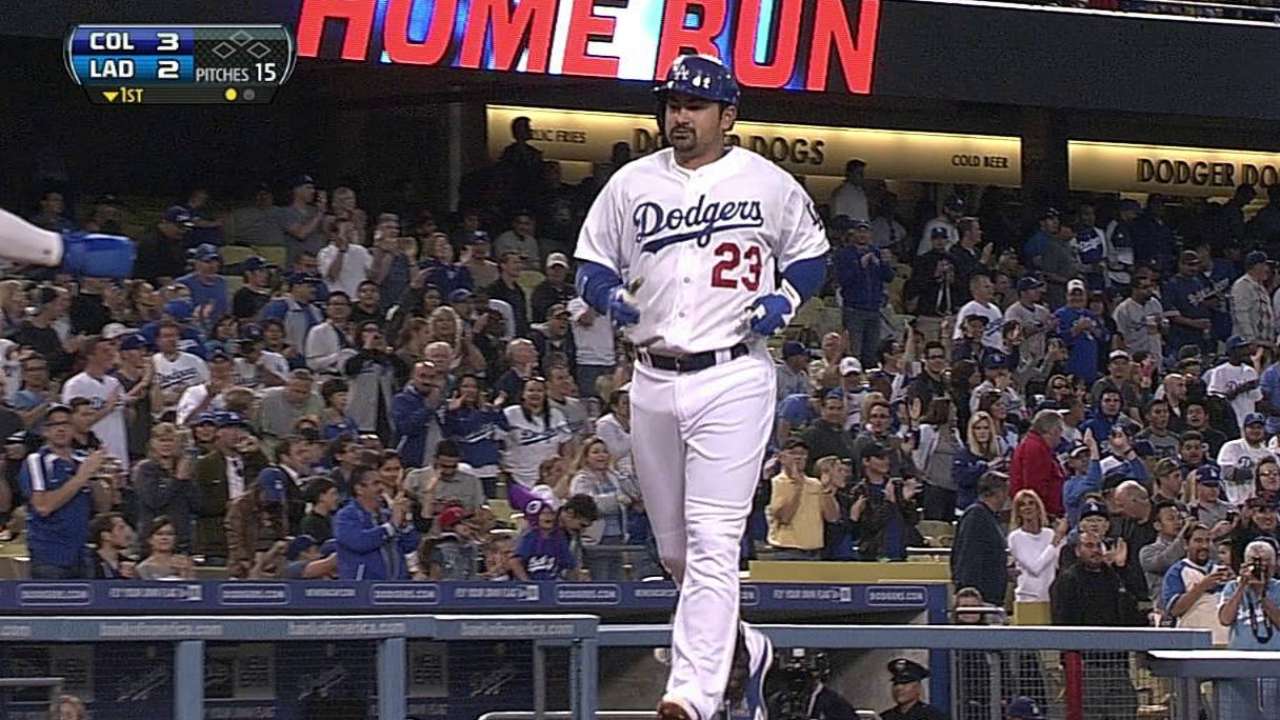 SAN FRANCISCO -- The Dodgers went into the Giants series Friday even more shorthanded than they thought when first baseman Adrian Gonzalez was a late scratch with a stiff neck.
He joined left fielder Carl Crawford and second baseman Mark Ellis on the walking-wounded list, the Dodgers deciding not to put either of them on the disabled list and call up a position player like Yasiel Puig or Scott Van Slyke from the Minor Leagues.
Manager Don Mattingly used Crawford as a pinch-hitter and he legged out an infield single. It was Crawford's first appearance since coming out of Monday night's game with a tight right hamstring muscle.
The club is really rolling the dice with Ellis, who hasn't played since leaving last Thursday night's game against Milwaukee with a strained right quad. Mattingly said he doesn't want to use Ellis throughout this weekend series. Mattingly said Ellis would either return to the starting lineup at 100 percent strength Monday or be put on the DL.
"He's still feeling something," Mattingly said.
Crawford was planning to take fly balls before Friday night's game. He said he was injured Monday night while making a diving catch of Michael Cuddyer's sinking line drive in the fifth inning, and an MRI showed a minor strain that he didn't think would require a DL stint.
Gonzalez was injured Wednesday vs. the Rockies when he collided with first-base umpire Tony Randazzo when he turned to chase Carlos Gonzalez's double down the right-field line in the eighth inning, although he stayed in the game. Mattingly said he didn't hear anything about a problem until Friday afternoon, when Gonzalez mentioned the injury to him. Gonzalez tried to hit in the indoor batting cage and reported continued discomfort.
"I can't turn my neck to face the pitcher," said Gonzalez. "If I can't see the pitcher, I can't hit. They told me it's kind of like a car crash. I get a shooting pain every time I turn my neck. I couldn't sleep last night. I tried everything I could today to play."
All of those decisions left the Dodgers with only Justin Sellers, Juan Uribe and Ramon Hernandez as healthy bench players for Friday night's game against the defending World Series champions.
It also meant that behind ace Clayton Kershaw, the Dodgers fielded a lineup with backups in left field (Skip Schumaker), first base (Jerry Hairston) and second base (Nick Punto), plus .088 hitter Luis Cruz at third base.
Ken Gurnick is a reporter for MLB.com. This story was not subject to the approval of Major League Baseball or its clubs.