Schumaker pressed into inning of emergency relief
Second baseman escapes jam in his second career pitching outing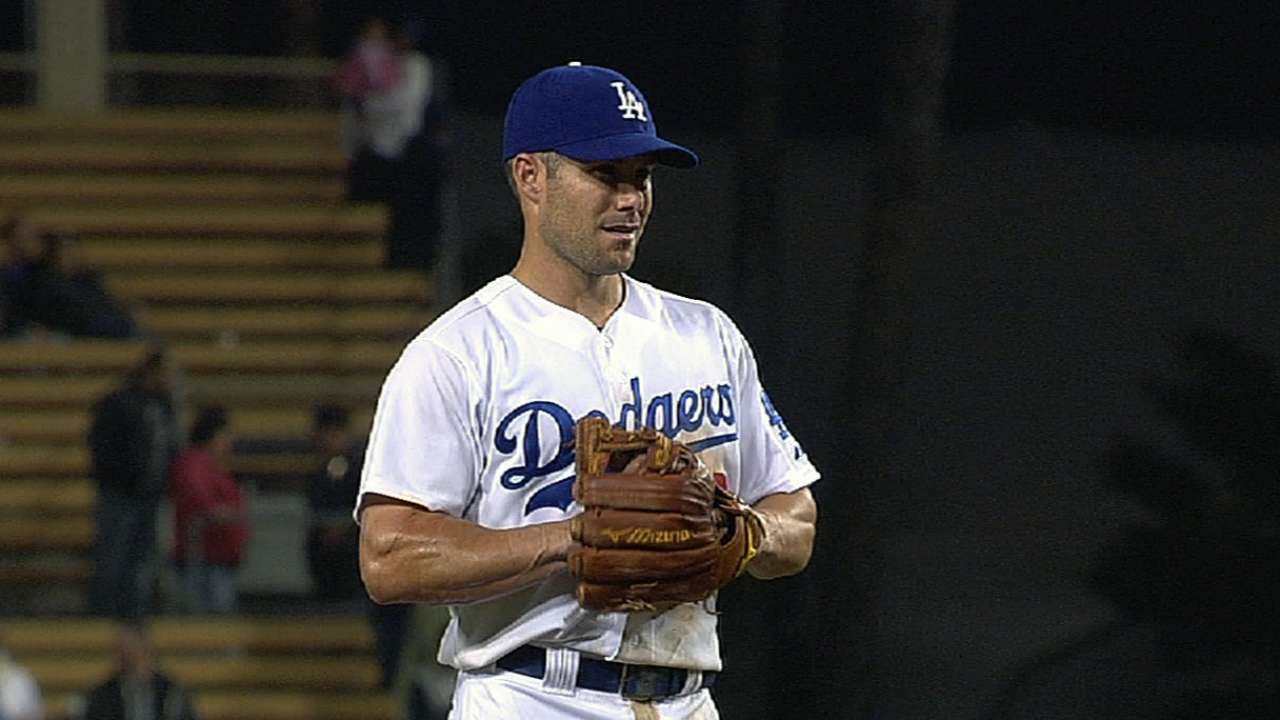 LOS ANGELES -- Skip Schumaker took the mound for the Dodgers in the ninth inning on Monday night against the Rockies, the second career pitching appearance for the second baseman.
With the Dodgers trailing, 12-2, manager Don Mattingly went to Schumaker instead of continuing to exhaust his bullpen. The Dodgers had already used four relievers after starter Ted Lilly allowed five runs in three innings.
"It's a tough situation because you're getting your butt kicked and you try not to have too good of a time out there because you're down by [10]," said Schumaker, who pitched some in college. "But you don't get too many chances for that. I remember growing up watching Orel [Hershiser] pitch, so I was on the same mound as Orel. That was pretty cool."
Carlos Gonzalez singled to lead off the inning, but Schumaker induced two flyouts before allowing another single and a walk. He got Jonathan Herrera to ground out to end the frame. Schumaker threw 25 pitches.
"You just try to not get anybody hurt and get through that inning as quick as you can," Schumaker said.
Schumaker is the first position player to pitch for the Dodgers since Mark Loretta on July 28, 2009, against St. Louis.
Schumaker last pitched on Aug. 23, 2011, when he was a member of the Cardinals. He faced the Dodgers in that outing and allowed a two-run homer to Aaron Miles but had two strikeouts.
Austin Laymance is an associate reporter for MLB.com. This story was not subject to the approval of Major League Baseball or its clubs.