Dodgers' Howell deems Lilly ready to return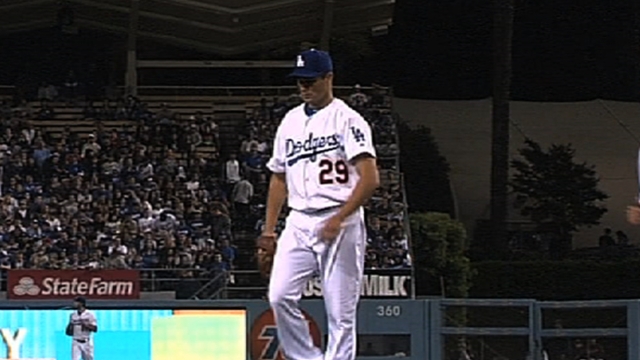 LOS ANGELES -- If and when the Dodgers need a replacement for the injured Chris Capuano, Ted Lilly is ready, assistant pitching coach Ken Howell said Tuesday night.
Howell accompanied Lilly earlier Tuesday for his third Minor League rehab start, where the lefty made 81 pitches in five innings for Class A Rancho Cucamonga, allowing four runs (three earned) on seven hits while striking out five with a walk.
Howell said Lilly showed considerable improvement from his two previous rehab starts.
"He looked tonight like a Major League pitcher," said Howell. "He managed the game, his pitches were crisper, he competed better. That's what I was looking for. He pitched better than the numbers indicate."
Howell said Lilly was up to the task of facing fellow Major Leaguer Chase Headley, who was playing for Lake Elsinore on his own rehab assignment. Howell said Lilly got three ground balls from Headley, one of them rolling for a hit.
With two of the next six days off, the Dodgers can go at least until April 24 without needing a fifth starter. By Thursday, if not sooner, they will decide whether to put Capuano, who strained his left calf muscle Tuesday night, on the disabled list. Capuano was starting in place of Zack Greinke, who broke his collarbone in last Thursday night's brawl with San Diego.
Lilly had a difference of opinion with management over whether to make a third rehab start, believing he was ready to pitch effectively in the Major Leagues despite allowing 10 earned runs in 12 innings in his first two.
Lilly changed his mind on Monday and agreed to make a third start, with the expectation that he would be activated if he pitched well. A player must agree to a rehab assignment.
Lilly is coming off shoulder surgery, and his Spring Training was interrupted by the flu and a rain-shortened start.
Ken Gurnick is a reporter and Austin Laymance is an associate reporter for MLB.com. This story was not subject to the approval of Major League Baseball or its clubs.