Capuano exits with strained left calf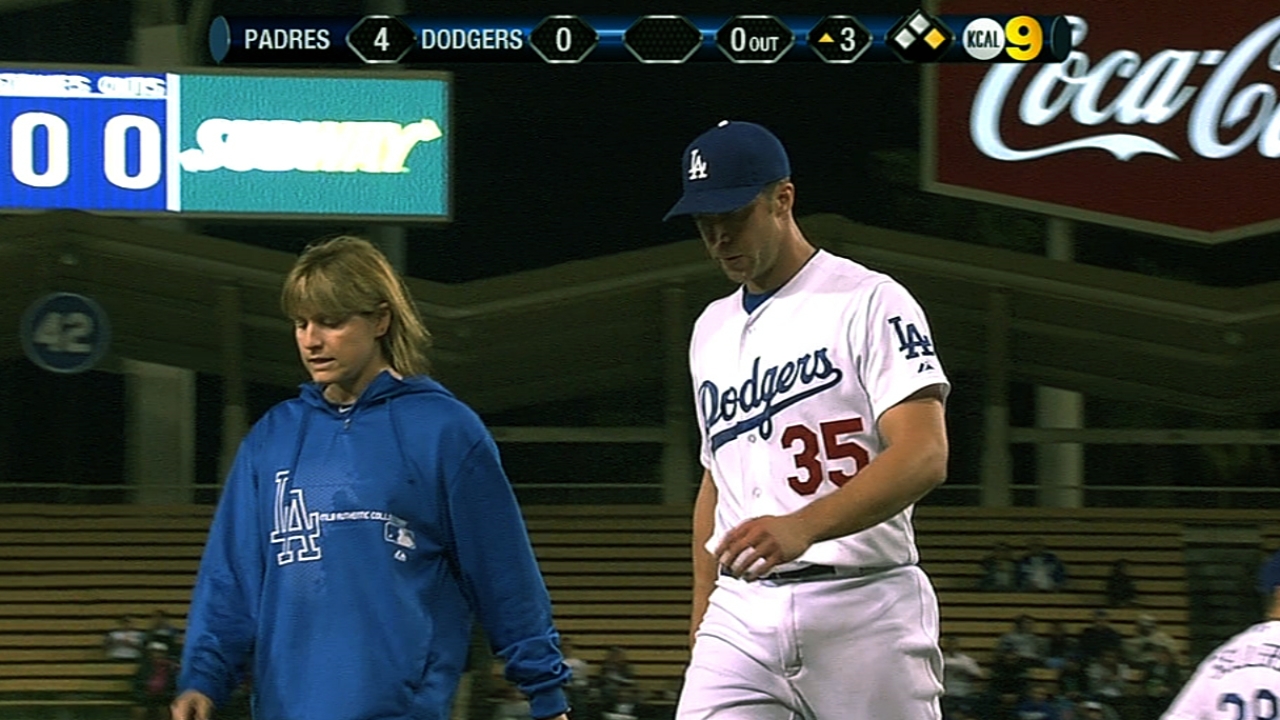 LOS ANGELES -- Filling in for injured starter Zack Greinke, Chris Capuano left Tuesday's game against the Padres in the top of the third inning due to a strained left calf.
"It's a little sore. A strain, but not a full tear or anything like that," Capuano said after the Dodgers fell to the Padres, 9-2, at Dodger Stadium. "I don't anticipate it will be too long to heal."
Capuano will have an MRI either Wednesday or Thursday to determine the extent of the damage. He said he had a similar injury several years ago during Spring Training.
"It didn't take too long, a couple of weeks," Capuano said. "I hope the MRI shows it's not a very serious strain."
If Capuano requires a trip to the disabled list, the Dodgers will need to make a roster move, but with off-days on Thursday and Monday, the club won't need a fifth starter until April 24.
"We'll talk about it tonight," manager Don Mattingly said during his postgame media session. "[General manager] Ned [Colletti] was in my office before I came in here. We'll talk about what we want to do. We don't need a starter until the 24th. It's always nice to have an extra arm. But then we have to work through the roster and everything else."
Capuano said he felt his calf "pull" while covering first base on a grounder to end the second inning. The left-hander walked gingerly off the field and headed into the Dodgers' clubhouse. He returned for the third and walked the first batter he faced, Jesus Guzman, on four pitches. Mattingly, pitching coach Rick Honeycutt and team trainer Sue Falsone met with Capuano on the mound, watched him throw a few trial pitches, and then he headed off the field with the Dodgers trailing, 4-0.
"I came in between innings and we taped it tight around the ankle to take the pressure off the calf," Capuano said. "I felt I could sit back and push off, but the walk to Guzman, obviously, I wasn't able to drive off."
Capuano began the season in the bullpen and made his first start on Tuesday in place of Greinke, who fractured his left collarbone during Thursday's benches-clearing fracas in San Diego. Capuano allowed four runs in the first inning on five singles and a walk.
If Capuano is sidelined for more than a few days, Ted Lilly is likely to return to the rotation. Lilly has been on a rehab assignment in the Minor Leagues and appears ready to return to the big leagues after assistant pitching coach Ken Howell saw improvement in the lefty's outing with Class A Rancho Cucamonga on Tuesday.
Ken Gurnick is a reporter and Austin Laymance is an associate reporter for MLB.com. This story was not subject to the approval of Major League Baseball or its clubs.