Mattingly, Black call truce before series opener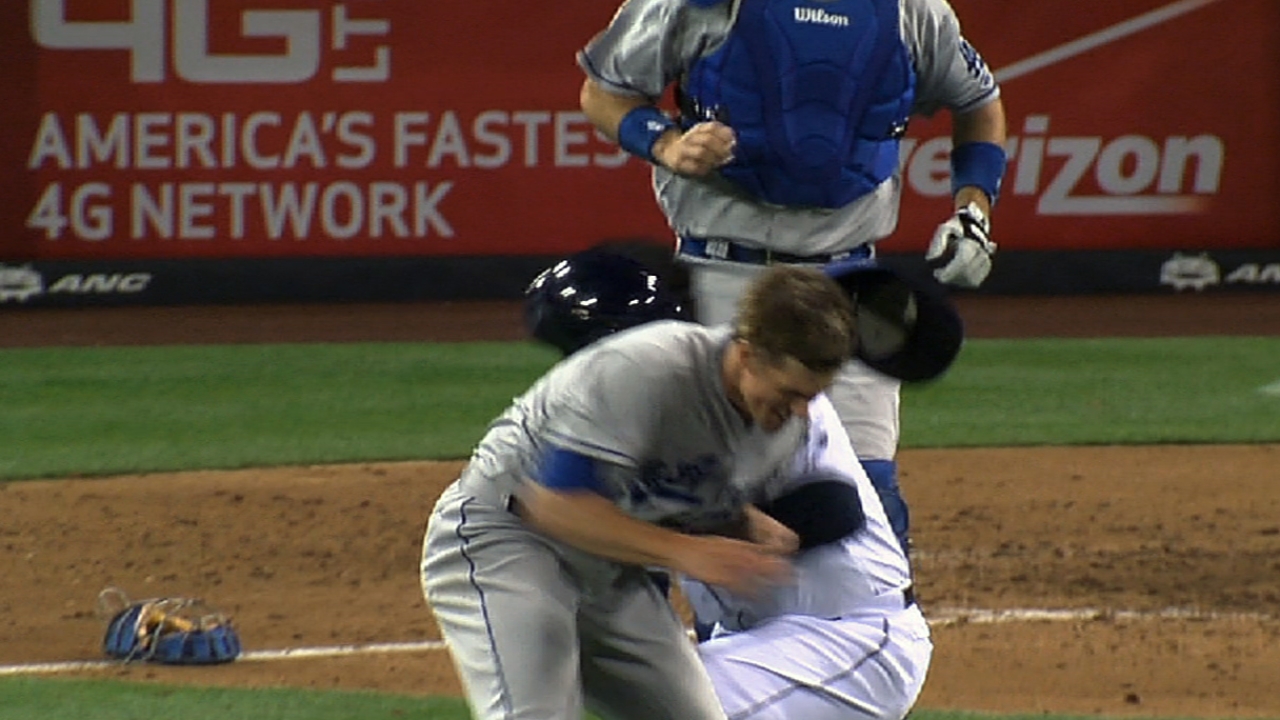 LOS ANGELES -- If there is retaliation after last week's brawl between the Dodgers and Padres, it will happen despite phone calls from MLB executive vice president Joe Torre to managers Don Mattingly and Bud Black, and despite a brief meeting between the managers during batting practice Monday to call a truce.
The conversations were intended to defuse leftover tension from Thursday night, when Dodgers starter Zack Greinke hit Padres outfielder Carlos Quentin in left arm with a 3-2 pitch and a one-run lead. Quentin charged the mound and Greinke suffered a broken collarbone that required surgery and will sideline him for two months.
After the game, Quentin and Dodgers outfielder Matt Kemp had to be separated as they left the stadium. Quentin is serving an eight-game suspension for his part in the melee, while Dodgers utilityman Jerry Hairston is appealing a one-game suspension he received for charging the Padres dugout.
"I'm sure if [Quentin] was playing tonight it would have escalated a little bit," Mattingly said.
Torre's phone call essentially served as an unofficial warning, without formally putting both clubs on notice that there would be automatic suspensions if a batter was hit by a pitch.
"I talked to Joe," Mattingly confirmed. "He just wanted to make sure we kept things in perspective today -- it's Jackie Robinson Day. We're here to win a game, to be honest."
Mattingly also held a quick meeting with members of his pitching staff during stretching to remind them of the task at hand.
"We'll make sure we keep our composure," he said. "We're here to win a game. We're not here to lose players."
Black said afterward that the issue "is over" from his team's side.
"Don and I got the same call," he said. "This is the way it should be -- sensible. What happened, happened, and it ends. He wanted both teams to know what it was all about."
Ken Gurnick is a reporter for MLB.com. This story was not subject to the approval of Major League Baseball or its clubs.