Lilly in limbo after not accepting Minors assignment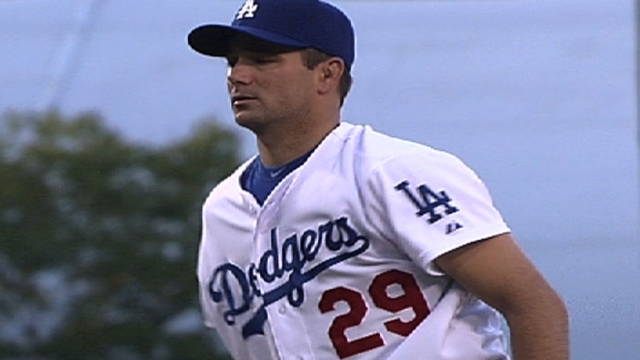 PHOENIX -- The Ted Lilly standoff reached Day Two with no resolution.
The Dodgers on Saturday asked Lilly to continue his Minor League rehab assignment with two more starts and he declined. He can't be sent out without his permission and he declared himself healthy and ready to pitch in the Major Leagues.
The club disagrees.
"We laid out a plan and, obviously, he just didn't like the plan," said manager Don Mattingly, who put Chris Capuano in the starting rotation, and not Lilly, to replace the injured Zack Greinke. "From a baseball standpoint, we felt he wasn't quite ready for what we want him to do, to start."
"We laid out a plan and Teddy doesn't want to be part of the plan. It's out of my hands. We didn't feel he was ready to pitch at the Major League level. For me, it's a baseball decision. It's nothing personal in any way, shape or form. We're giving him our baseball thoughts, what we think is best for him and the team."
Lilly began the season on the disabled list. Coming off last year's shoulder surgery, Lilly's Spring Training was disrupted by the flu and a rain-shortened start. Meanwhile, in part because Lilly was physically able to make only eight starts last year, the Dodgers signed free agents Greinke and Hyun-Jin Ryu over the winter to start the year with eight veteran starting pitchers.
Aaron Harang has since been traded and now Greinke will be sidelined for two months after breaking his left collarbone in Thursday night's fracas with the Padres.
The Dodgers can activate Lilly, designate him for assignment, release him or trade him. They can't keep him on the disabled list indefinitely and don't seem to have a role for him.
Mattingly wouldn't go that far, saying using Lilly in relief is a possibility, but the immediate issue is a difference of opinion whether Lilly would be effective in the Major Leagues.
"We don't think he's ready," Mattingly said.
Ken Gurnick is a reporter for MLB.com. This story was not subject to the approval of Major League Baseball or its clubs.