Elbert making progress in rehab from elbow surgeries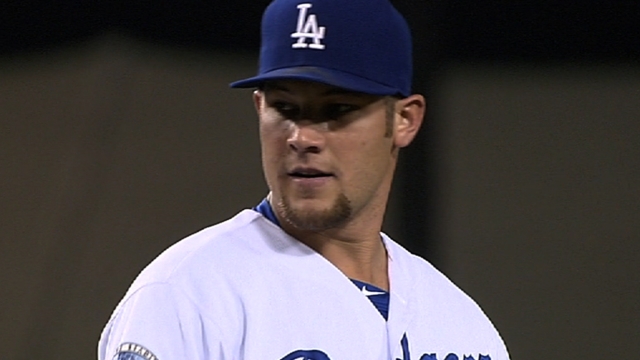 PHOENIX -- Reliever Scott Elbert, who is on the 15-day disabled list, is the latest Dodger to respond favorably to platelet-rich plasma treatment.
After two offseason elbow operations, Elbert experienced a setback midway through Spring Training, received a PRP injection and has rebounded steadily since. He has been throwing hard on flat ground this weekend and could be pitching off a mound in a week or two.
"I'm definitely a lot better, either from the PRP or the shoulder exercises, which also help the elbow because everything is incorporated," said Elbert. "I wasn't able to throw more than 75 feet in Spring Training, but I'm up to 90 feet now and my mechanics are a lot better."
To keep Elbert from throwing across his body, the club has laid out lines on the ground and a rubber home plate whenever he plays catch. He's also reminded to keep his elbow above his shoulder as he throws.
"Something's helping," he said.
Elbert said his two operations were in different locations, one in the back of the elbow, the other slightly higher. The first was to remove scar tissue, the other a microfracture procedure to smooth an irregularity and stimulate cartilage re-growth.
Ken Gurnick is a reporter for MLB.com. This story was not subject to the approval of Major League Baseball or its clubs.