Dodgers have decision to make as Lilly nears return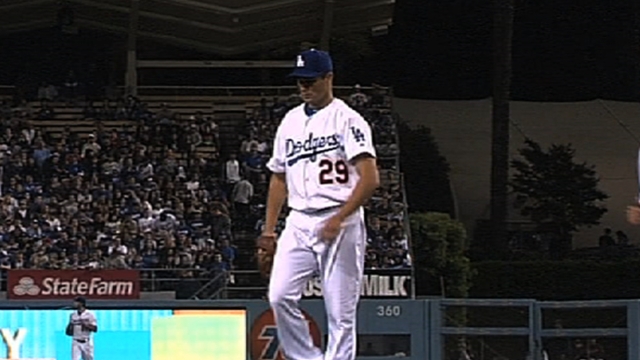 SAN DIEGO -- Ted Lilly, the Dodgers pitcher with no apparent role, came out of his injury rehab start Wednesday night with no issues, which was to be expected because he's not hurt.
Lilly is on the disabled list to rebuild enough arm strength to pitch deep into games. He made 90 pitches for Triple-A Albuquerque on Wednesday night, so the Dodgers soon must make a decision on what to do with him.
"It sounds like he felt good," manager Don Mattingly said. "The ball was coming out better [than his start at Class A Rancho Cucamonga five days earlier]. He's gotten sharper. Rick [Honeycutt, pitching coach] looked at the tape and there's a lot more quality pitches. Obviously, he's going in the right direction.
"The plan right now is for him to throw a bullpen tomorrow and see where we go after that. We haven't made any decision."
Options are limited. It's unclear if Lilly will agree to make another rehab start. There's no room in the current starting rotation for him, barring an injury.
The Dodgers traded Aaron Harang (and paid $4.25 million of the $7 million he'll earn this year) because there was no room in the starting rotation for him, either. They put Chris Capuano in the bullpen for the same reason.
"We'll cross that bridge when we get there," Mattingly said when asked if Lilly could join Capuano in the bullpen, which would require moving a current reliever off the staff.
Because of Lilly's delicate shoulder, the club believes he's not as well suited to relieving as Capuano. Because Lilly earns $12 million this year and is coming off shoulder surgery, he's likely to be tougher to deal than Harang.
Ken Gurnick is a reporter for MLB.com. This story was not subject to the approval of Major League Baseball or its clubs.