Harang adjusting to new role in bullpen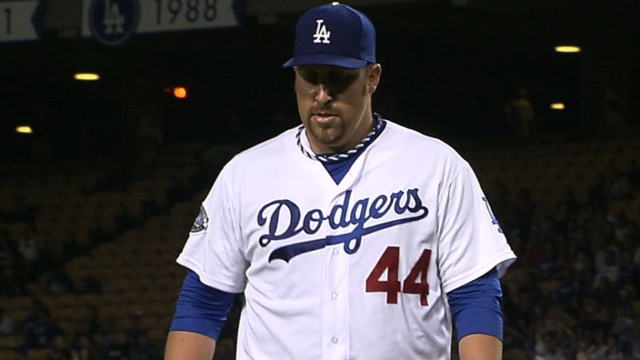 LOS ANGELES -- Aaron Harang, a starter during 11 previous big league seasons, is working to find a new routine to prepare him for his new role in the Dodgers' bullpen. Now that he's out of the rotation, Harang must change when he lifts weights, runs and throws.
"It's tough right now with Aaron," Dodgers manager Don Mattingly said before Friday's series-opener against the Pirates. "He's got to figure out a new program for himself. When to throw is a part of that. He can't just throw at the beginning of the day and go throw a bullpen, because he could be in there that night. He doesn't know when he's going to be in there."
The Dodgers have a surplus of starters and decided to stash Harang in the bullpen to open the season. The right-hander didn't make an appearance in the club's first three games. In 31 starts for the Dodgers in 2012, Harang was 10-10 with a 3.61 ERA.
"It's not a perfect scenario for him, or us, to be honest with you," Mattingly said. "But it's the scenario we're in. And now we have to figure out how to make the best out of it."
Harang expressed concern on Opening Day about his new role. He's since spoken with the organization about his situation.
"I understand where he's coming from, and he understands our situation," Mattingly said. "It doesn't mean he's thrilled about it. He's just frustrated, I think, from the standpoint of the routine. He's trying to figure it out. He's been a starter for a long time. He kind of reestablished himself, and now we've kind of turned it upside down on him."
Ken Gurnick is a reporter and Austin Laymance is an associate reporter for MLB.com. This story was not subject to the approval of Major League Baseball or its clubs.