Lilly tosses bullpen session; rehab game next?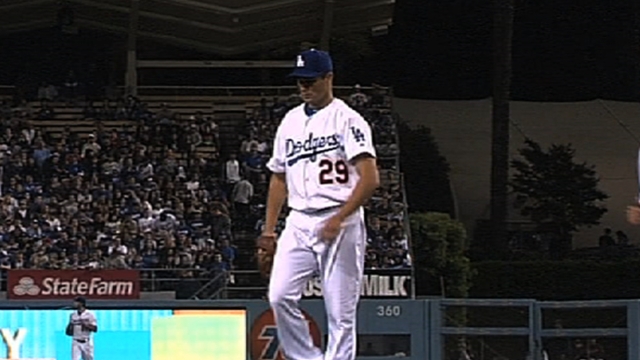 LOS ANGELES -- Ted Lilly threw a lengthy bullpen session Tuesday that sets him up to pitch in a Minor League game Friday at Rancho Cucamonga.
Lilly said he wasn't sure what would follow the bullpen session. Much more than that remains a mystery as Lilly has declined to answer questions about his current status on the Dodgers.
Officially, he's on the disabled list, and maybe that's why when his name was introduced during Opening Day ceremonies, Lilly didn't join his teammates on the third-base line.
Or maybe Lilly was sending a thinly veiled message for being dislodged from the starting rotation after requiring shoulder surgery last year.
Easily forgotten is that until the game in which he was injured, Lilly was having the best season of his career (5-0, 1.79 ERA). And that was a carryover from the end of 2011, when he won five of his last six decisions.
Manager Don Mattingly would only say that he and pitching coach Rick Honeycutt are trying to get Lilly's arm strength built back up so he can resume starting. Where that will be, considering that the Dodgers have seven other starters, is another one of those mysteries.
"It'll work itself out," said Mattingly.
That's been management's stock answer to the surplus of starters, two of which (Chris Capuano and Aaron Harang) were sent to the bullpen, after combining for 22 victories as starters last year. Because of his twice-repaired shoulder, Lilly is not considered a candidate for relief.
Lilly is in the final season of a three-year, $33 million contract.
Ken Gurnick is a reporter for MLB.com. Austin Laymance is an associate reporter for MLB.com. This story was not subject to the approval of Major League Baseball or its clubs.