Defense a big factor in Dodgers' shortstop decision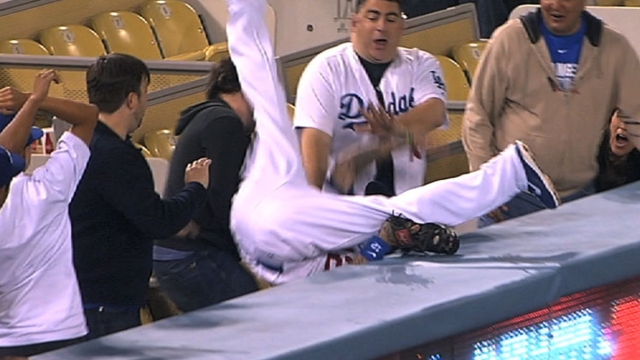 LOS ANGELES -- The Dodgers flip-flopped at shortstop last week because, according to manager Don Mattingly, "a lot of [management and staff] people in the room were concerned about shortstop."
So with Hanley Ramirez's thumb injury scuttling Plan A, Mattingly abruptly abandoned Plan B (Luis Cruz at short and a platoon at third) on Wednesday night for Plan C, taking Justin Sellers (whom he sent down to the Minor Leagues on March 16) and starting him Opening Day at short with Cruz back at third base.
"With the pitching staff we have," said Mattingly, "we want to make sure we catch the ball the best we can."
Mattingly said meetings last week led to Plan C, his best explanation for management's apparent indecision. Cruz remained the shortstop until nine days after Ramirez's injury, leaving Sellers only the last four games of Spring Training to get reacclimated. Mattingly said Dee Gordon wasn't considered an option because of defense and management's desire to get him more seasoning after a wasted 2012, even though Gordon was in big league camp a week longer than Sellers.
Mattingly also believes that Cruz is better defensively at third base than short, plus he prefers to have Jerry Hairston, part of the Plan B platoon at third with Juan Uribe and Nick Punto, free to spell Carl Crawford in left field.
"To me, this makes the most sense to solidify at short with the best defender," he said. "Our first reaction with Hanley was to throw Cruz there because of the way he played last year. We've always looked at Sells as a safety valve. We know he'd catch it. He hasn't shown he's a great offensive player, so you're always looking for something better. We still think he can handle the bat if his approach stays solid. We want him to catch the ball and we'll sacrifice offense for that."
Sellers -- a local product whose father, Jeff, pitched in the Major Leagues -- said he didn't get frustrated when he was sent down and he's determined to make the most of the unexpected opportunity.
Sellers hasn't played in a Major League game since May 22, having undergone back disk surgery last August from an injury he suffered sprawling into the box seats while catching a Miguel Montero foul popup. He said the surgery scared him.
"The recovery was not quick and I worked all winter and I've found myself in a good spot," he said. "I know what they expect of me: quality at-bats and make the plays defensively. With the confidence they have in my glove, I think I'll be fine."
Ken Gurnick is a reporter for MLB.com. Austin Laymance is an associate reporter for MLB.com. This story was not subject to the approval of Major League Baseball or its clubs.