Harang's bullpen role is uncharted territory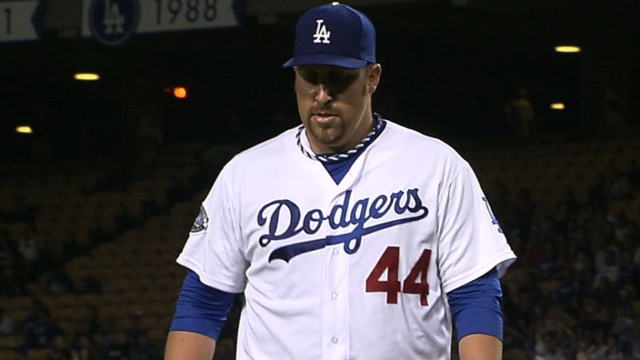 LOS ANGELES -- The Dodgers are more concerned about Aaron Harang transitioning to the bullpen than Chris Capuano. Both were starters for the club a season ago, but will have new roles in 2013.
For Harang, the move to the 'pen comes with several unknowns. The right-hander has rarely pitched in relief over his 11-year career.
"It's not the easiest thing to do when you're used to a set routine," Harang said before Opening Day against the Giants. "There are definitely a lot of adjustments."
Dodgers manager Don Mattingly envisions Harang as a long reliever. But he hasn't sat down with Harang yet to discuss his role in the bullpen. The two talked about the possibility over a week ago, but nothing was certain at that time.
"It is a conversation that we will need to have with Aaron to get him prepared," Mattingly said.
Capuano has more experience as a reliever, most recently with the Mets in 2010.
"We feel like he's probably more equipped to cover a couple different roles," Mattingly said. "He's a guy who can get lefties out. He's shown he can get righties out. We also feel we could use him multiple innings."
The Dodgers used Capuano in relief during Spring Training. But Harang did not get the same experience. He takes longer to warm up, making it hard for Mattingly to know how best to utilize his skills in the bullpen.
"We don't know exactly how to use [Harang], other than he's set up for multiple innings," the manager said. "We are just trying to figure out a routine for him."
Harang said he has not requested a trade.
Ted Lilly is another starter from the 2012 club who will have a different role this season. The left-hander is on the 15-day disabled list as he recovers from left shoulder labrum surgery. Mattingly said Lilly would likely start a Minor League rehab assignment with Class A Rancho Cucamonga on Thursday or Friday. But when he returns to the Dodgers, Lilly likely won't return to the rotation.
For now, the Dodgers bullpen remains a work in progress.
Ken Gurnick is a reporter for MLB.com. Austin Laymance is an associate reporter for MLB.com. This story was not subject to the approval of Major League Baseball or its clubs.