Lilly among trio in search of new roles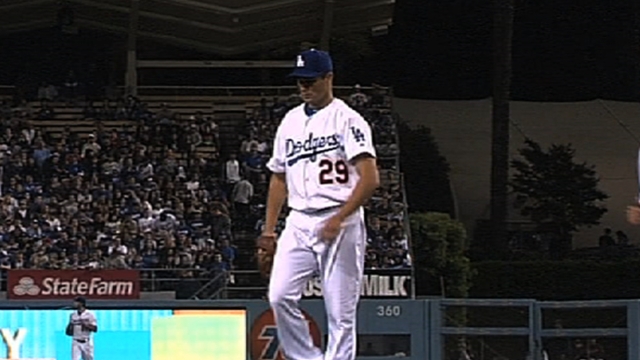 PEORIA, Ariz. -- Despite getting roughed up Wednesday for seven runs in 2 1/3 innings, Ted Lilly said he'd rather pitch out of the Dodgers bullpen than on a Minor League rehab assignment to rebuild arm strength.
Chris Capuano said he'd rather be a starter, even though management seems inclined to put him in the bullpen.
And Aaron Harang still considers himself a starting pitcher, but like his two teammates, is without a role on the team.
After representing 60 percent of the Dodgers' starting rotation when last season started, the trio is sixth, seventh and eighth on a rotation depth chart of five. The season starts Monday and management hasn't worked things out yet.
A trade of Harang or Capuano is one likely option, as both have been scouted by Seattle, Pittsburgh and Cleveland. Lilly will be asked to go to the Minor Leagues, but he can't be forced.
""At this point, asking me today, I'm not really sure," Lilly said about the disabled list. "I'd like to pitch for the Dodgers."
"I don't think we feel like he's ready to start the season, through no fault of his own," manager Don Mattingly said of Lilly, who missed starts with the flu and had another rained out, all while coming off shoulder surgery.
Lilly said his shoulder is fine, but his command isn't. He fell behind in counts against the Mariners on Wednesday, threw strikes and they got hit. He gave up six hits and walked three, his spring ERA climbing to 14.00. Lilly said he hasn't spoken to general manager Ned Colletti about his situation. The Dodgers are concerned that Lilly's shoulder needs more warm-up time than relief duty allows.
"As everybody witnessed, I need to be sharper than I was today," Lilly said. "This game has never been easy for me. I've always had to grind and make adjustments. Don't know why it would change now. For me, it remains the same. Do the job the best I can, prepare the best I can, and if I do that, I can leave knowing I worked hard and prepared hard."
Ken Gurnick is a reporter for MLB.com. This story was not subject to the approval of Major League Baseball or its clubs.