Gregg still alive in hunt for spot in Dodgers' bullpen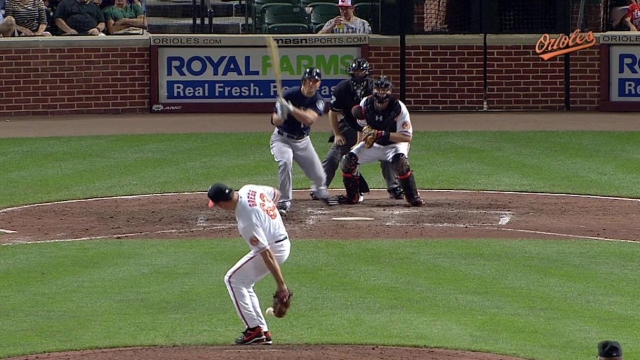 PHOENIX, Ariz. -- The Dodgers released non-roster reliever Mark Lowe on Sunday, while non-roster reliever Kevin Gregg threw another scoreless inning as he continued his longshot chase of a bullpen job.
Their contrasting plights illustrate that not all non-roster conditions are the same. Lowe, because he spent all of last year with Texas, was eligible for a $100,000 bonus if the Dodgers sent him to the Minor Leagues, but also negotiated an opt-out clause in his contract if he wasn't guaranteed a Major League job and salary by Mar. 26.
Gregg, despite having more service time than Lowe, was released by Baltimore last September and wasn't subject to the same free-agent benefits, nor did he have an opt-out, according to club officials. He'll earn $1.75 million, only if he's in the Major Leagues. In the Minors, it's $15,000 a month.
Gregg, a former closer with more career saves (144) than everyone else in camp combined, shouldn't need to worry about being sent to the Minor Leagues based on the way he's pitched -- one earned run in nine innings over eight outings.
But the Dodgers pitching staff is overflowing. There are four relievers guaranteed roles -- Brandon League, Kenley Jansen, Ronald Belisario and J.P. Howell. There are three extra starting pitchers -- Chris Capuano, Aaron Harang and Ted Lilly -- that the club is considering parking in the bullpen. Veteran Matt Guerrier has one more year of guaranteed salary, and youngsters like Paco Rodriguez and Josh Wall are knocking on the door thanks to big spring performances -- each tossed a scoreless inning on Sunday.
And then there's Gregg, who had his mechanics tweaked over the winter by his Corvallis (Ore.) High School coach Eric Daisy, who suggested Gregg straighten up and widen his stance on the mound after viewing old video. Now Gregg has regained his form, and hopes the Dodgers take advantage of it.
"I'm back to where I was a couple years ago," Gregg said.
Ken Gurnick is a reporter for MLB.com. This story was not subject to the approval of Major League Baseball or its clubs.