Fife earns his way onto Mattingly's radar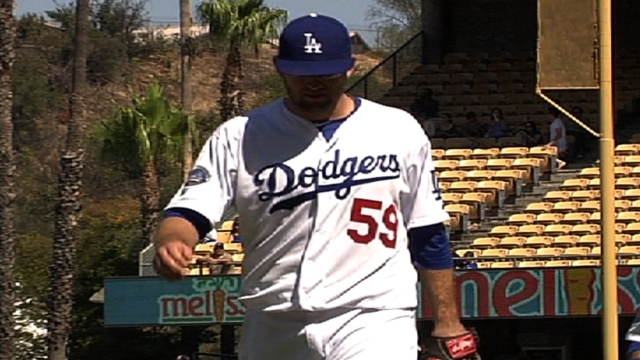 TUCSON, Ariz. -- Dodgers manager Don Mattingly chided reporters Thursday for being so consumed with Cuban sensation Yasiel Puig that they have ignored the solid Spring Training of pitcher Stephen Fife.
OK, but reporters didn't put Fife at No. 9 on the starting pitcher depth chart or assure him of a trip to Triple-A Albuquerque regardless of how well he pitches. Nonetheless, he has pitched well enough to win a job in any rotation that doesn't have eight starters with guaranteed salaries.
So Fife keeps plugging on, and Mattingly has noticed.
"Stephen's been great, but the last time I said that nobody listened because Puig had a big game," said Mattingly. "This guy has come so far last Spring to this Spring. Huge strides. And his stuff has taken a jump.
"He gives credit to the development staff. He does his thing a little differently and they let him be. Last time he hit 96, 95 [mph]. We're seeing velocity we didn't see before."
Fife has said that the Dodgers Minor League staff allowed him to return to his college pregame routine, which included some unconventional stretching exercises that his previous organization, the Boston Red Sox, made him ditch. The Dodgers acquired Fife, Tim Federowicz and Juan Rodriguez in the 2011 Trayvon Robinson trade.
"Guys are creatures of habit," said Mattingly. "It they think it helps, it helps. Certain drills keep you on track, and if they don't get in the way of things, they just look different. I would do things hitting in the cages I know a lot of people wouldn't like. I'm sure they would say, 'Don't do that.' But as long as you hit .340, nobody bothers you.
"If he continues to pitch like that, he'll put himself on the radar. He's already on my radar."
Fife stretched out to six innings Thursday, scattering seven hits while allowing three runs, one of them unearned on his throwing error. He struck out three without a walk. He has a 3.45 ERA with 12 strikeouts and two walks.
Fife wasn't even pleased with his outing, saying he felt "sluggish" in the middle innings, and crediting catcher A.J. Ellis for calling a clever game.
Ken Gurnick is reporter for MLB.com. This story was not subject to the approval of Major League Baseball or its clubs.