Greinke encouraged after strong Minor League start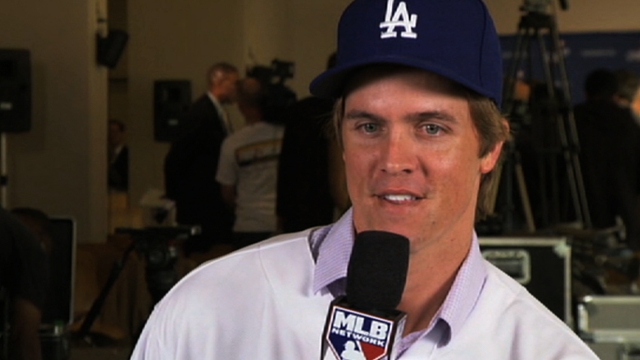 GLENDALE, Ariz. -- Right-hander Zack Greinke said his elbow wasn't an issue during a four-inning Minor League start on Wednesday and he should have enough time to be ready for the opening of the regular season.
"I wasn't worried about it today, I wasn't worried about it the last time I pitched. When I threw a pitch, I wasn't worried about the throw," Greinke said.
Greinke, in his first game action since March 2, threw 43 pitches and used his entire repertoire against a White Sox Minor League team, with regular catcher A.J. Ellis receiving. Greinke is scheduled to pitch again on Monday and then again on March 30, then would be in line to start for the Dodgers on April 5.
"My arm felt really good today, really strong," Greinke said. "Just my pitches aren't 100 percent crisp yet, but I don't know if anyone in the locker room is yet. My command is not perfect, but it won't be during the season. I wouldn't want to pitch like this when I'm pitching my first game of the season."
Greinke said when he returned from a broken rib last Spring Training, he also made only three rehab starts before pitching in a real game, the last one going four innings.
"I'm already a step ahead of the last time," Greinke said.
He said his workload on Wednesday was just right.
"It wasn't perfect command and you saw me upset with several pitches," Greinke said. "My first outing in two weeks, I guess it's kind of what I expected. My fastball was the best of everything. I threw sliders, curves, change and a cutter. Four innings, I got a little tired the last two hitters, kind of perfect. Just what you want to do without doing too much to hurt yourself."
Greinke missed a bullpen session with elbow discomfort on March 3, missed a start with the flu on March 6, threw a bullpen session on March 8 without apparent problems, but was scratched from a March 11 start and instead was flown for an examination in Los Angeles, where he received a platelet-rich plasma injection.
Prior to Wednesday, Greinke had made only two starts this Spring for a total of five innings. By comparison, Clayton Kershaw leads the Dodgers with 19 innings.
Ken Gurnick is a reporter for MLB.com. This story was not subject to the approval of Major League Baseball or its clubs.