Ryu impresses; Billingsley, Beckett ailing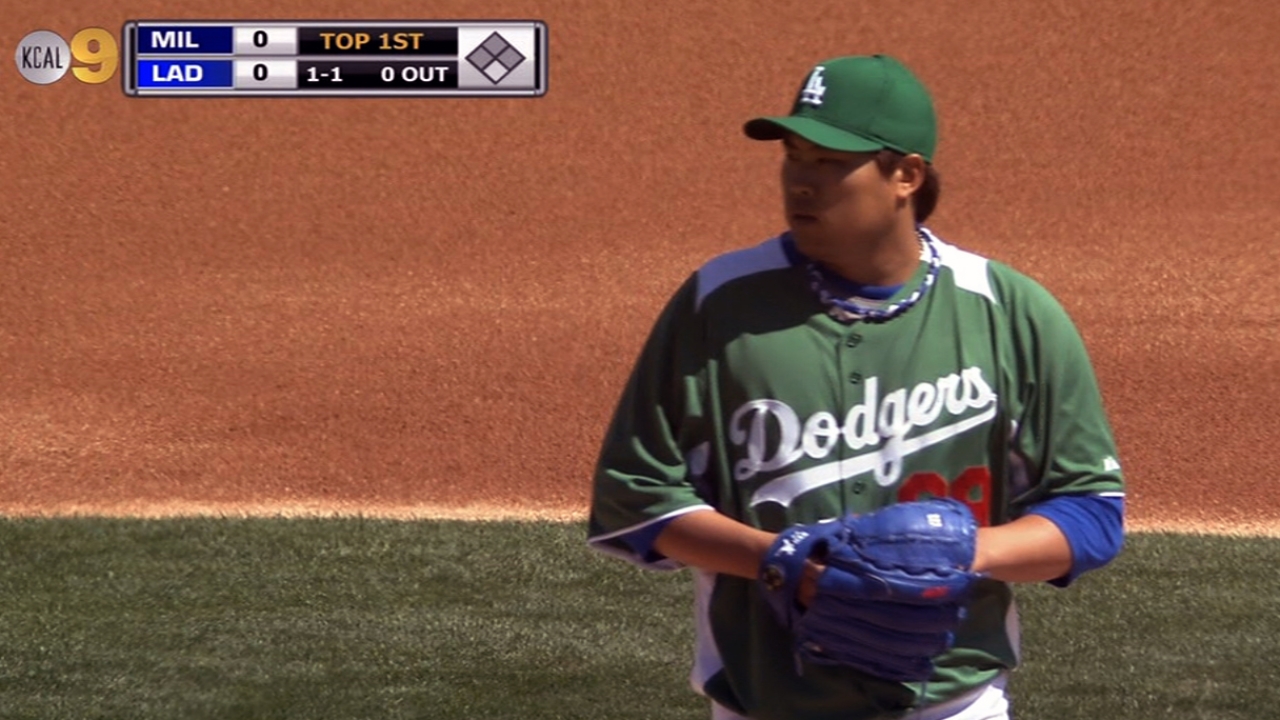 GLENDALE, Ariz. -- Hyun-Jin Ryu's dominant start Sunday was good timing for the Dodgers, who now are dealing with minor ailments for Chad Billingsley and Josh Beckett, not to mention the goal of getting Zack Greinke back into a game.
Ryu allowed one run in 5 2/3 innings with six strikeouts. He walked two back-to-back in the third inning when he appeared to struggle with umpire Mike DiMuro's strike zone, then retired the next 11 batters before being removed because of a 90-pitch limit.
That puts him even with Clayton Kershaw at pitch counts, but the rest of the rotation is having trouble keeping up.
Billingsley will miss his next scheduled start Wednesday because he bruised the index finger of his pitching hand while bunting during batting practice. X-rays were negative. It wouldn't be a total shock if Greinke makes that start, assuming he comes out of his Sunday bullpen session with no elbow soreness.
Beckett is still tentatively scheduled to start Monday, but he was sent home early Sunday with the flu for the second day. Chris Capuano should start on Tuesday. Aaron Harang will probably start a Minor League game on Thursday, when Stephen Fife will make the bus ride to Tucson for the Dodgers Green charity game.
Kershaw, who doesn't expect to miss any time after getting struck on the left Achilles by a comebacker Saturday, will likely get an extra day of rest and start Friday.
The Dodgers only hope they all should pitch as well as Ryu did Sunday, when he was facing some of the Brewers for the second consecutive start.
"That was a good test for him and he executed," said catcher A.J. Ellis. "He has the ability to throw any pitch any time, to mix things up. His fastball command was really strong. When he walked the first two hitters [in the third inning], that was a good test, and he pitched his way out of it. It was fun to see. The development of his breaking stuff this spring has been the key to his success."
Perhaps the club was expecting too much from Ryu earlier in camp, when his resistance to throwing bullpen sessions raised a red flag, but his gradual improvement the last three starts strikes of a veteran pitcher knowing what he needs to do to be ready for the regular season.
"Maybe," manager Don Mattingly said of that theory. "He's a confident guy from the beginning. He's easygoing, confident in what he can do. If this is how he does it next spring, we can say we didn't know the guy [this spring]."
Ryu acknowledged that, as a foreigner coming to the Major Leaguers, there were expectations to do well immediately.
"But for me, that's not the priority," he said. "For me, it's getting ready for the season."
Ken Gurnick is a reporter for MLB.com. This story was not subject to the approval of Major League Baseball or its clubs.