Kershaw dominant as season opener nears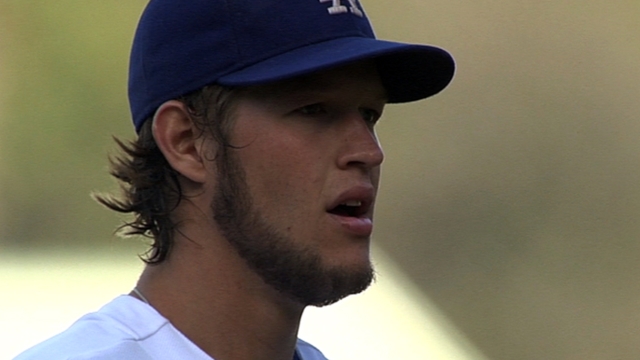 SURPRISE, Ariz. -- Clayton Kershaw said he still has a few kinks to iron out in his final two Spring Training starts, but manager Don Mattingly said he'd take the current Kershaw on Opening Day, no questions asked.
"Yeah, I think he's ready. He seemed ready from the first time out there, really," Mattingly said, after Kershaw allowed only two hits over six scoreless innings with six strikeouts on Saturday in the Dodgers' 4-0 loss to Texas.
The only concern with Kershaw was a comebacker he took off his left Achilles on a fourth-inning single by David Murphy that caromed into right field. Kershaw initially waved off trainers and reluctantly took one warm-up pitch before continuing.
After his six innings and 70 pitches, Kershaw went to the bullpen and made another 20 throws. He left the clubhouse with an ice pack covering his heel.
"It might be a little sore tomorrow," said Kershaw. "It's one of those things that will get worse if you don't do stuff. I might as well finish it out. I'll ice it tonight and I should be fine."
Kershaw said he "definitely has things to work on," but "overall I'm happy with the progression."
Kershaw now has 19 innings in five starts, which is a good benchmark for how far behind Zack Greinke and Ted Lilly are. Greinke, scheduled to throw a light bullpen session Sunday, has thrown only five innings because of a sore elbow. Lilly has only 4 2/3 innings and is scheduled to start one of Sunday's split-squad games.
Kershaw's ERA is now 4.50 and he has 20 strikeouts, compared to four walks.
Ken Gurnick is a reporter for MLB.com. This story was not subject to the approval of Major League Baseball or its clubs.