Mattingly in awe of Puig's continued tear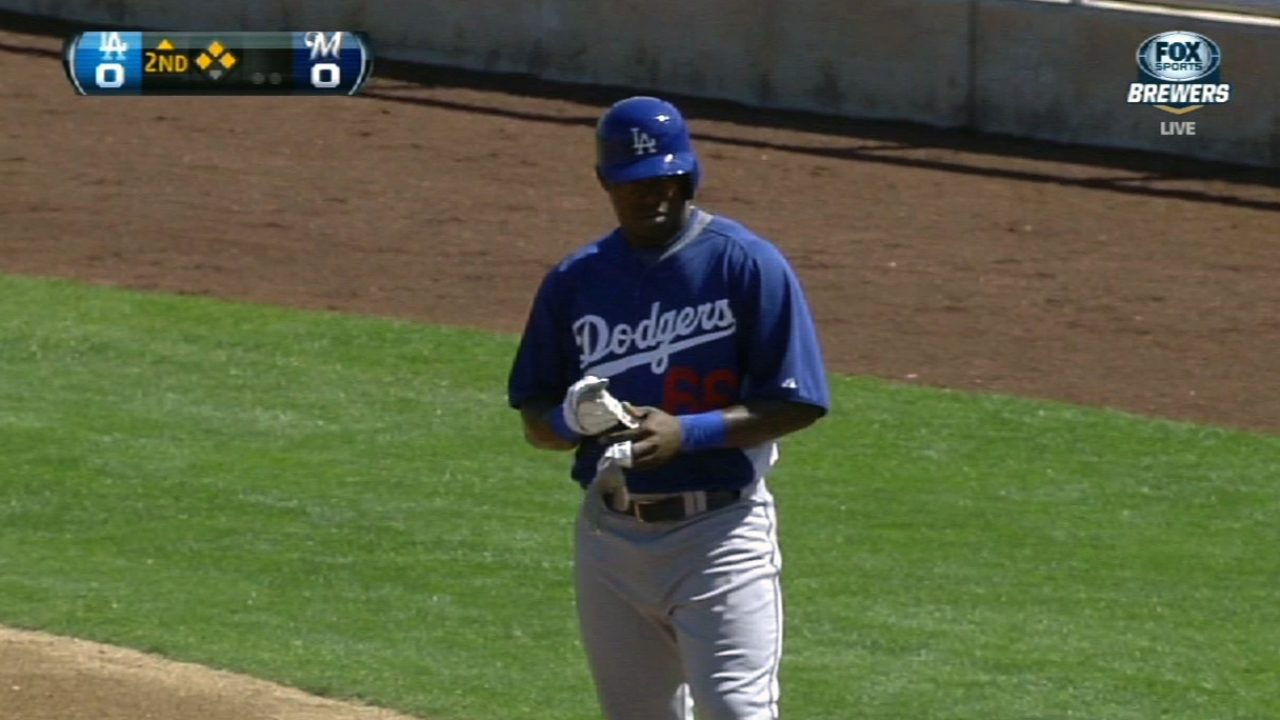 GLENDALE, Ariz. -- Yasiel Puig, the Dodgers' Cuban sensation, put on his most dazzling display yet on Friday night, leaving manager Don Mattingly empty for a comparison.
"I don't know if I've seen anybody do something like this," Mattingly said after Puig went 3-for-3 with a homer, stolen base, three runs scored and two RBIs, raising his spring average to .459 in an 8-1 win over the Royals. "You don't see this kind of package, a Bo Jackson-type package."
Puig's night was so impressive it overshadowed a 4-for-4 effort from Juan Uribe, who finally appears to be getting his game back together.
Puig doesn't seem to lack confidence or courage, but he said he's a little surprised by his success.
"I didn't think I would do this well," he said. "That's why I went to Puerto Rico [Winter League] and I've worked hard."
When a writer jokingly asked Mattingly how Puig would be introduced Opening Day -- Mattingly said on Thursday he expected Puig to be in the Minor Leagues -- the manager wasn't arguing.
"Bring him in by helicopter," he said. "He can parachute in, with Cuban and American flags on both sides. Scary is right. He was amazing tonight."
Puig did it with more than the bat. He cut off a ball in the gap to hold Willy Taveras to a single. He hustled out of the box to beat right fielder Jeff Francoeur's throw after stinging the ball so hard on a bounce that Francoeur tried to throw him out at first. Puig also hustled home from third base when a ball got away.
"That's just instinctual," Mattingly said. "Seeing a ball get away, you can't wait for a coach to tell you to do that."
With Matt Kemp in center field and Andre Ethier in right, the only possible spot for Puig would be left field, and that's only if Carl Crawford's elbow isn't ready. Crawford has resumed throwing after sustaining a post-surgery setback, and he's optimistic he will be ready for Opening Day.
And Puig?
"I'm not worried about that," said the 22-year-old Puig, who has only 95 professional at-bats. "Wherever I go, I can't do nothing about that. I play hard no matter what."
Ken Gurnick is a reporter for MLB.com. This story was not subject to the approval of Major League Baseball or its clubs.