Flu symptoms keep Lilly out of practice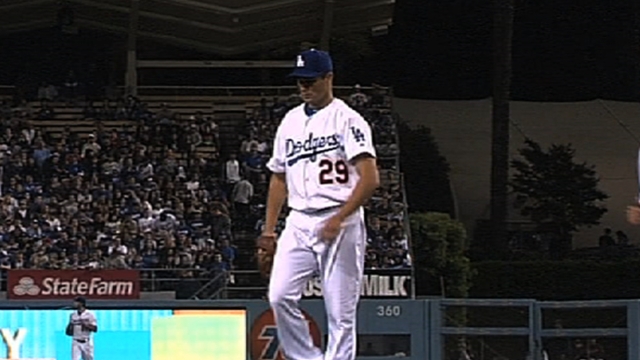 GLENDALE, Ariz. -- Ted Lilly missed Dodgers practice Thursday with recurring flu symptoms, making his uphill climb back into the starting rotation just a little bit tougher.
Because of his absence, Lilly missed a scheduled between-outings bullpen session. Missing the bullpen session puts in jeopardy his next scheduled start in a split-squad game Sunday.
It's all the latest in a string of tough-luck occurrences for Lilly, whose shoulder seems sound enough after surgery to have impressed manager Don Mattingly when he has been able to pitch.
But Lilly has made only three appearances for 5 1/3 innings, and he's well behind in building a foundation that would allow him to pitch deep into games when the season starts. By comparison, Clayton Kershaw has thrown 13 innings, Josh Beckett has 13 1/3 innings and Chad Billingsley has 12 2/3 innings.
Lilly missed three days of workouts, a bullpen session and a start earlier this month with the flu. He apparently wasn't 100 percent Tuesday night, when he pitched 2 2/3 innings of relief that included an inning extended by a questionable throwing error that led to four unearned runs.
Lilly is one of eight established starting pitchers with guaranteed salaries that the Dodgers have in camp. His uncertain health coming off labrum surgery was a contributing factor in the club's offseason acquisitions of free agents Zack Greinke and Hyun-Jin Ryu, and he is joined by Chris Capuano and Aaron Harang as starters from last year's rotation that don't seem to have a role this year.
The 37-year-old Lilly was off to the best start of his career in 2012 (5-0), but made only eight appearances and none after May 23.
Ken Gurnick is a reporter for MLB.com. This story was not subject to the approval of Major League Baseball or its clubs.