Crawford faces Major League pitchers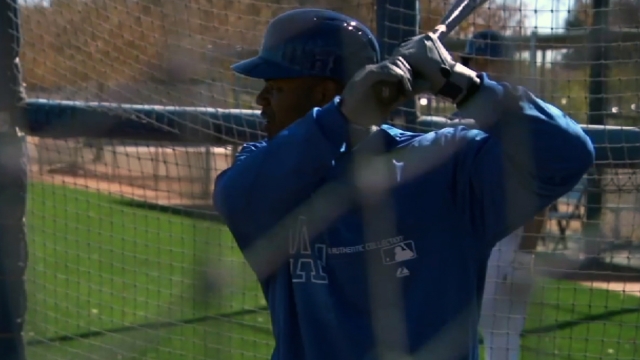 GLENDALE, Ariz. -- Dodgers outfielder Carl Crawford stepped it up another notch in his comeback from an elbow injury, taking live batting practice from Major League relievers J.P. Howell and Kenley Jansen on Tuesday.
Crawford took 19 pitches from Howell, swung at eight and hit nothing hard.
He improved when facing Jansen,taking eight pitches, swinging at seven and hitting four hard.
"I thought he was pretty good today," manager Don Mattingly said. "He gets like 10 at-bats. That's five Spring Training games."
Crawford still hasn't resumed throwing, which is the major hurdle for his surgically repaired elbow. But Mattingly pointed out that Crawford's recent setback occurred after he took batting practice off Major League pitchers, so how he feels on Wednesday will be telling.
"Tomorrow's a big day for us," Mattingly said.
Crawford said his elbow, which has experienced nerve irritation in his slow return from Tommy John surgery, "felt all right."
He said it took a little while to adjust to the greater speed from big league pitchers compared to the batting practice he's been taking from coaches. But he added that his timing "isn't as far off as you'd expect it, either."
"It was a good day, a step in the right direction," he said.
Crawford resumed hitting on Thursday after taking a week off to calm down the nerve irritation. The medical department is increasing his drills methodically to avoid, or pinpoint the cause of, any recurrence in the discomfort that is not unusual for Tommy John surgery.
The calendar, however, is working against Crawford in his goal to be ready for Opening Day, as he will need time, once he starts throwing, before he's ready to make a strong throw in from left field without risking overuse.
Ken Gurnick is a reporter for MLB.com. This story was not subject to the approval of Major League Baseball or its clubs.