Barnes growing in importance to Dodgers
Backup catcher played big role in NLDS sweep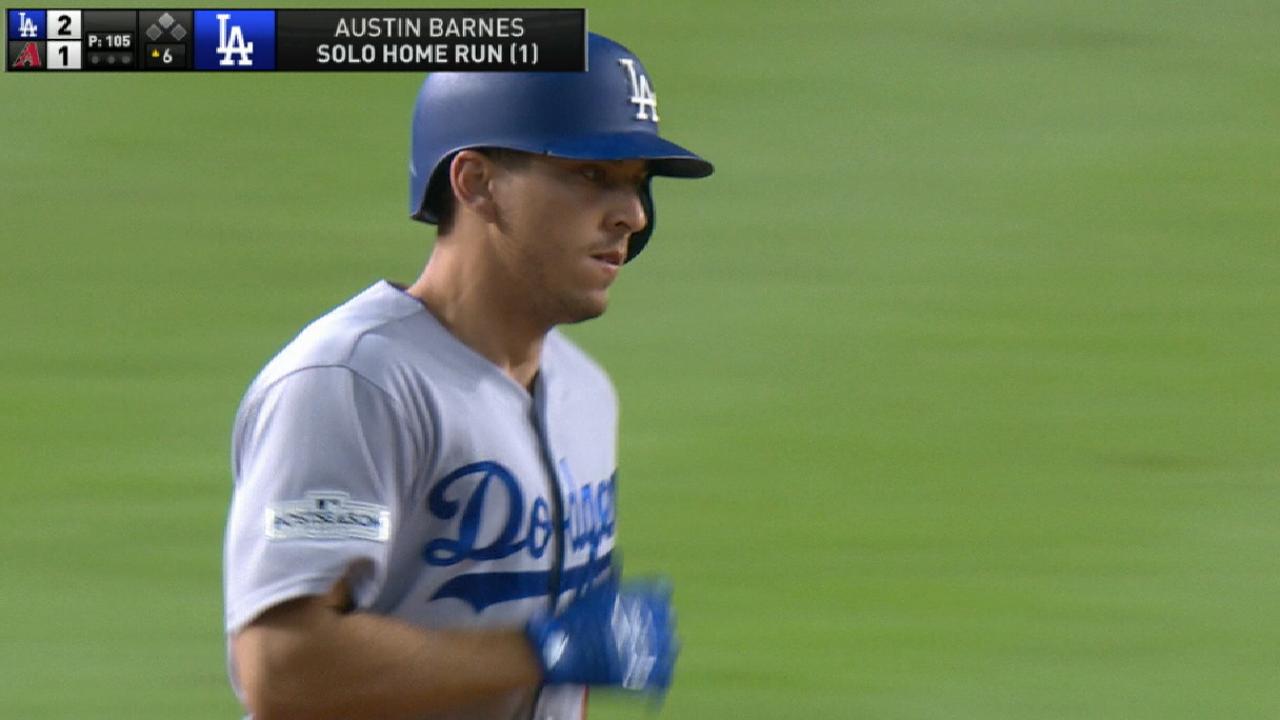 PHOENIX -- Dodgers manager Dave Roberts inserted Austin Barnes into the lineup Monday night because of the little things that Barnes does. He could work the count against Zack Greinke, Roberts said before the game. He had a good rapport with Dodgers starter Yu Darvish, Roberts added.
But the big moment came just as naturally to Barnes. Minutes after Daniel Descalso's solo home run whipped the Arizona crowd into a frenzy, Barnes unloaded on a Greinke fastball and deposited it in the left-field seats. The Chase Field crowd hushed, and the D-backs hardly threatened after that in a 3-1 Dodgers victory.
October has a tendency to catapult players from unknown quantities into folkloric status. Barnes isn't there yet, but he might be on his way. On a 104-win Dodgers team loaded with superstars, Barnes, a backup catcher, played as big a role as anyone in the sweep of Arizona in the National League Division Series presented by T-Mobile.
• Shop Dodgers postseason gear
"It's always nice when your manager has that faith in you," Barnes said afterward. "It was nice to be in the lineup and be able to contribute with the guys."
The question, now, is how much Barnes will contribute in the NL Championship Series presented by Camping World. Barnes received only 218 at-bats during the regular season, hitting .289/.408/.895 in a mostly platoon role.
Yasmani Grandal started for much of the season against right-handers. And Grandal, a switch-hitter, did so plenty against left-handers, too. But in September, Grandal batted .154/.269/.369, and he went hitless with two strikeouts in four NLDS at-bats.
Barnes, meanwhile, went 4-for-8 with a walk. He came off the bench in Game 1, then started Game 2 against left-hander Robbie Ray. He singled and scored the go-ahead run in the fourth, before breaking the game open with a two-run double an inning later.
Barnes' homer swung Game 3, but Roberts was equally impressed with the job he did as Darvish's batterymate.
"Austin, he's really matured as a Major League player this year behind the plate, just the confidence that he's grown to have," Roberts said. "Behind the plate, in the batter's box, he competes every pitch, hits to all fields."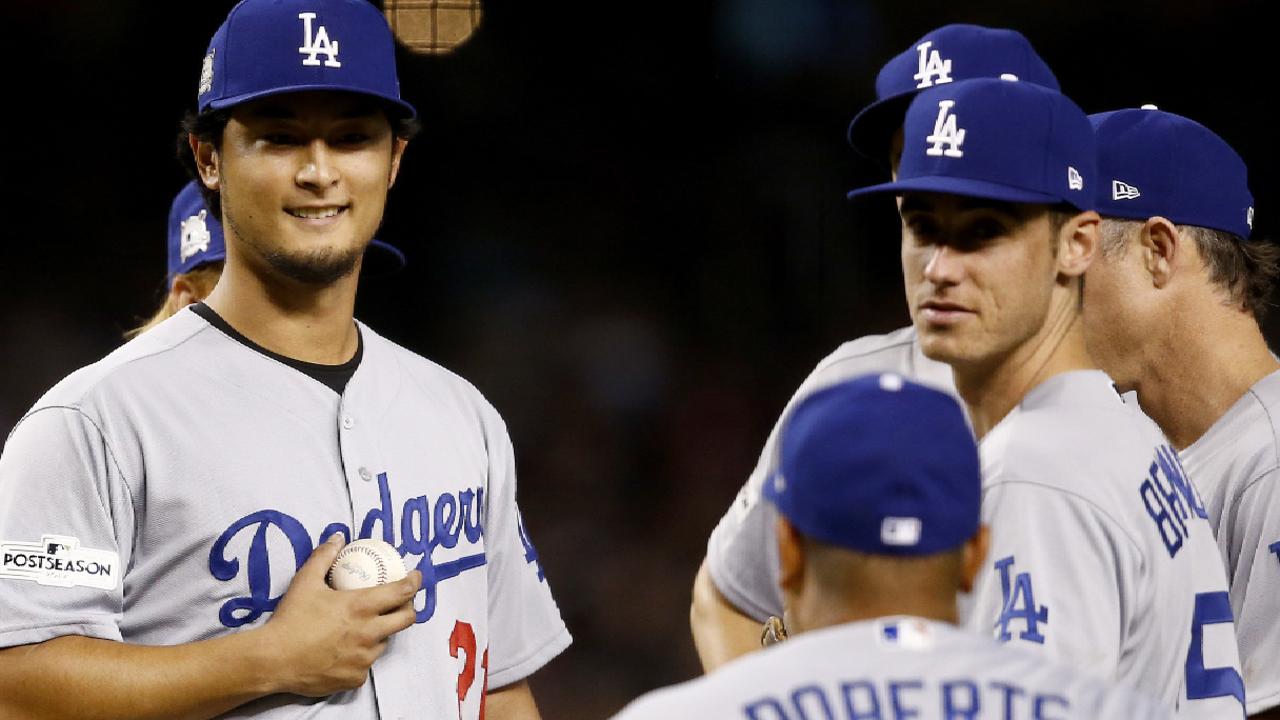 In the NLCS, Roberts will have a nightly decision to make behind the dish. It might come down to the handedness of the opposing pitcher. Or it might come down to the Dodgers' own pitcher.
Grandal has had more success handling Clayton Kershaw. Barnes has caught Rich Hill more frequently and with better results than Grandal. Both Darvish and Alex Wood, meanwhile, have relatively even splits with both catchers.
"He's a hell of a player," Hill said amid Monday's celebration. "What he did tonight was unbelievable. ... The entire season, he's grown as a player, he's grown as a Major Leaguer. His at-bats are extremely quality."
Whatever his role, Barnes is merely content to keep winning.
"We're a close group," he said. "We play the game the right way, and it's fun because we're all in it together."
AJ Cassavell is in his seventh season as a reporter for MLB.com. Follow him on Twitter @ajcassavell. This story was not subject to the approval of Major League Baseball or its clubs.