Granderson returns to Urban Youth Academy
Dodgers outfielder imparts wisdom to kids in second visit to facility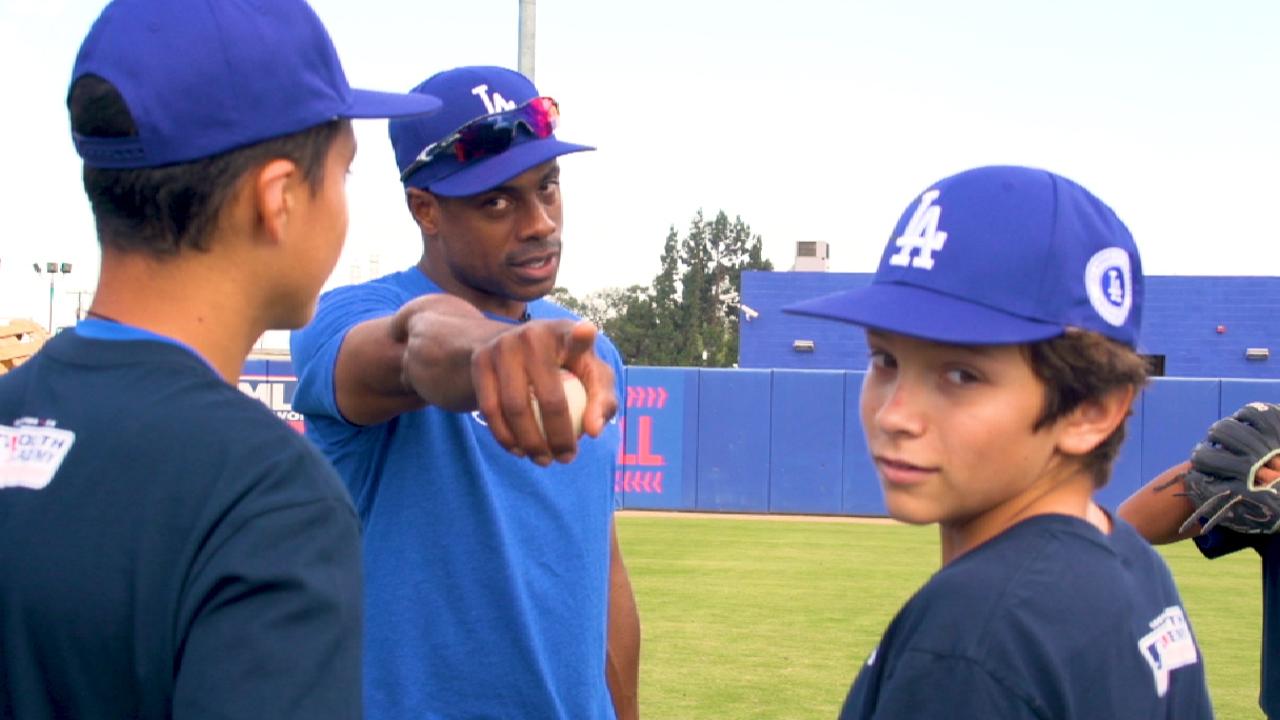 While playing for the Tigers in 2009, Curtis Granderson held a baseball clinic at the Major League Baseball Urban Youth Academy in Compton, Calif., which was then 3 years old. About 50 kids, wearing their own baseball clothes, turned out to work with the young outfielder that day.
Fast forward eight years and Granderson, fresh off celebrating clinching the 2017 National League West title with his new Dodgers teammates, returned to Compton, this time dressing more than 160 young players in shirts emblazoned with "Curtis Granderson's Grandkids," provided by the veteran's foundation.
"I think I spoke to all the kids over there," Granderson said to Darrell Miller, Major League Baseball's vice president of youth and facility development, who was also at Granderson's first clinic.
"A much bigger turnout this time," replied Miller.
What better way to celebrate a @dodgers division title than w/over 150 #GrandKids at @mlbuya today in Compton! TY @DodgersFdn & @newbalance! pic.twitter.com/5zMeoXfeYD

— Curtis Granderson (@cgrand3) September 23, 2017
For Granderson, the son of two educators, teaching baseball and the positive aspects of life comes naturally. The impact he has made on young people in his native Chicago, and in Detroit and New York compelled Major League Baseball to award Granderson with the 2016 Roberto Clemente Award for excellence in community service. He received the award at Game 4 of the World Series in Chicago last October.
"That was awesome," said Granderson. "Just to see the similarities between [Clemente's] parents and my parents and find the importance, in terms of what community means, not only to where you grew up, but the city that gives you a chance to make you who you are, playing this great game of baseball."
Granderson created the Grand Kids Foundation in 2007 to aid positive youth development through education, physical fitness and nutrition initiatives. To date, the foundation has hosted more than 1 million youth at Grand Kids camp/clinic programs across the country, provided more than 3 million meals as part of an annual food insecurity campaign (Grand Giving) and developed a youth academy at Curtis Granderson Stadium at the University of Illinois Chicago, for which the outfielder personally donated more than $5 million.
"Curtis is a one of kind, there is no one else like him," said Miller. "He has a heart for the kids and a vision of what he wants to accomplish in the community. It means a lot to these boys and girls to know there's somebody currently in the Major Leagues who has a heart like this and, for our kids, they really wanted to meet him. This is a totally different group of kids than were here eight years ago, so we have gone full circle with Curtis."
That face you make when you get paired up with your new bestie!
📸: @JonSooHoo #GrandKids #LADFgives #BiggerThanBaseball pic.twitter.com/weGqThmguR

— Dodgers Foundation (@DodgersFdn) September 5, 2017
On Saturday the kids were led through warmup drills, personally supervised by Granderson, and then groups were broken up by age and the groups moved to baseball-skill stations, manned by Academy coaches and Granderson, where the players worked on fundamentals.
"Academies like this one give opportunities for kids to play, have fun, know the importance of education, know the importance of being active and moving around," said Granderson. "That's what the Urban Youth Academy is trying their very best to do, and to be here now, as a Dodger, is very cool."
Ben Platt is a national correspondent for MLB.com. This story was not subject to the approval of Major League Baseball or its clubs.