'Yu-San' K's 7, but lacks sharpness in return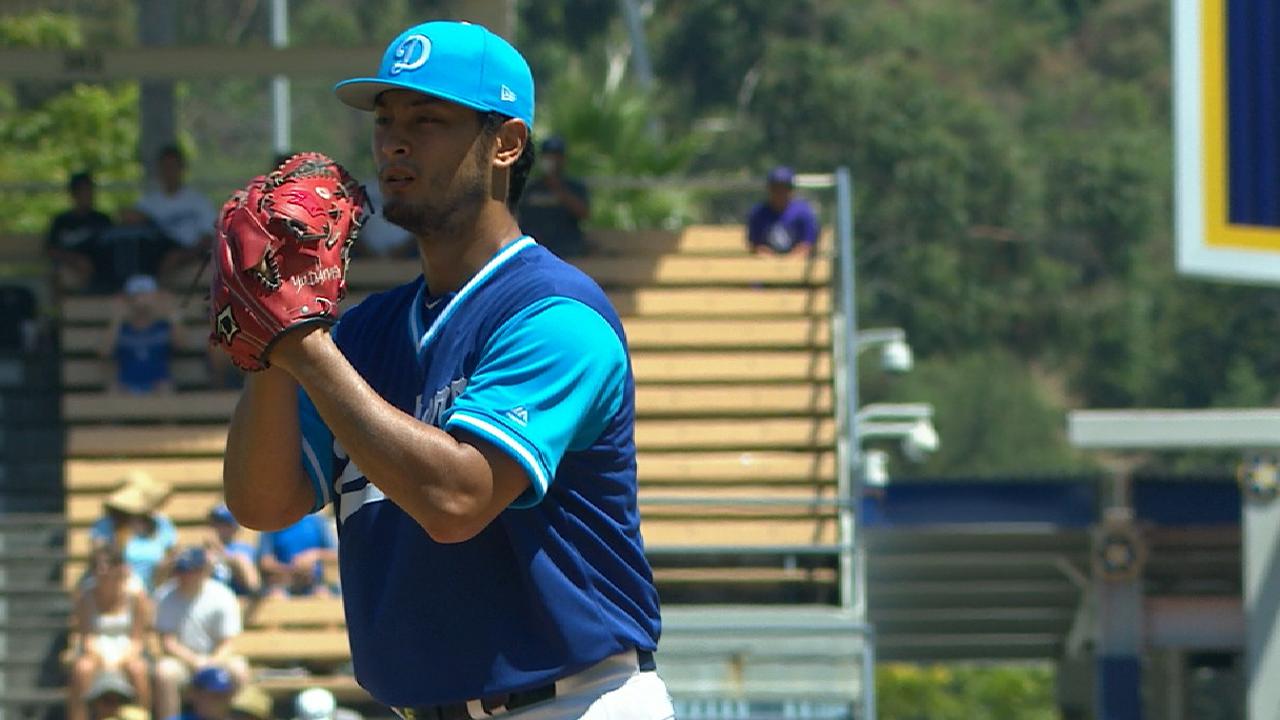 LOS ANGELES -- Yu Darvish (aka "Yu San") returned to the Dodgers' rotation from the disabled list, but the veteran righty didn't have the type of outing he would've liked.
Darvish fanned seven and gave up three runs on six hits through five innings, but he struggled with his fastball command, driving up his pitch count early in the Dodgers' 3-2 loss to the Brewers on Sunday.
Manager Dave Roberts said Darvish is changing his mechanics and how he deploys his repertoire, and Darvish is still trying to work through the adjustments. While he was on the DL, Darvish worked with pitching coach Rick Honeycutt in bullpen sessions to test out the new throwing styles.
"I think, when talking to Yu and talking to Rick, it was a mechanical adjustment that's he working through over the last 10 days," Roberts said. "To take it from a bullpen to a game, obviously things speed up."
Most of the damage against Darvish was done in the third. The righty gave up a homer to Hernan Perez and a run-scoring single to Domingo Santana, making the score 3-0. But Darvish settled in afterward, fanning three of the last eight batters he faced and allowing just one hit.
What worked best for Darvish was his curveball. Darvish recorded three of his seven strikeouts with the pitch, freezing Orlando Arcia in the second with a bending 70.6-mph curveball.
"There really was a whole lot of consistency," Roberts said. "I thought he made some good throws with the slider, the curveball, the fastball and the change. They fouled off some good pitches and pushed a run across early. Overall, the pitch count got up early [but] he still pitched well."
Darvish agreed with Roberts about his mechanics and said his back didn't bother him, but added that he struggled to adjust to the new mechanics in a game. Darvish cited his Tommy John surgery in 2015 as a reason why it'll take time for him to get used to the new motion.
"I made big changes," Darvish said through an interpreter. "I had pretty good bullpen sessions. It was different, game-wise, facing hitters. That was me trying to make an adjustment with those mechanics. ... Mechanically, I think because of the surgery, the way I pitched was more of the top to down [motion] after the Tommy John, compared to when I was more sideways and my sliders and offspeed pitches were a little different."
Joshua Thornton is a reporter for MLB.com based in Los Angeles. This story was not subject to the approval of Major League Baseball or its clubs.