It's a tight race for outfield spot in NL voting
Heyward, Zobrist, Ozuna, Kemp, Stanton bunched up in balloting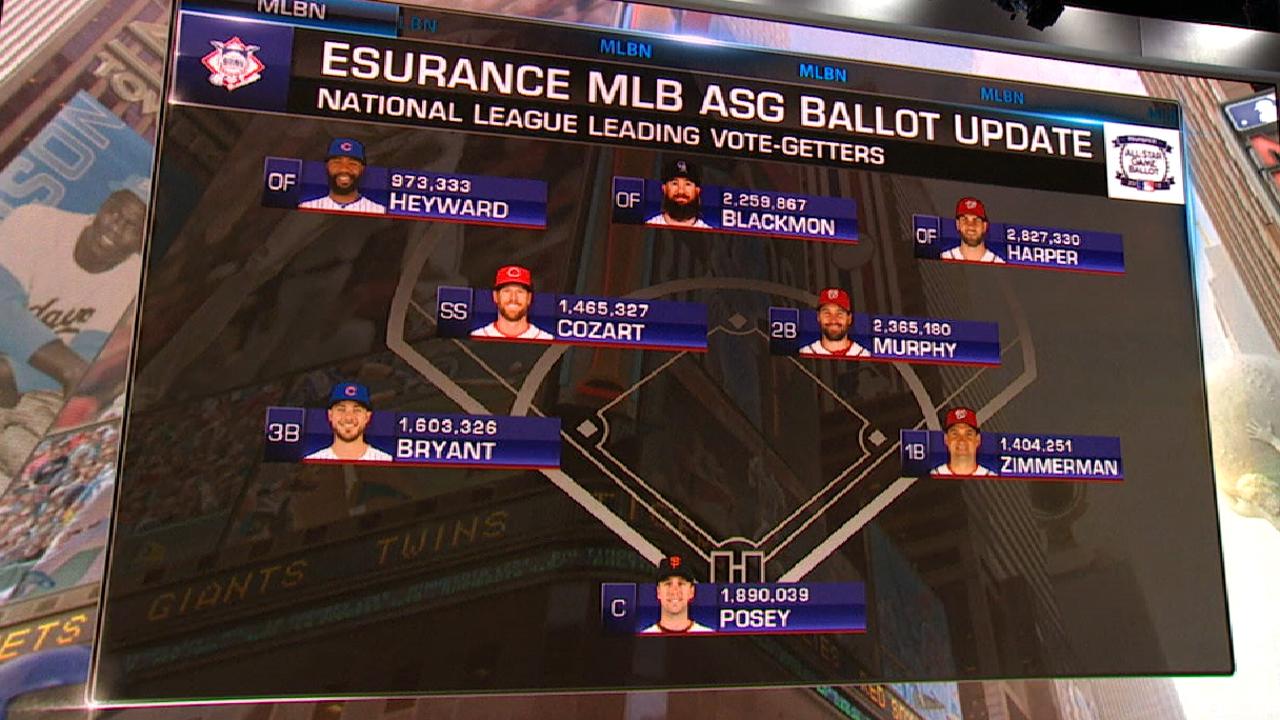 The Major League Baseball All-Star Game presented by MasterCard is nearly three weeks away and the race for the third outfield spot is tightening, as revealed in the fourth installment of the Esurance MLB All-Star Game Ballot fan voting update for National League starters released Monday.
The Marlins' Marcell Ozuna surpassed the Braves' Matt Kemp, who sits just behind the Cubs' Ben Zobrist for fourth on the outfielder leaderboard. All three players find themselves neck-and-neck with the Cubs' Jason Heyward for the final starting position while Miami slugger Giancarlo Stanton is also not far behind.
• American League All-Star voting update
The 88th MLB All-Star Game is scheduled for July 11 at Marlins Park in Miami, where baseball's greatest talents take center stage.
Here are the latest results:
CATCHER
1. Buster Posey, Giants: 1,890,039
2. Willson Contreras, Cubs: 957,933
3. Yadier Molina, Cardinals: 857,109
4. Matt Wieters, Nationals: 573,072
5. Yasmani Grandal, Dodgers: 525,432
Posey has extended his lead ahead of the field with an excellent performance at the plate over the past seven days, going 8-for-20 (.400) with a homer, three doubles and two RBIs. Contreras had a nice week as well, collecting six hits and six RBIs in 18 at-bats (.333), but is struggling to keep pace with the Giants backstop, who is bidding for his fifth All-Star appearance.
FIRST BASE
1. Ryan Zimmerman, Nationals: 1,404,251
2. Anthony Rizzo, Cubs: 1,247,219
3. Paul Goldschmidt, D-backs: 828,361
4. Freddie Freeman, Braves: 637,030
5. Joey Votto, Reds: 517,833
Rizzo has been scorching hot since being inserted into the leadoff spot, batting .417 with three home runs and eight RBIs over the past week, but hasn't been able to eat into Zimmerman's hold on the top spot. The Nationals first baseman hit .208 over the past seven days, but clubbed two home runs and drove in five runs.
SECOND BASE
1. Daniel Murphy, Nationals: 2,365,180
2. Javier Baez, Cubs: 1,328,917
3. DJ LeMahieu, Rockies: 401,768
4. Brandon Phillips, Braves: 350,150
5. Kolten Wong, Cardinals: 285,496
Murphy racked up 12 hits in 28 at-bats to hit a blistering .429 since the last voting update to keep a stronghold on the top spot among second basemen. Not much has changed throughout the rest of the top five, but LeMahieu is doing his best to earn more votes, hitting .452 with six RBIs this past week while helping the red-hot Rockies improve to 20 games over .500.
THIRD BASE
1. Kris Bryant, Cubs: 1,603,326
2. Nolan Arenado, Rockies: 1,300,612
3. Justin Turner, Dodgers: 747,659
4. Anthony Rendon, Nationals: 635,838
5. Jake Lamb, D-backs: 564,447
No third baseman had a better week than Arenado, who capped off a magnificent seven days with a walk-off three-run home run on Sunday to finish off a Father's Day cycle. Colorado's artist at the hot corner batted .394 with nine RBIs while Turner hit .400 with a homer and three RBIs throughout the week. Bryant had a down week, bating .200 with a homer and an RBI, but still paces the field by a decent margin.
SHORTSTOP
1. Zack Cozart, Reds: 1,465,327
2. Corey Seager, Dodgers: 1,143,767
3. Addison Russell, Cubs: 967,495
4. Trea Turner, Nationals: 652,507
5. Chris Owings, D-backs: 541,960
Cozart, who is vying for his first All-Star honor, played in just three games over the week because of a quad injury, but picked up two hits in five at-bats on Sunday to raise his batting average back up to .320. The 31-year-old still paces the position in the NL with a .966 OPS.
OUTFIELD
1. Bryce Harper, Nationals: 2,827,330
2. Charlie Blackmon, Rockies: 2,259,867
3. Jason Heyward, Cubs: 973,333
4. Ben Zobrist, Cubs: 887,804
5. Marcell Ozuna, Marlins: 871,393
6. Matt Kemp, Braves: 835,324
7. Giancarlo Stanton, Marlins: 823,558
8. Kyle Schwarber, Cubs: 775,212
9. Yoenis Cespedes, Mets: 576,463
10. Adam Duvall, Reds: 532,243
11. Dexter Fowler, Cardinals: 490,136
12. Jayson Werth, Nationals: 457,714
13. Jay Bruce, Mets: 432,805
14. Yasiel Puig, Dodgers: 430,423
15. Billy Hamilton, Reds: 367,684
Harper, who leads all NL outfielders with a 1.028 OPS, is closing in on 3 million votes as he continues his quest for a fifth career All-Star selection. Harper has had a resurgent 2017, batting .318 with 17 home runs and 51 RBIs in 62 games for the first-place Nationals.
Blackmon has shown no signs of slowing down, and while he may have a tough time catching Harper in the ballot race, he's arguably been just as good. The 30-year-old leads all Major Leaguers with 95 hits and all NL outfielders with a .610 slugging percentage.
Despite a relatively stagnant leaderboard from a week ago, it's Ozuna who has continued his ascent while pushing for a starting role and his second All-Star selection. The 26-year-old went 6-for-18 (.333) with three home runs during the past seven days to leapfrog Kemp and inch toward Zobrist.
The competition for the final starting spot will be one to monitor as the Midsummer Classic nears, with more than five players in position to grab it.
Fans may cast votes for starters at MLB.com and all 30 club sites -- on computers, tablets and smartphones -- exclusively online using the 2017 Esurance MLB All-Star Game Ballot until Thursday, June 29, at 11:59 p.m. ET. On smartphones and tablets, fans can also access the ballot via the MLB.com At Bat and MLB.com Ballpark mobile apps. Vote up to five times in any 24-hour period for a maximum of 35 ballots cast.
Following the announcement of the 2017 All-Star starters, reserves and pitchers, fans should return to MLB.com and cast their 2017 Esurance MLB All-Star Game Final Vote for the final player on each league's All-Star roster. Then on Tuesday, July 11, while watching the 2017 All-Star Game presented by MasterCard live on FOX, fans may visit MLB.com to submit their choices for the Ted Williams Most Valuable Player Award presented by Chevrolet with the 2017 MLB All-Star Game MVP Vote.
The 88th Midsummer Classic, at Marlins Park in Miami, will be televised nationally by FOX Sports; in Canada by Rogers Sportsnet and RDS; and worldwide by partners in more than 160 countries. ESPN Radio and ESPN Radio Deportes will provide exclusive national radio coverage, while MLB Network, MLB.com and SiriusXM will have comprehensive All-Star Week coverage. For more information about MLB All-Star Week and to purchase tickets, please visit AllStarGame.com and follow @AllStarGame on social media.
Oliver Macklin is a reporter for MLB.com based in Washington, D.C. Follow him on Twitter at @OMacklinMLB. This story was not subject to the approval of Major League Baseball or its clubs.