Gonzalez shows signs of breaking out at plate
Dodgers first baseman drives in three during win over Marlins Sunday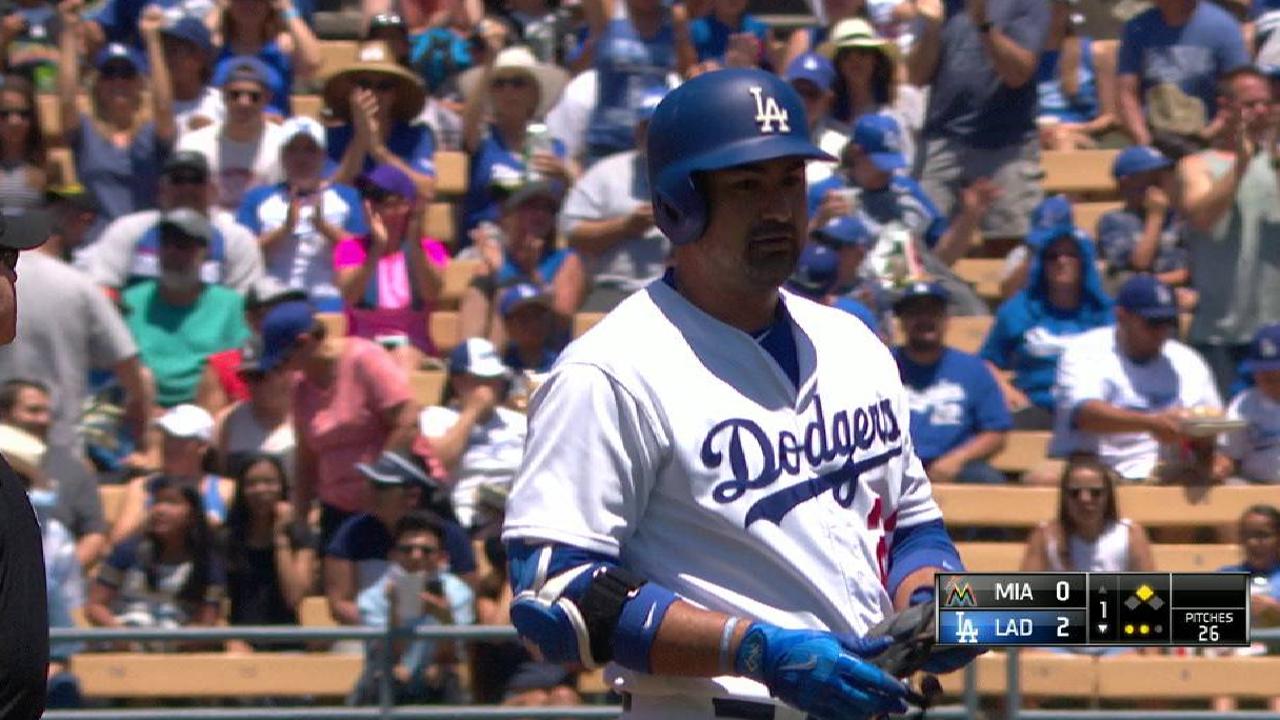 LOS ANGELES -- Before the Dodgers' 6-3 win over the Marlins on Sunday at Dodgers Stadium, manager Dave Roberts was asked if the club had considered putting Adrian Gonzalez back on the disabled list to give him more rest. After all, Gonzalez had returned ahead of schedule following the loss of Andrew Toles to a torn ACL last week.
Roberts immediately dismissed the idea, saying that the full extension in the lead arm of Gonzalez's swing had returned, implying it was only a matter of time before Gonzalez broke out of his season-long slump.
Gonzalez showed signs of breaking out on Sunday, going 3-for-4 with two doubles and three RBIs. All three RBIs came with two outs, as the veteran showcased his importance to a Dodgers lineup that's short on grizzled run-producers at the moment.
"When you see pitchers grinding through our lineup, there's traffic created, and we've been getting big hits," Roberts said. "And today, Adrian came up with some big hits for us."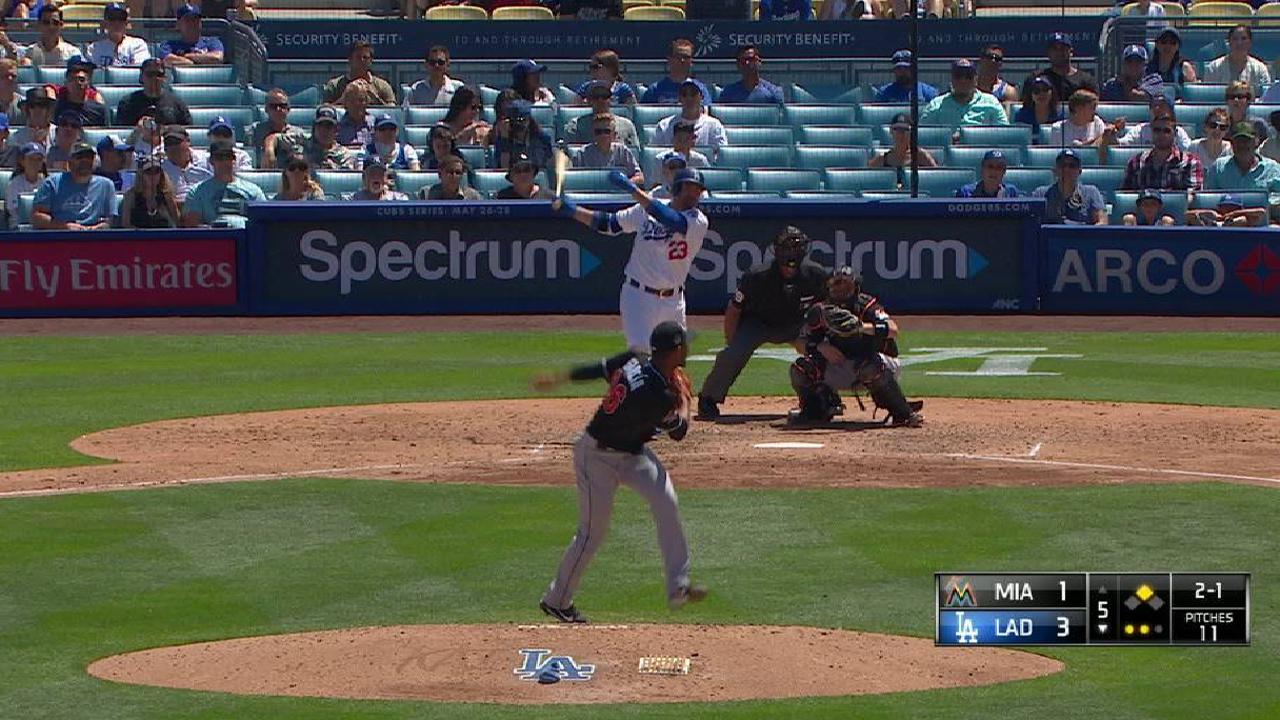 The 35-year-old ripped a two-run double into the right-field corner off Miami starter Vance Worley to open the scoring in the first. It was the hardest he's hit a fastball this season.
After his second double of the day -- an opposite-field gapper -- created no runs for the Dodgers in the third, he laced an RBI single against lefty reliever Jarlin Garcia in the fifth..
"As good as Cody [Bellinger] has been, to have Adrian wherever I choose to hit him to give us those professional at-bats and big hits when we need … we're counting on that," Roberts said. "With Adrian, it doesn't matter where I hit him, but I trust him with guys on base. And with the guys in front of him having a propensity to get on base, Adrian's going to have a lot of opportunities to drive in runs."
Sunday provided the kind of at-bats the Dodgers have come to expect from the five-time All-Star. But the breakout game was still reassuring to see since Gonzalez hadn't recorded an extra-base hit in 11 games since April 25, with a .206 batting average in 34 at-bats during that span.
The veteran's season slash line (.264/.328/.330) is still well below his career norms, and he hasn't hit a home run this year. But as far as Gonzalez is concerned, his season started last Thursday, the first time he's felt truly healthy since that right forearm tendinitis started bothering him during Spring Training.
"The first month, whatever it was, with no legs, no back and a bad forearm … when you got those things working against you, it's tough," Gonzalez said. "Fighting through it is not a good recipe, which I found out the hard way."
The Dodgers found out what life is like without a healthy Gonzalez in April, when they averaged a pedestrian 4.3 runs per game. But with Los Angeles scoring at least six runs in each of their last five games, their fortunes on offense could mirror the production of their stalwart first baseman.
Will Laws is a contributor to MLB.com based in Los Angeles and covered the Dodgers on Sunday. This story was not subject to the approval of Major League Baseball or its clubs.