Ethier has MRI on back; Adrian, Puig scratched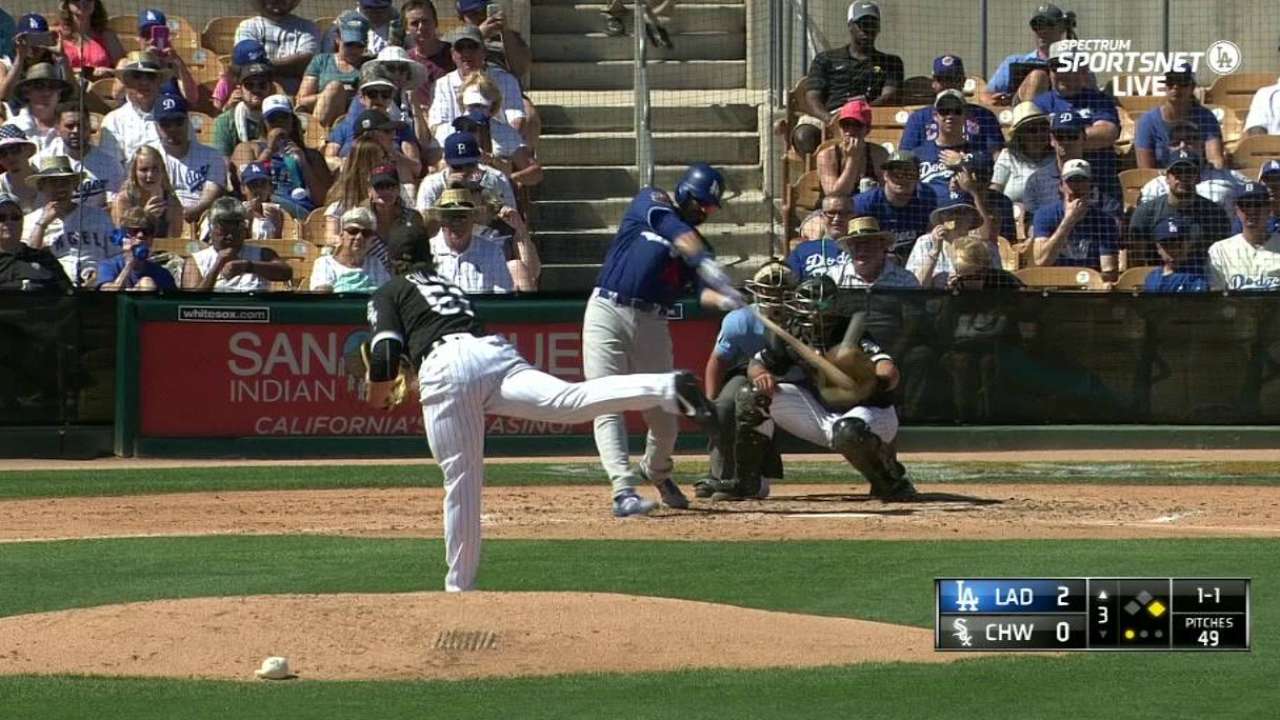 PHOENIX -- While waiting for results of an MRI on the lower back of outfielder Andre Ethier, the Dodgers also had to scratch first baseman Adrian Gonzalez and outfielder Yasiel Puig from Monday's Cactus League game against the Indians because of injuries.
Ethier, who had a double and single on Saturday, said he couldn't get loose for Sunday's game. The 34-year-old said he would find a way to play through it if it was the regular season. He is hitting .500 (6-for-12) this spring with a home run and two RBIs.
"We're looking to give me days of relief instead of just one day," said Ethier. "I'm just not feeling right. Running will do it, sitting in the car will do it, taking a wrong step. I felt good two days in a row, but yesterday it wasn't the same. It's still March and I'm not pushing through things if I don't have to. I'm walking, I'm moving."
On a check-swing, Gonzalez had a flare-up of the right elbow tendinitis that shelved him for nine days before he left for the World Baseball Classic. Puig developed left calf tightness just before the team was to leave for Goodyear, Ariz., and its game against Cleveland.
"He's assured us it's not a big deal," Roberts said of Gonzalez's elbow. "With Adrian, you have to manage the workload. Trying to get the swing right, and he's working. The balance is to get healthy and get the swing right. Worry? That's aggressive. Adrian knows how to handle his body, and we're not too concerned about it."
Add to that the fact that relievers Sergio Romo (sore back) and Josh Ravin (groin tightness) haven't thrown in a week, and the Dodgers are developing some injury problems as the season approaches.
On the positive side, shortstop Corey Seager is making continued progress from the oblique strain suffered March 3. He could play in games later this week. Pedro Baez (bruised right thumb) came out of his Sunday bullpen healthy and will throw another on Tuesday. He hasn't pitched in a Cactus League game.
Ken Gurnick has covered the Dodgers since 1989, and for MLB.com since 2001. This story was not subject to the approval of Major League Baseball or its clubs.