Best Rookie caps Seager's awards-season sweep
Dodgers' shortstop adds honor to offseason hardware collection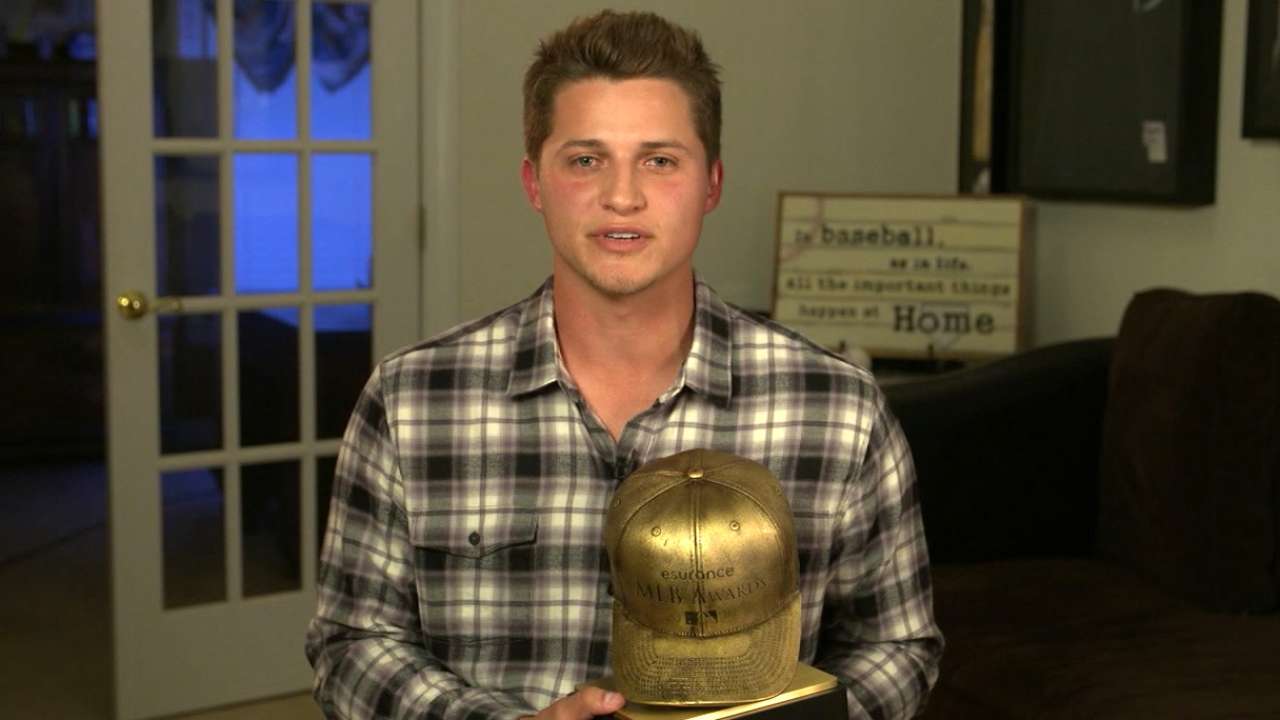 LOS ANGELES -- Corey Seager completed his rookie season awards sweep on Friday by winning the 2016 Esurance MLB Award for Best Rookie.
Seager's mantle is now full, after previously winning the Baseball Writers' Association of America Jackie Robinson National League Rookie of the Year Award (unanimously), the Players Choice Award for NL Outstanding Rookie, Baseball America's NL Rookie of the Year and The Sporting News NL Rookie of the Year. He also was named winner of the Louisville Slugger Silver Slugger Award for the top-hitting NL shortstop and finished third in the NL MVP Award balloting.
2016 MLB Award winners
The Esurance MLB Awards annually honor Major League Baseball's greatest achievements as part of an industry-wide balloting process that includes five groups, each of which accounts for 20 percent of the overall vote: media, front-office personnel, retired MLB players, fans at MLB.com and Society for American Baseball Research (SABR) voters.
The MLB Awards are an all-inclusive program, encompassing the top players and performances from both the American League and National League from Opening Day through the end of the postseason.
Individual awards went to the Best Major Leaguer in addition to the winners in the following categories: Best Hitter, Pitcher, Rookie, Defensive Player, Manager, Executive, Social Media Personality and Postseason Performer.
Winners were also recognized for the year's best Offensive Play, Defensive Play, Regular-Season Moment, Postseason Moment, Single-Game Performance, Social Media Post, Fan Catch, Broadcast Call, Player-Fan Interaction and Trending Topic.
Voting began on Sept. 19 at 4 p.m. ET at MLB.com/awards, one hour after the inaugural Esurance MLB Fans of the Year winners were announced.
Winners of the 2016 Esurance MLB Awards were unveiled at a reception in Manhattan's Chelsea Market, on MLB social channels and during a live broadcast on MLB Network and MLB.com.
To win the Esurance Best Rookie Award, Seager outpolled Michael Fulmer of the Tigers, Tyler Naquin of the Indians, Gary Sanchez of the Yankees and Trea Turner of the Nationals.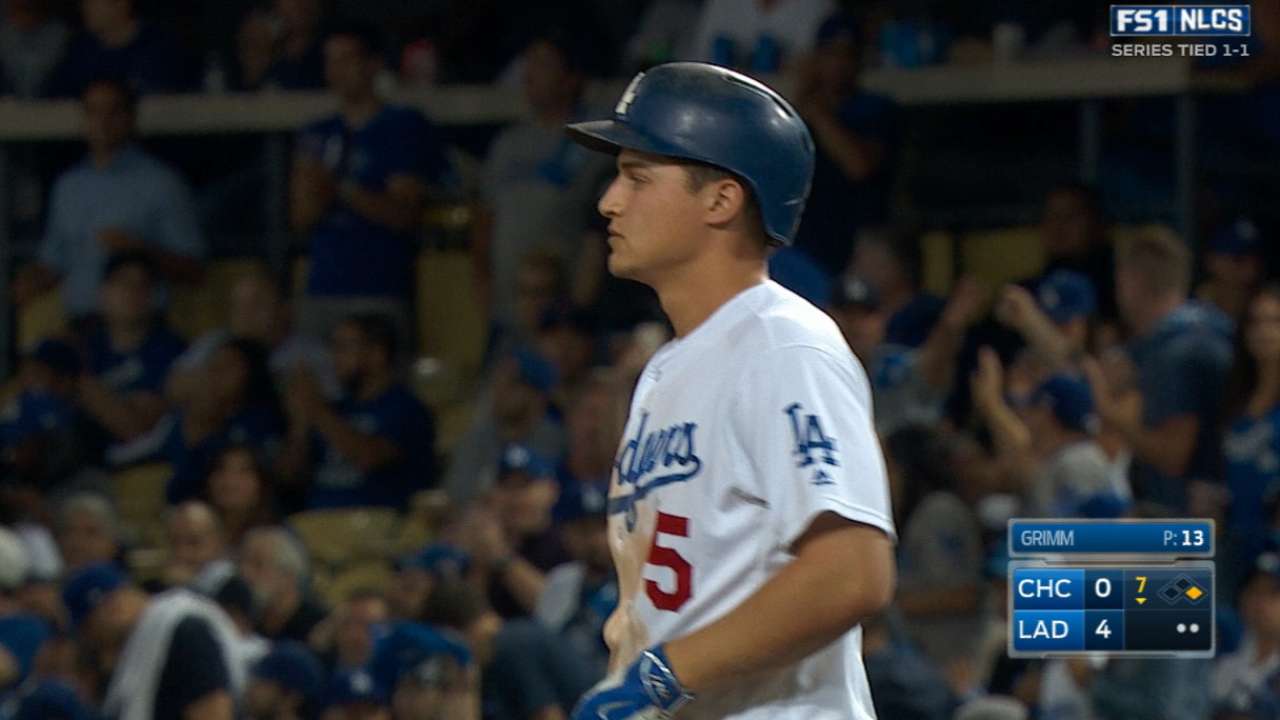 "I just want to thank my family, first off, my mom, my dad, both my brothers for always being there," Seager said on MLB Network. "I want to thank the fans for votes. This isn't just my award, this is for you guys, too, you guys voted for it. I want to thank my teammates -- [Chase Utley], [Howie Kendrick], [Justin Turner], [Adrian Gonzalez] -- they all kind of led the path for us. We had a bunch of young guys, we had a bunch of injuries this year, they kind of stepped up and guided us through it for this year and, even more important, we're looking toward next year.
"I just want to thank Scott Boras and the Boras Corporation for all they've done for me this year. They've helped me all through my career, and in the future, I'm looking to a great relationship."
Seager hit .308 with 26 home runs, a Dodgers record for a shortstop, and he set Los Angeles Dodgers rookie marks for hits (193, most for a big league rookie since 2001), runs (105) and doubles (40). He was the youngest Dodgers position player named to an NL All-Star team and L.A.'s first rookie All-Star shortstop since Billy Grabarkewitz in 1970.
Seager is the fifth Dodger with a 25-homer/40-double season, and he led Major League rookies in games played, hits, runs, doubles, RBIs, multi-hit games and walks. He joined with Kyle Seager of the Mariners as the first set of brothers with at least 25 homers each in the same season. According to Stats, LLC, Seager joined Dusty Baker, Mike Piazza and Albert Pujols as the only rookies in the division era (since 1969) to rank in the NL's Top 10 in batting average and slugging percentage (.512). He was second in the league overall with 57 multi-hit games, fourth with 321 total bases and seventh in batting average. Seager was the Dodgers' nominee for the Hank Aaron Award as their most outstanding offensive performer.
"The simplest category for me was choosing Corey Seager as the best rookie," said MLB Network analyst Scott Braun. "His consistency and maturity make him an outlier in MLB. We saw flashes of his skill set in his short stint in 2015. Predicting that he would be the top rookie of 2016 was the easiest call I made entering the season. He was the best player on his team, he contributes in a premium defensive position, his team played meaningful games all year and he was easily a top-10, if not top-5 player in the National League this season. This is a big dude with more power to come!"
Ken Gurnick has covered the Dodgers for MLB.com since 2001. This story was not subject to the approval of Major League Baseball or its clubs.