Chooch's blast can't boost LA to Game 3 victory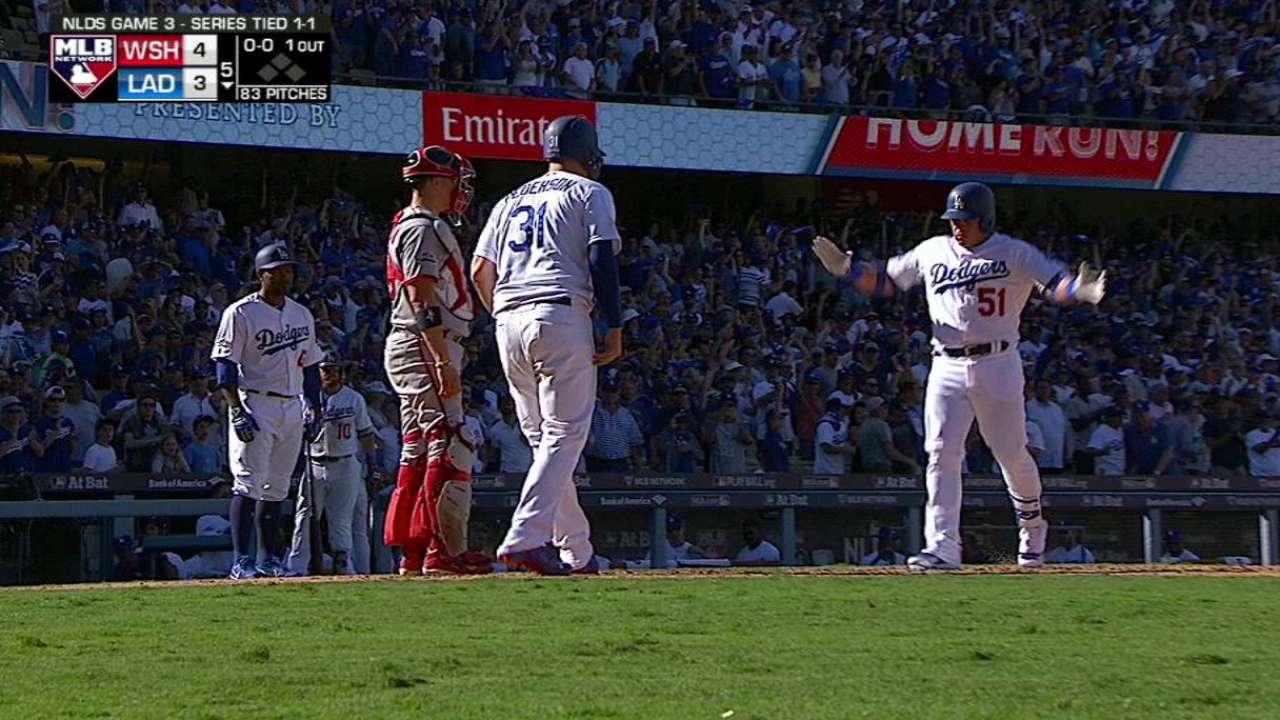 LOS ANGELES -- The Nationals are one victory from advancing to the National League Championship Series after pulling away from the Dodgers on Monday, 8-3. Anthony Rendon blasted a two-run homer and former Dodger Jayson Werth crushed a solo shot in a win that gave Washington a 2-1 lead in the best-of-five NL Division Series.
It's the first time the Nats have led a postseason series since winning the opening game of the 2012 NLDS, and they did so by scoring eight runs, the most in a postseason game in club history.
The winner of Game 3 in a tied best-of-five series has gone on to win the series 36 out of a possible 48 times (75 percent). Game 4 is Tuesday at Dodger Stadium (5 p.m. ET/2 p.m. PT on FS1).
"We haven't done anything yet," first baseman Ryan Zimmerman said. "We played a good game today. … This game won't mean anything tomorrow. We've got to come in and execute like we did today. I know that team over there is not going to quit."
The Nationals took the lead with a four-run third inning powered by Rendon's homer after Washington starter Gio Gonzalez spotted the Dodgers a first-inning run on Corey Seager's RBI double. Seager has extra-base hits in the first frame of each game in the series.
• Right moves: Seager opens Game 3 with RBI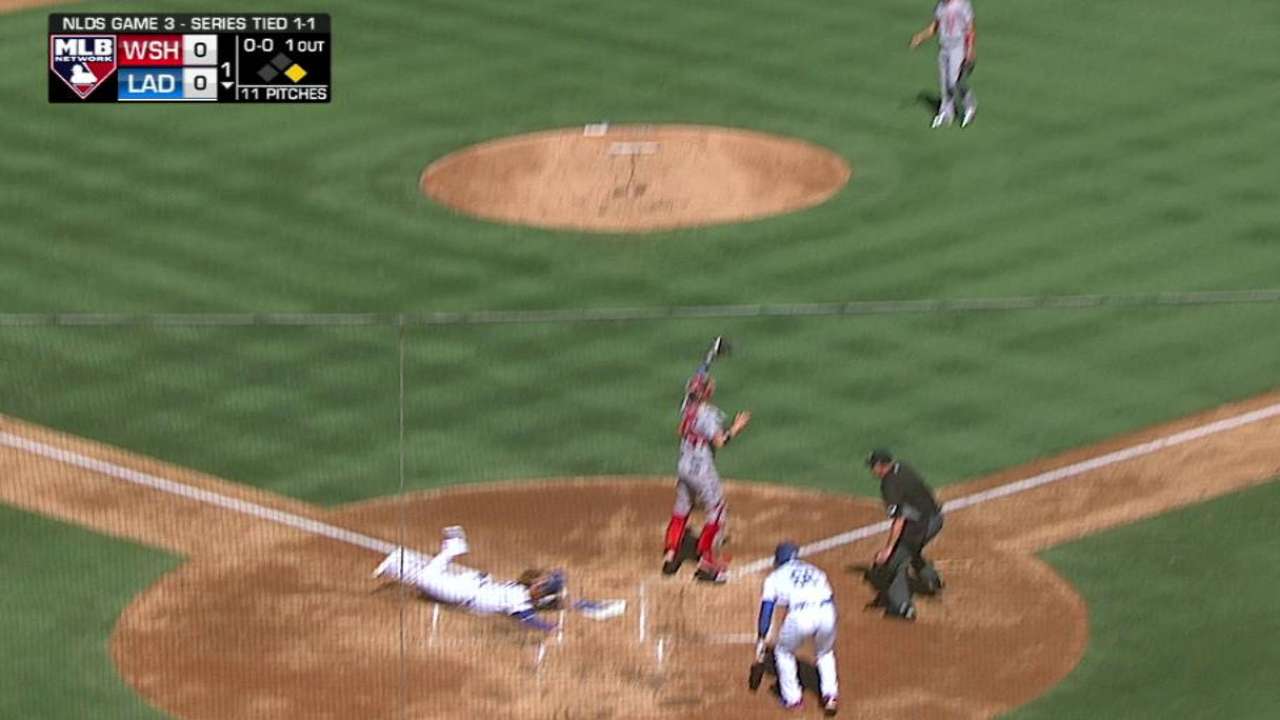 Kenta Maeda, the workhorse of the Dodgers' rotation this year, struggled from the start. He needed 28 pitches to escape a bases-loaded jam in the first inning, but he was unable to get through the heart of the Nationals' order in the third. Trea Turner singled to lead off and raced home on a double by Werth, who was singled home by Harper. After Harper's steal of second and catcher Yasmani Grandal's throwing error, Rendon delivered with a homer estimated by Statcast™ at 432 feet, an encore to Jose Lobaton's three-run jack that won Game 2 in Washington.
"I felt fine physically. I thought I had my stuff today, but again, they executed, they really executed today," said Maeda. "It was very regrettable that it didn't turn out to be a good outing. I understand it was a big situation, I went in there as a must-win situation in terms of preparing for this. I wasn't nervous at all, it just wasn't my day today."
• Maeda points to lack of execution in short start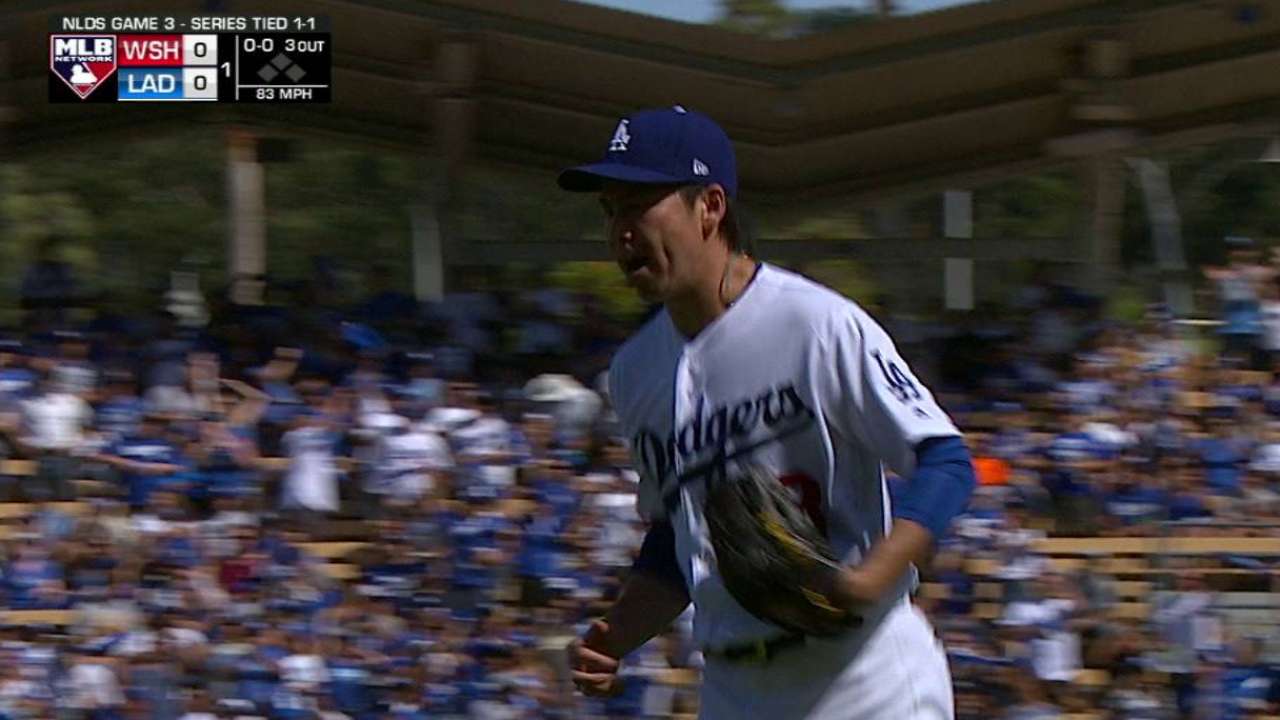 A two-run homer by Dodgers pinch-hitter Carlos Ruiz with one out in the fifth inning chased Gonzalez, who at one point retired 12 of 13 batters. Statcast™ projected the shot at 412 feet, with an exit velocity of 107.8 mph. That's the hardest Ruiz has hit any ball in the Statcast™ era (since 2015). It also was the first postseason pinch-hit home run at home since Kirk Gibson's World Series homer off Dennis Eckersley in 1988.
• Ruiz's two-run pinch-hit homer is LA's first since Gibson
The Dodgers brought closer Kenley Jansen into the game in the top of the ninth hoping to keep the deficit at one run, but the Nationals pounded him for four runs, including Werth's homer (projected by Statcast™ at 450 feet) and a two-run double by Zimmerman that right fielder Josh Reddick was unable to catch at the fence. Reliever Sammy Solis was credited with the victory.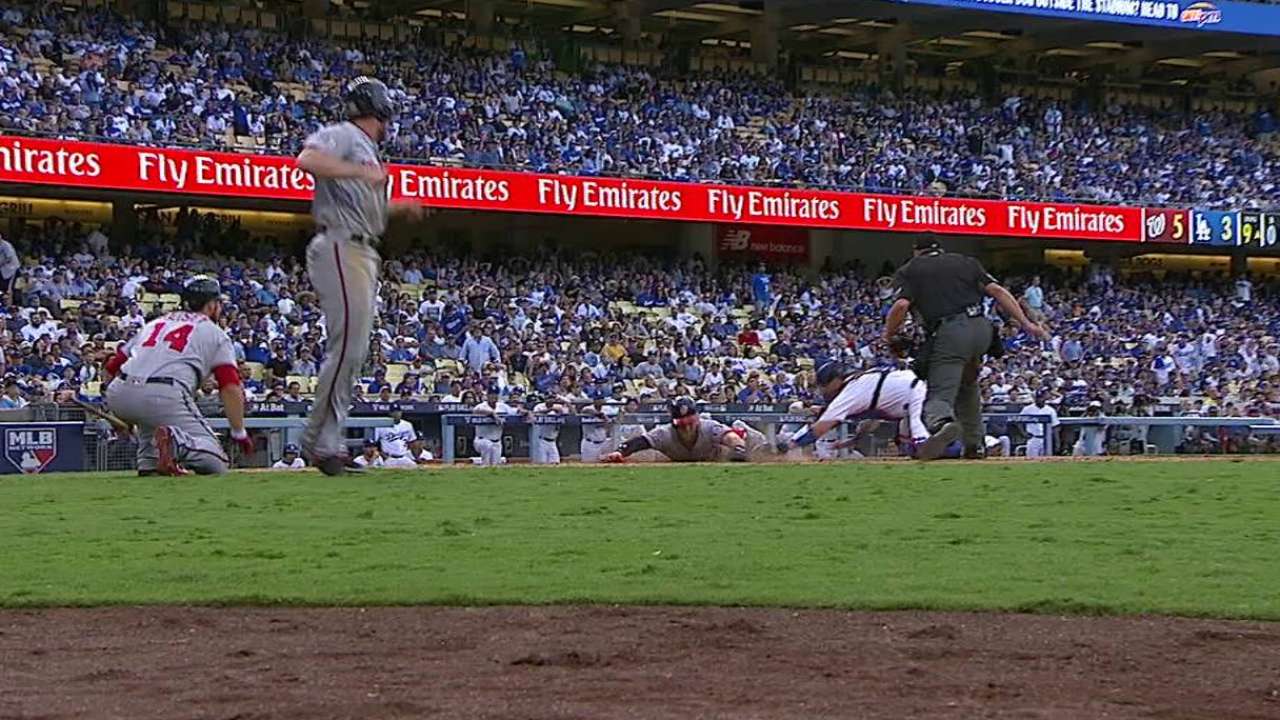 "I was fighting with myself a lot today," said Jansen. "Just clearly was trying to fight and get out of the inning. It definitely was tough to get a rhythm."
• Jansen's rare slip hurts Dodgers in 9th
MOMENTS THAT MATTERED
Offensive outburst for the Nats: Washington showed off the balance in its lineup during a four-run third inning, beginning with a single by Turner, who raced home from first on a double by Werth. Harper followed with a run-scoring single before Rendon crushed his two-run homer off Maeda, which left the bat at 105.9 mph, as measured by Statcast™. It was Rendon's first career postseason homer and extra-base hit.
• Rendon helps set tone with rally-capping HR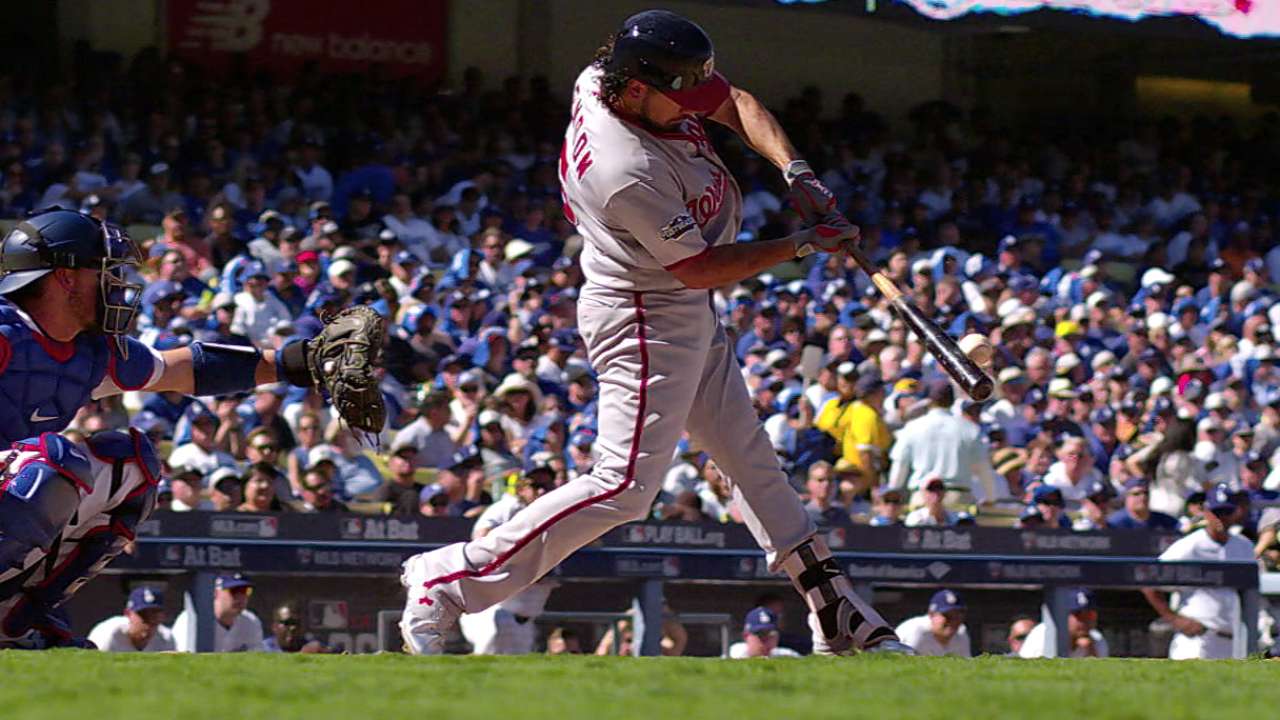 "I feel like we can slug with anybody," Werth said. "We have the type of lineup that has balance. ... But you know, we've got the team that I feel like can slug, we have the pitching that can pitch and we have the bullpen that can shut people down like they have done the last couple games."
• 'Eerily calm' Werth thriving on big stage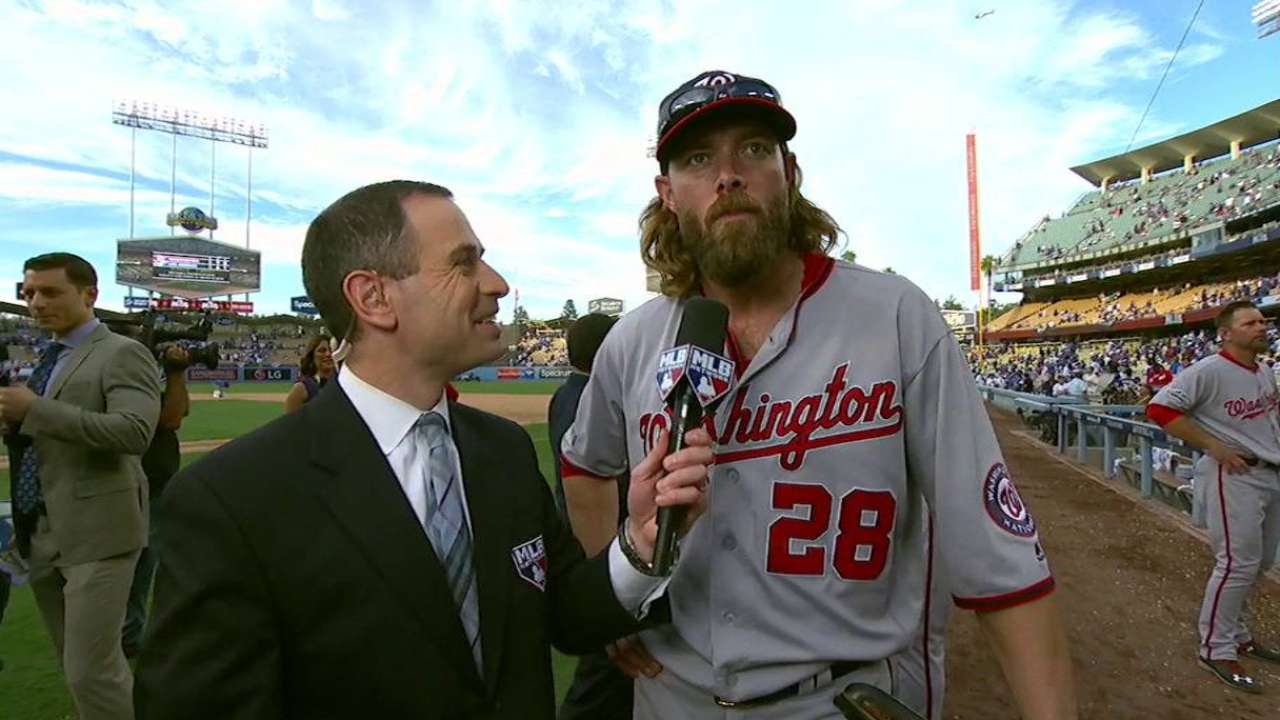 Baker's moves pay off: The Nationals have captured back-to-back games in this NLDS thanks in part to the aggressiveness shown by their manager, Dusty Baker. After Gonzalez yielded the homer to Ruiz, Baker immediately turned to his bullpen to protect a one-run lead. He managed his 'pen effectively to get four outs from Solis, an out from Oliver Perez and five outs from Shawn Kelley before turning the game over to Mark Melancon.
"You have to try to win these games, and the guys, nobody's complaining," Baker said. "You've got to go to the bullpen and hope that the matchups work. They don't always work, but you've just got to take your chances and figure the odds of whoever you're bringing in."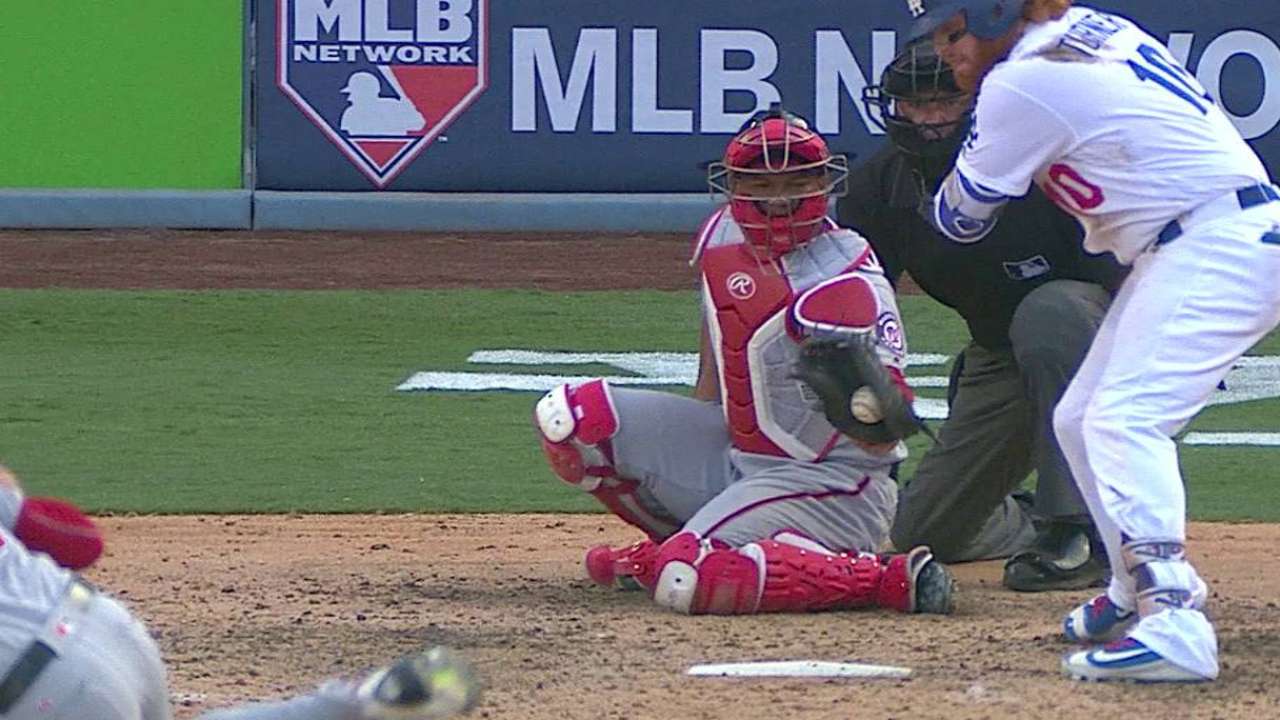 And the Dodgers offense has been flummoxed by Nationals' relievers during this series; despite some shaky starting pitching from Washington, the bullpen has yet to allow a run in 12 1/3 innings.
• Bullpen gives Dusty confidence to bring quick hook
Manager's decision: The Dodgers acquired Ruiz in August to start behind the plate against left-handed pitching. But before Game 3, manager Dave Roberts said he instead wanted Ruiz available for pinch-hitting, and his home run pulled Los Angeles back into the game. It was Ruiz's fifth postseason homer, one of them coming against the Dodgers in 2009.
"I just thank the manager for giving me the opportunity," said Ruiz. "We tried to come back, but it just wasn't our day. We just have to come back tomorrow and win."
SOUND SMART WITH YOUR FRIENDS
Danny Espinosa was hit by another pitch on Monday. His three hit-by-pitches are the most in NLDS history, one behind Shane Victorino for the all-time record in Division Series history (Red Sox in 2013).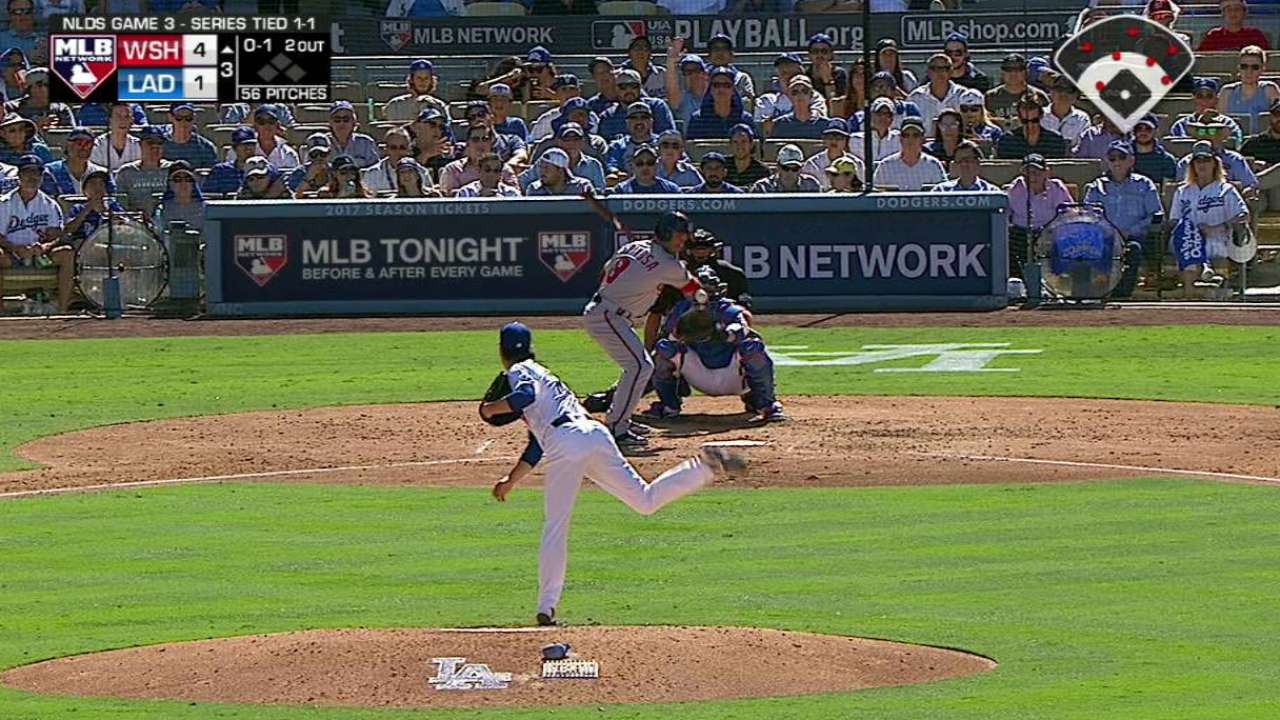 UPON FURTHER REVIEW
The Dodgers lost a challenge to end the bottom of the second inning. Home-plate umpire Ron Kulpa called a foul tip on a 1-2 pitch that was caught by catcher Lobaton to strike out Joc Pederson, who claimed the pitch clipped his left hand before it hit the knob of the bat. Upon review, the call stood.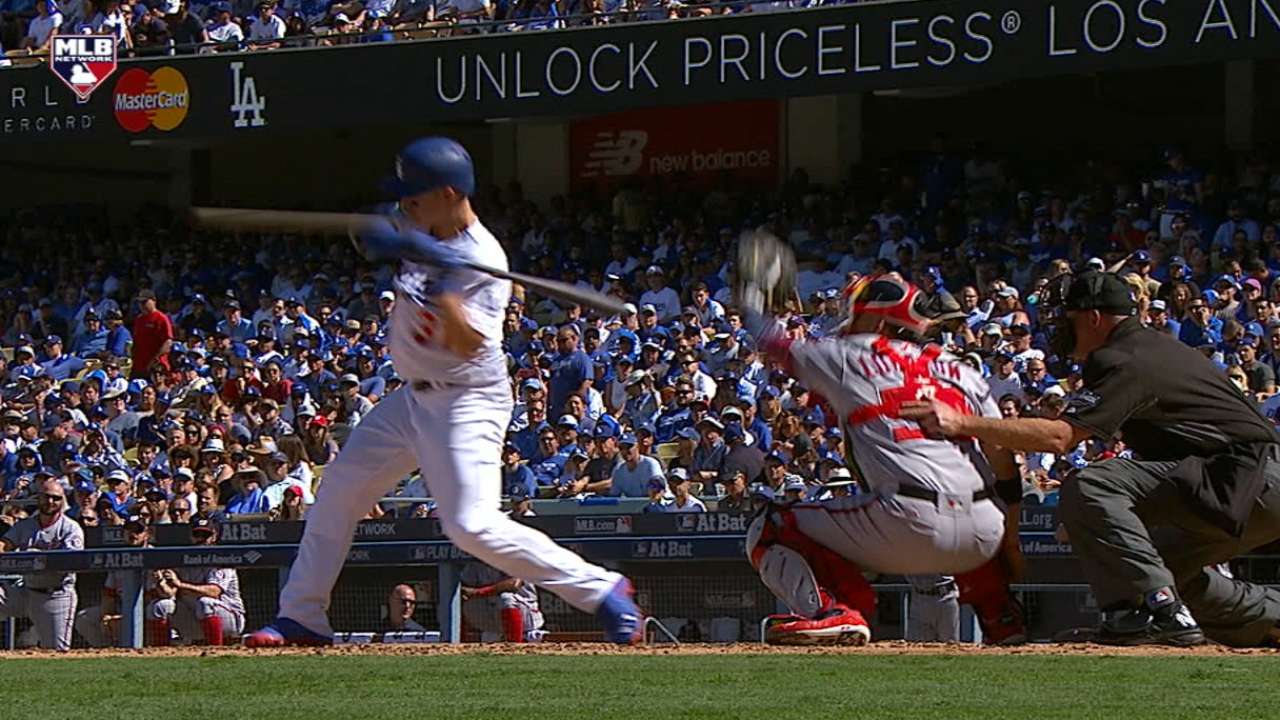 WHAT'S NEXT
Nationals: Even after taking a 2-1 lead in the series, the Nats didn't rush to decide their Game 4 starter, announcing Tuesday afternoon that right-hander Joe Ross will take the mound.
Dodgers: Los Angeles also set its starter on Tuesday, tabbing ace Clayton Kershaw on three days' rest. Kershaw has been preparing to pitch, as the Dodgers face elimination.
Ken Gurnick has covered the Dodgers since 1989 and for MLB.com since 2001.

Jamal Collier covers the Nationals for MLB.com.

This story was not subject to the approval of Major League Baseball or its clubs.