Dodgers top D-backs, cut magic number to 12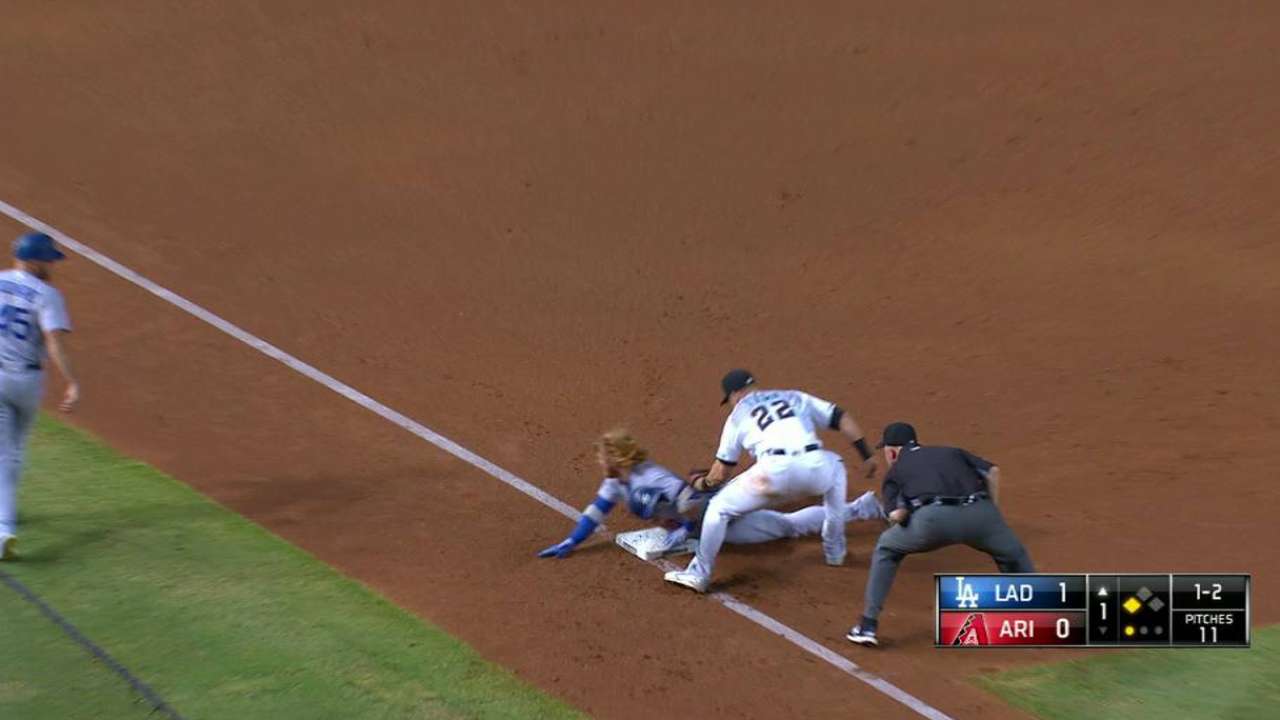 PHOENIX -- The Dodgers lost Zack Greinke last winter, but they've beaten him twice in the last 11 days after a 3-2 win over the D-backs Friday night at Chase Field. The Dodgers cut the magic number over the Giants to 12 in the division and to nine over St. Louis to clinch a postseason berth.
"Zack is an elite pitcher, he was going to bring his best to atone for the last loss and I thought we competed very well tonight," said Dodgers manager Dave Roberts.
The Dodgers hit five homers off Greinke (12-7) when Kenta Maeda beat him in Los Angeles, but in the rematch Maeda and the Dodgers offense needed the help of Arizona misplays that led to a pair of unearned runs.
"When you score six, seven, eight runs, sometimes those things are overlooked," D-backs manager Chip Hale said on the unearned runs. "But when it's 3-2, that's when you have to look at those things. Just try to play the cleanest game you can."
Meanwhile, Maeda overcame uncharacteristic wildness to improve his record to 15-9, the second-most wins for a Dodgers rookie pitcher.
"My command was off in general today and I wasn't able to get into a groove and put a lot of pressure on the other players to pick up the slack," said Maeda. "I felt okay overall, just didn't have my fastball command. Our team scored early in the game and that helped me."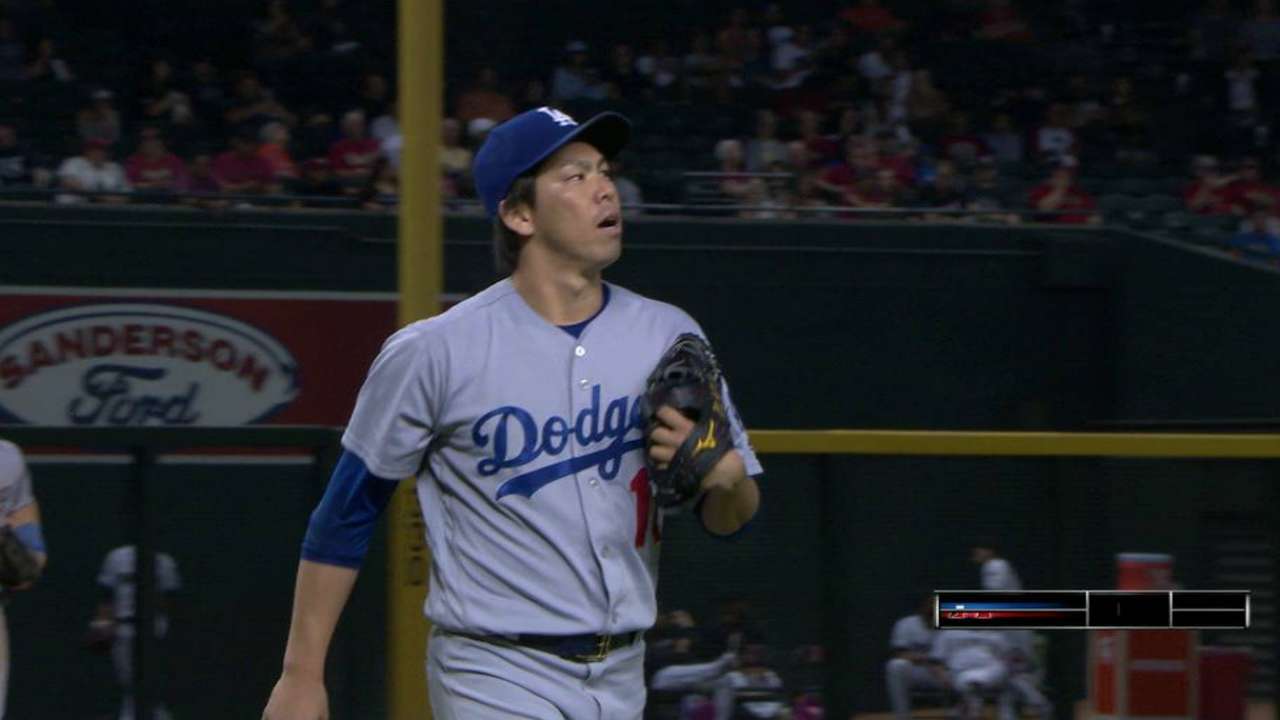 Maeda (3-1 against Arizona) went only five innings and was followed by six relievers, with Kenley Jansen earning his career-high 45th save, despite allowing a ninth-inning run on a Chris Owings triple and Paul Goldschmidt sacrifice fly. More >
MOMENTS THAT MATTERED
Tightrope I: After J.P. Howell allowed a double to Jake Lamb leading off the bottom of the sixth inning, Josh Fields took over and walked Welington Castillo on four pitches. But Fields then struck out Yasmany Tomas and Brandon Drury and got Mitch Haniger on a fly out to escape the threat.
"Castillo is a little more patient," said Fields. "I guess it took me a hitter to get in the groove. When Tomas came up I stuck with the game plan. He offered at the first pitch and I'm grateful I put it to where he couldn't hit it and the good Lord blessed me tonight."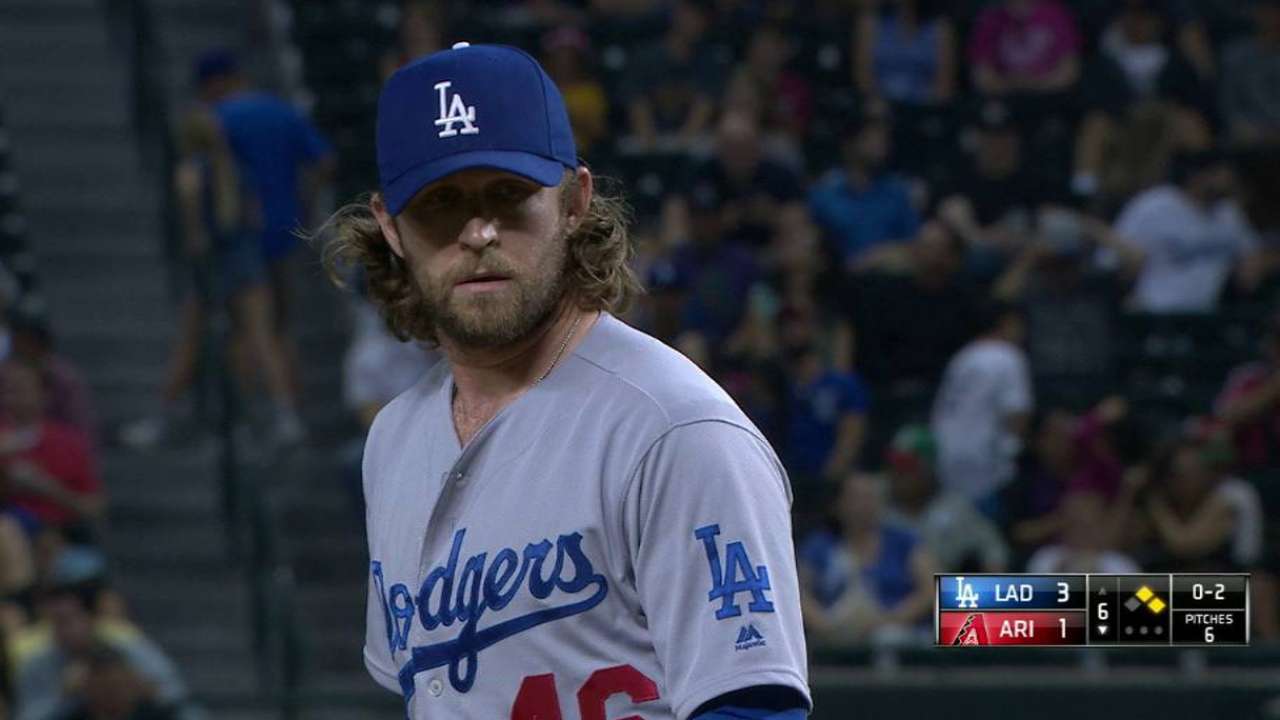 Zack battles back: Greinke's outing was much better than his last against the Dodgers, when he allowed eight runs and five homers on Sept. 5. The right-hander allowed three runs over six innings for the second consecutive start but for the second time in a row, he was saddled with a loss. He allowed two runs before recording a second out in the first, but he settled in from there. More >
"I pitched all right, got into some trouble early in the game and by then it was just about too late," Greinke said. "I did as good as I could do after that probably."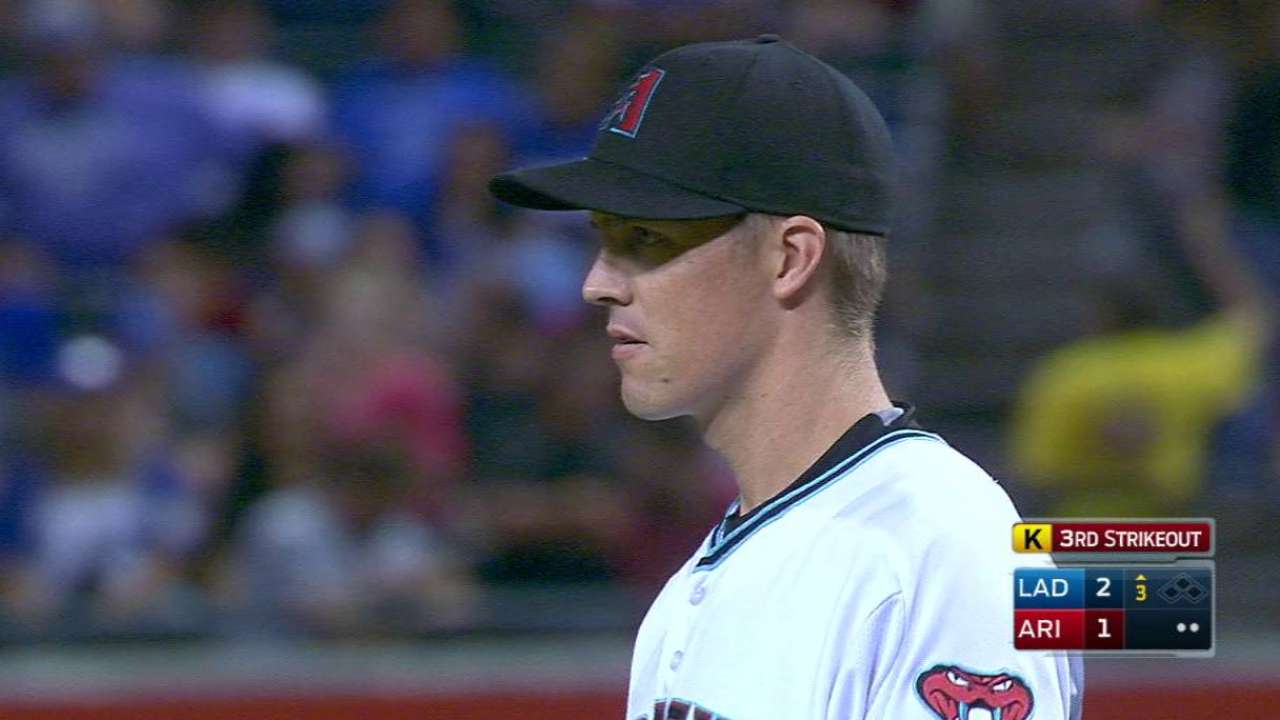 Tightrope II: Joe Blanton came on with one out and none on in the eighth, and walked three of the next four batters before getting Rickie Weeks Jr. on a force-out grounder. Blanton came off the field with his finger on his neck, checking for a pulse to tease Roberts.
"I was Just kinda messing with Doc," Blanton said of Roberts. "Everybody did fantastic and I just made it close. To walk three, I take pride in being able to throw strikes, that was a little frustrating and I was just joking to get out of it."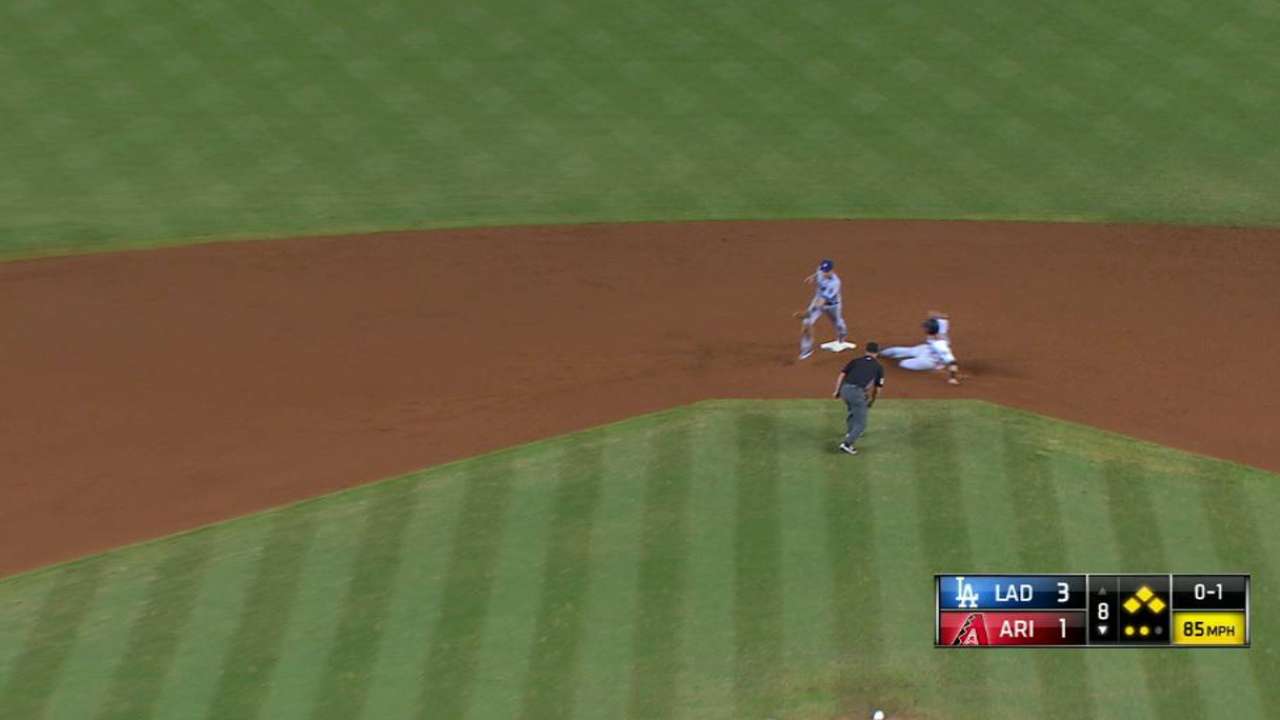 Arizona's missed chances: The D-backs had several prime scoring opportunities but couldn't take advantage. They loaded the bases with one out against Maeda in the second, but only scored one run on Drury's fielder's choice. In the sixth, they had runners on first and second with no outs against the Los Angeles bullpen, yet didn't score. Arizona had the bases loaded with two outs in the eighth, but Weeks Jr. grounded out to end the threat.
"We left a lot of guys on base, too many strikeouts," Hale said. "They pitched well, Maeda pitched well again. We can't seem to solve him."
WHAT'S NEXT
Dodgers: Rookie Brock Stewart got the call for this 5:10 p.m. PT start when manager Dave Roberts scratched Bud Norris on Friday and sent him to the bullpen. Stewart is a rookie with a 6.55 ERA, but he beat Arizona the last time he pitched, on Sept. 7, allowing one run in five innings on nine days rest.
D-backs: Shelby Miller is still in search of his first career win at Chase Field when the series continues on Saturday at 5:10 p.m. MST. Miller (2-11, 7.12) is 0-7 with a 7.85 ERA in nine home starts this season. In his only start against the Dodgers this year, he gave up five runs (four earned) in 4 1/3 innings in a loss in Los Angeles on Sept. 6.
Watch every out-of-market regular-season game live on MLB.TV.
Ken Gurnick has covered the Dodgers since 1989 and for MLB.com since 2001.

Jake Rill is a reporter for MLB.com based in Phoenix. This story was not subject to the approval of Major League Baseball or its clubs.