Hill, Tomlin to meet when LA tries to sweep Tribe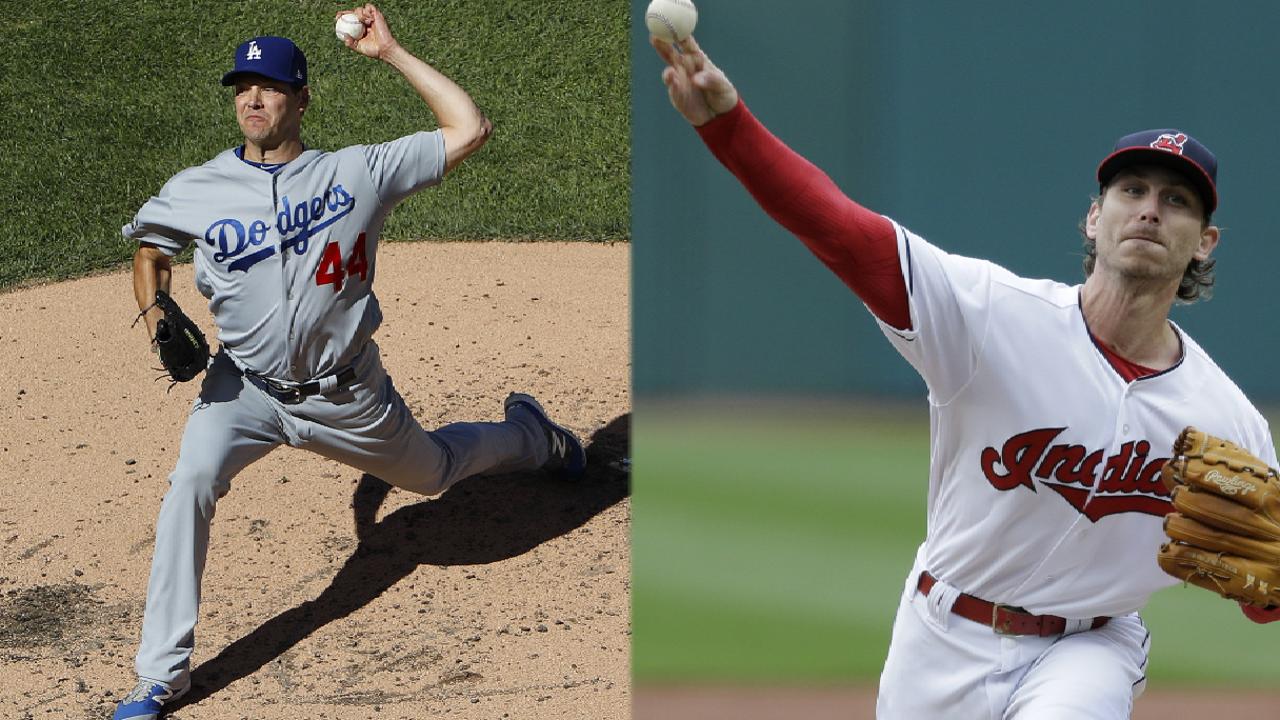 The Dodgers and Indians will wrap up their three-game series on Thursday afternoon in Cleveland as Rich Hill makes his first start against the Indians since departing as a free agent following the 2013 season.
Los Angeles will be looking to complete the three-game sweep of the Interleague matchup with the Tribe as it tries to extend its overall winning streak to seven games.
Hill played under Indians manager Terry Francona in his lone season in Cleveland, as well as in 2010-11 when both pitcher and manager were in Boston. Despite Hill's 4.80 ERA over 50 2/3 innings in their three seasons together, he left a great impression on his former manager.
"He has the ability, and as he's shown, to be actually one of the more dominant pitchers in the game," Francona said. "Other than getting a blister from time to time, he has been one of the most dominant starters in the game. And I don't want him to beat us, but it's easy to pull for him."
Hill looks back fondly on the 2013 team, which won an American League Wild Card berth. He played with 15 of the Indians on the active roster or disabled list, along with much of the coaching staff.
"Playing for Tito, being on the team that was young, guys were up and coming, and having the opportunity to go to the playoffs was very exciting," Hill said. "For the entire season, it was really one unit. We went through our ups and downs like any team, but really somebody like Tito did such a good job of keeping the group together."
Hill carries a 3.77 ERA into the game but has yet to pitch into the sixth inning in any of his seven starts. He'll face off against Josh Tomlin, who has a 5.73 ERA but hasn't issued a walk in 29 2/3 innings.
Tomlin's 68.8-percent strike rate leads all pitchers with at least 750 pitches thrown this season. However, 12.9 percent of those strikes have wound up going for base hits, a rate that trails only Minnesota's Kyle Gibson for highest among pitchers with at least 500 total strikes.
Three things to know about this game
• Hill and Tomlin have two of the highest spin rates on their curveballs, according to Statcast. Hill's 2757 RPM ranks 12th among 64 pitchers who have thrown the pitch at least 100 times, while Tomlin ranks 16th with 2729 RPM.
• Tomlin has gotten fairly unlucky this season with a .345 BABIP. That's the sixth-highest mark among 85 qualified starters.
• Edwin Encarnacion is the only Indian who has faced Hill more than three times. He's 3-for-17 with a pair of home runs and six strikeouts, but those two shots came in 2006 and '07, when Encarnacion played with the Reds and Hill was with the Cubs.
Ben Weinrib is a reporter for MLB.com based in Cleveland. This story was not subject to the approval of Major League Baseball or its clubs.