MLB.com Columnist
Billy Bean
Changing times, perspectives evident at Old-Timers Game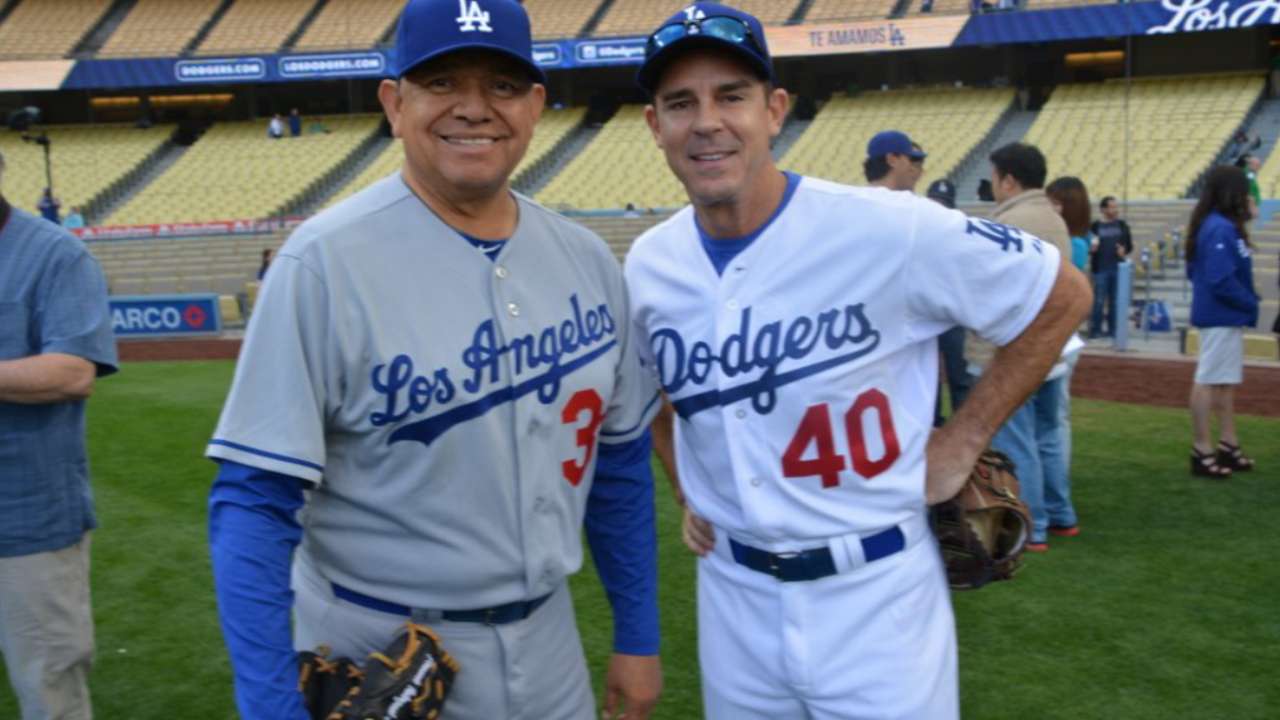 Last week I got a call from Dodgers executive Lon Rosen inviting me to play in their annual Old-Timers Game this past Saturday. As someone who grew up in Southern California and once had the privilege of playing alongside the likes of Orel Hershiser, Mike Scioscia and Fernando Valenzuela in Dodger Blue, it was a humbling request.
Starting with the great Jackie Robinson, the Dodgers' history of social conscience speaks for itself, and they should be commended for their leadership. They knew that inviting the only living openly gay former player to participate would send a powerful message of acceptance, and I didn't want to let them or anyone else down.
Of course, the invitation call also brought back a powerful memory of the day I joined the Dodgers.
In July 1989, after three years of highs and lows with the Tigers, I was traded to my hometown team. It was jarring to hear I was being dealt, but I didn't have too much time to dwell on it as the Dodgers were playing in Pittsburgh the next day.
For someone unfamiliar with the National League, Three Rivers Stadium was not easy to navigate, and when I finally walked into Tommy Lasorda's tiny office, my heart was pounding. Despite the fact that I was technically early for batting practice, Tommy looked at me and asked me why I was so late. I lamely replied that I had just gotten off a plane and had come straight from the airport.
Lasorda looked over at bench coach Bill Russell and yelled that somebody should teach these "batboys" how to tell time. I could see Russell laughing (at both of us). I nervously said to Tommy, "My name is Billy Bean and I just got traded over to your club."
Tommy looked around, scratched his head, and said I looked like I was 15 years old. It wasn't the best way to meet a team of experienced veterans that had won the World Series the previous season.
That was 26 years ago, but as I drove up to Chavez Ravine on Saturday, I felt like that same kid again. My stomach was in knots, but this time my nerves were for a different reason. In the 146-year history of Major League Baseball, only two former big league players have ever publicly disclosed that they were gay. Glenn Burke, who died from AIDS-related causes in 1995, was the first, and I am the other. Both our secrets were shared after our playing days had ended. So this day would be the first time an openly gay player, past or present, would wear a big league uniform and play in a Major League stadium.
My work around the league as MLB's Ambassador of Inclusion, as well as my personal life, has been documented. We're making a great effort to create a culture of acceptance, but my lifelong internal struggle with self-acceptance would be challenged on this day as many of my heroes and former teammates arrived to celebrate our life's work. During my playing days, I kept my personal life separate, but now my personal history and professional life are completely intertwined.
This Dodgers' Old-Timers Game was a collection of some of the most famous names ever to play our sport. As we all gathered together in the clubhouse to put on those classic uniforms, I was in awe: Sandy Koufax, Don Newcombe, Maury Wills, Lasorda, Tommy Davis, Steve Garvey, Davey Lopes, Russell, Ron Cey, Steve Yeager, Hershiser, Valenzuela, Manny Mota and Pedro Guerrero, all hanging out and sharing stories.
The funny thing is that every Hall of Famer, Dodgers legend and former player who was there on Saturday experienced something for the very first time: Some of them might not even have realized it, but as we all put on that uniform with the Dodgers written on the front, and our names in bold letters on the back, we were one team. This group of men, who played baseball, some better than others, was brought together to celebrate a privilege we all shared, being a Major League Baseball player, and one of those players just happened to be gay.
The camaraderie was amazing, the stories and memories vivid, though there was a hint of sadness knowing our best days were behind us. But it was still wonderful. I ran out to center field to play defense hoping a fly ball would be hit my way. Hershiser pitched to the delight of the full house of fans. I batted against Valenzuela, and even got a base hit.
It felt like home. The three innings went by so fast, I wished we could have played nine. As we began to walk off of the field, a few fans called my name, and while some asked for autographs, it wasn't until someone yelled, "Keep up the good work, Billy!" that I had completely forgotten why I was nervous when the day began. There was no drama or tension; it was just another great day at the ballpark.
When the game was over, Lasorda yelled at me to come over by him. My old teammate -- and one of baseball's great personalities -- Mickey Hatcher, walked up with me. Tommy put his arm around me, and he began to tell Mickey about my first day as a Dodger when he mistakenly thought I was a batboy.
I guess things are beginning to change.
Billy Bean is the ambassador of inclusion for Major League Baseball. This story was not subject to the approval of Major League Baseball or its clubs.