MLB.com Columnist
Jim Callis
Breaking down the Dodgers' 2015 Top 30 Prospects
Talented trio of Seager, Urias and Pederson headlines list for Los Angeles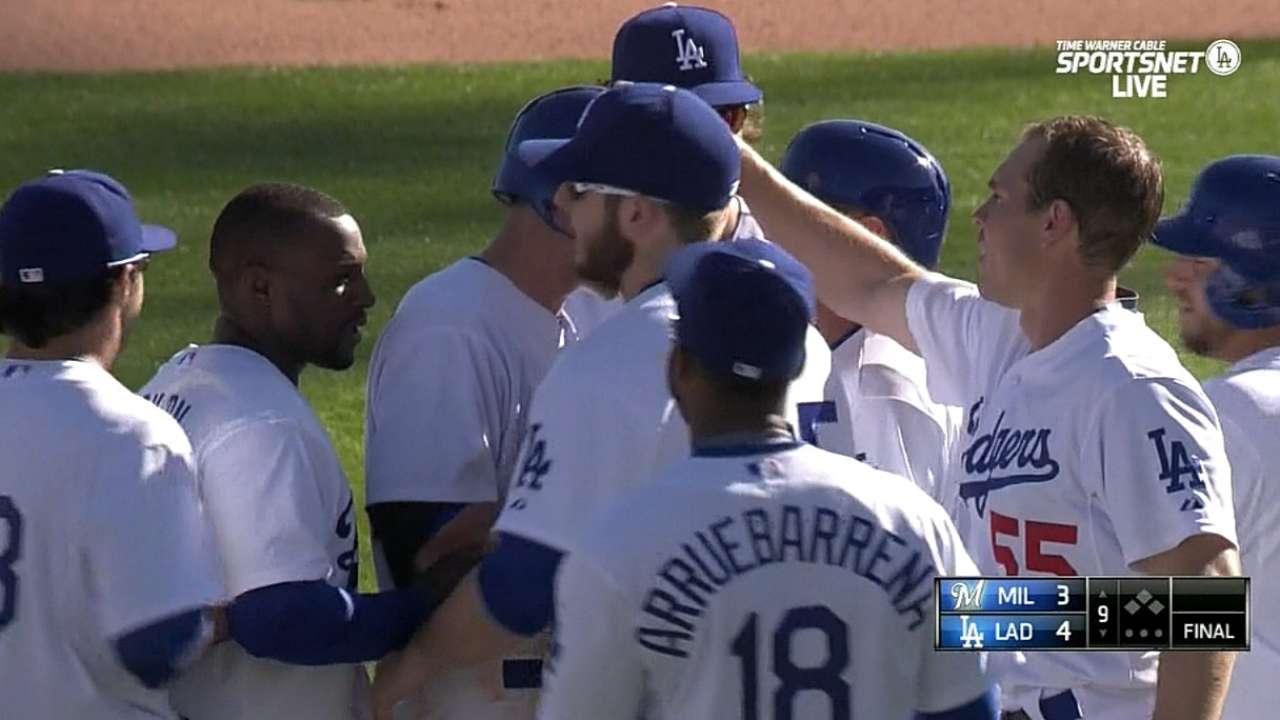 Seager (No. 7), Urias (No. 8) and Pederson (No. 14) give Los Angeles the highest-rated trio of prospects on the MLBPipeline Top 100. Pederson should take over in center field for the Dodgers on Opening Day, while Seager and Urias could debut later in the season and make a significant impact in 2016.
L.A.'s system sticks out more for its superstar power than the depth, but there's talent beyond the big three. The Dodgers' 2014 Draft had promising early returns, starting with right-hander Grant Holmes and outfielder Alex Verdugo. If righties Jose De Leon and Zachary Bird and catcher Julian Leon can build on their breakout 2014 seasons, they could push their way onto next year's Top 100.
• Dodgers' 2015 Top 30 Prospects list
Biggest jump: Jose DeLeon, RHP (2014: Unranked | 2015: 7)
Biggest fall: Jacob Scavuzzo, OF (2014: 14 | 2015: Unranked)
Best tools
Players are graded on a 20-80 scouting scale for future tools -- 20-30 is well below average, 40 is below average, 50 is average, 60 is above average and 70-80 is well above average.
Hit: Corey Seager (60)
Power: Seager (60)
Run: Darnell Sweeney (55)
Arm: Alex Verdugo (60)
Defense: Cody Bellinger (60)
Fastball: Jacob Rhame (70)
Curveball: Julio Urias (65)
Slider: Chris Anderson (55)
Changeup: Urias (60)
Control: Joe Wieland (60)
How they were built
Draft: 22
International: 6
Trade: 2
Breakdown by ETA
2015: 11
2016: 4
2017: 9
2018: 6
Breakdown by position
C: 3
1B: 2
2B: 1
3B: 0
SS: 1
OF: 4
RHP: 16
LHP: 3
Jim Callis is a reporter for MLB.com and writes a blog, Callis' Corner. Follow @jimcallisMLB on Twitter. This story was not subject to the approval of Major League Baseball or its clubs.
This story was not subject to the approval of Major League Baseball or its clubs.