Dodgers breathe sigh of relief in lucky 13th
Two decisive plays come in final inning to cap shutout, sweep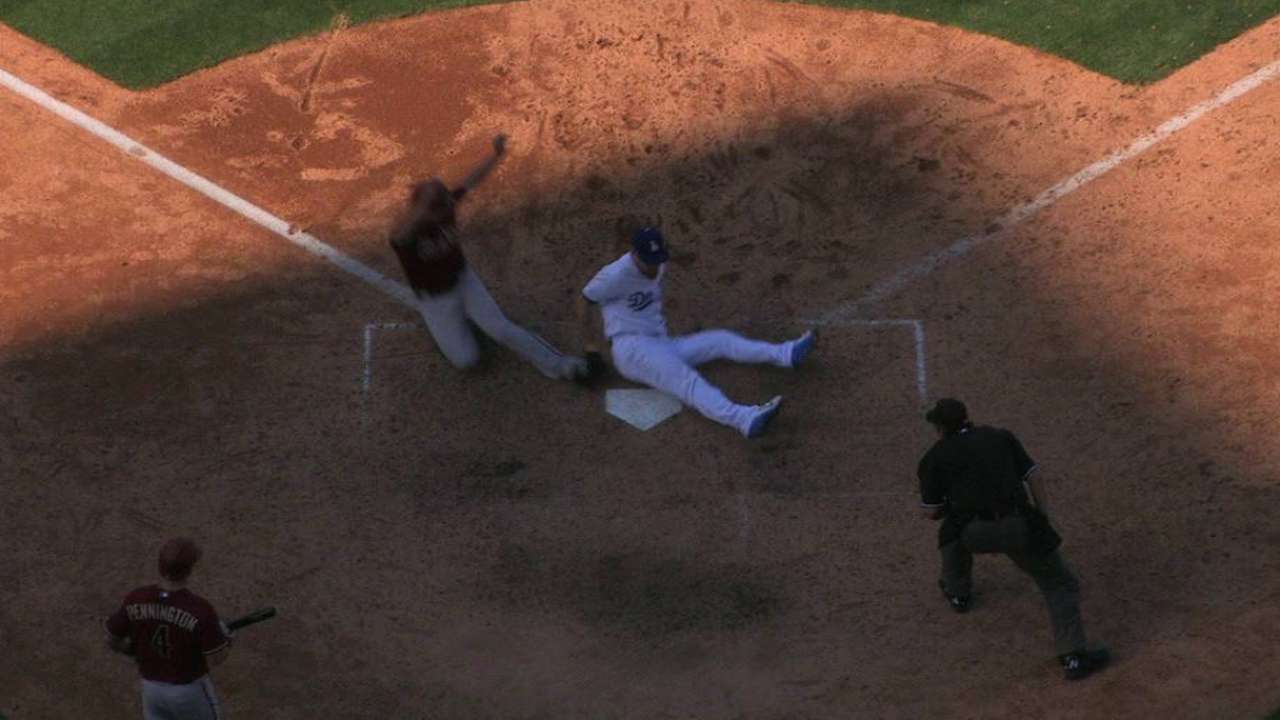 LOS ANGELES -- It took four hours, two minutes and 13 innings Sunday afternoon for the Dodgers to complete a three-game sweep of the Diamondbacks with a 1-0 victory, their 13th in 15 Dodger Stadium games this season.

And, if you blinked twice in the 13th, you would have missed the two decisive plays in the game, which happened moments apart, as the Dodgers won their fourth in a row to improve to 16-8.

First, there was Dodgers left-handed reliever J.P. Howell's no-look tag at the plate on the foot of the D-backs' Jordan Pacheco, who was trying to score the game's first run from third base when a Howell slider in the dirt hit catcher Yasmani Grandal in his throwing arm, and kicked away about a dozen feet to the right.

"Just a crazy play," manager Don Mattingly said.

Then, Grandal -- who made the quick scramble, and the accurate throw to Howell -- led off the bottom of the 13th with a game-winning home run to center field off a 1-1 changeup from D-backs right-hander Evan Marshall (0-2). "It feels great to win this game," Grandal said. "The pitching staff did a great job. And [starting catcher] A.J. Ellis called a great game. I was just lucky to get into the game, then have that chance."

On the way Howell, a former high school linebacker, threw himself into harm's way to tag Pacheco, Grandal said: "You don't want to see a pitcher put his hand in front of home plate like that, .... but, we wanted to win the game

Howell said he wasn't cleated on his glove hand, nor on his backside, which dropped onto the plate as he made the tag.

"It got all leather," he said of Pacheco's cleated foot.
More
Earl Bloom is a contributor to MLB.com. This story was not subject to the approval of Major League Baseball or its clubs.